The beautiful Egyptian town of Hurghada is a wonderful place to spend your vacation with your family, friends, or partner as it has so much to offer, from crystal clear warm water, year-round sunshine, sandy beaches, to a wide range of amazing things to do. To help make the planning of your dream Hurghada trip easier, follow this rough travel guide, from when to go, how to get there, where to stay, to what to do, and more.
1. When is the best time to visit Hurghada
With a year-round dry and temperate climate, Hurghada is good for vacation all year round.
June through September is usually considered the best time to visit especially if you want to go snorkeling and scuba diving. During this period, the Red Sea coast enjoys a much cooler weather than Egypt's inland, with average temperatures hovering around 84°F (29°C) and sea temperature about 80°F (27°C). If you choose to go in July and August, it's best to make the booking early as the resort is frequented with many European and American visitors as well as Egyptians who want to get away from the summer heat of Cairo. Besides, it is important to apply a lot of sun cream to avoid skin damage. Winter and early spring is a good time to visit Hurghada if you want to avoid the heat of summer and look for cheaper hotel rates.
2. Is it safe to travel to Hurghada
Except for some no-go areas including the North Sinai province, Egypt is generally a safe country to travel. People in Egypt are kind, friendly and willing to offer help to travelers. Moreover, the Egyptian government is committed to keeping the country safe for travelers as tourism is crucial to the nation's economy.
As one of Egypt's most popular tourist destinations, Hurghada is considered safe to visit. Some travelers even said on TripAdvisor that they felt safer staying in Hurghada than in Europe and America.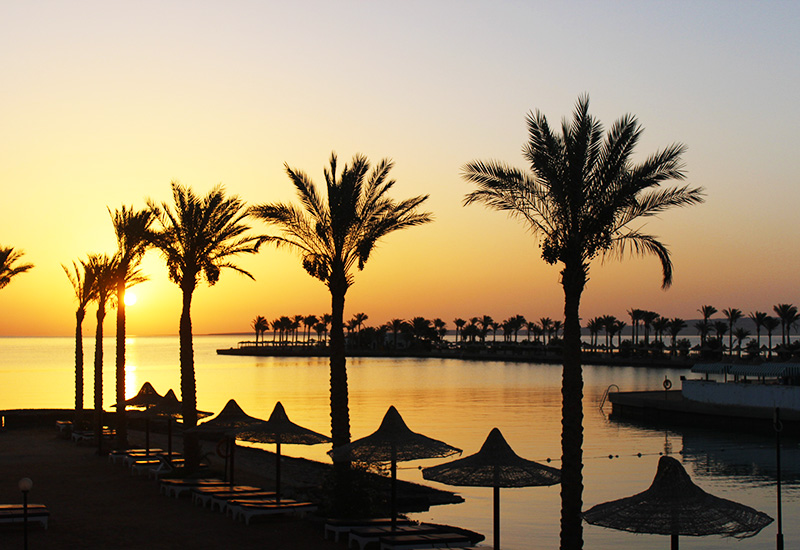 Sunset over the Red Sea
Despite the overall safety, when visiting Hurghada and other places in Egypt, you should respect the local customs, keep vigilant at all times and follow the advice of local security officials, especially during festivals like Ramadan. It's also important to purchase travel and medical insurance before your departure.
3. Do I need a visa to visit Hurghada
Unless you're a citizen of one of the visa-free countries including South Korea, Jordan, Haiti, etc., you'll need a visa to visit Egypt. With Egypt's launch of new e-visa service, nationals of the United States, the United Kingdom, Canada, Australia, New Zealand, etc. can apply for a visa online for a maximum stay of 30 days from the day of entry.
For more information on Egypt visa, check it out on Most Frequently Asked Questions About Egypt.
4. How to get to Hurghada
Being the most popular resort town on the Red Sea coast, Hurghada is easy to reach both from abroad and Egypt's domestic cities. Just a twenty-minute drive from the downtown lies the Hurghada International Airport which has flights from major Egyptian cities and worldwide destinations. If you are in Cairo, you can take a 1-hour flight to Hurghada. Travelers from some European counties such as England, Germany can fly straight to Hurghada.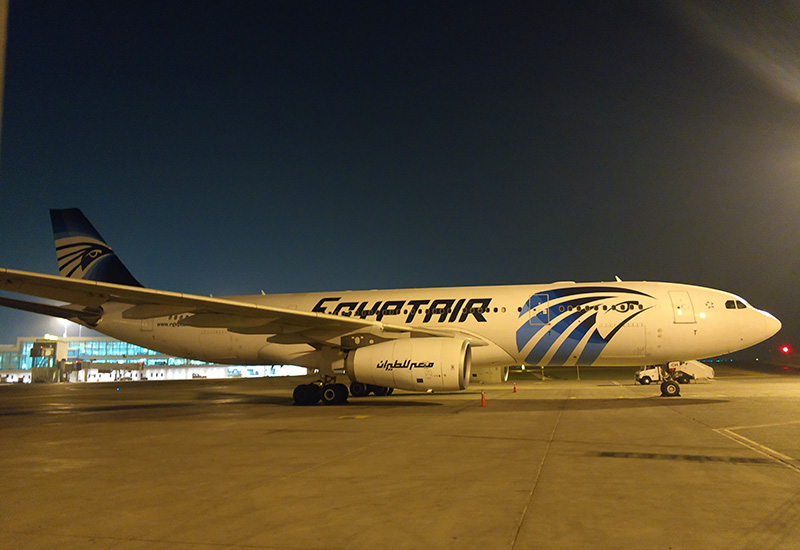 An airplane in Cairo International Airport
Apart from taking a plane, you can also take a long-distance bus from Luxor (5 hours), Aswan (8+hours) and Cairo (7 hours), or hop on a ferry from Sharm El Sheikh.
5. Where to stay in Hurghada
With over 100 hotels stretching along the 40-kilometer long coast, Hurghada offers a wide range of accommodation to suit various tastes and budget, from traditional Egyptian guest houses to top-end hotels.
For authentic Egyptian charm, you may stay in El Dahar, which is the old town. For more budget-friendly options, Sekalla, the city center, is the place to go. You'll find luxury hotels in El Sakala and the marina which is also surrounded by boutiques and yachts.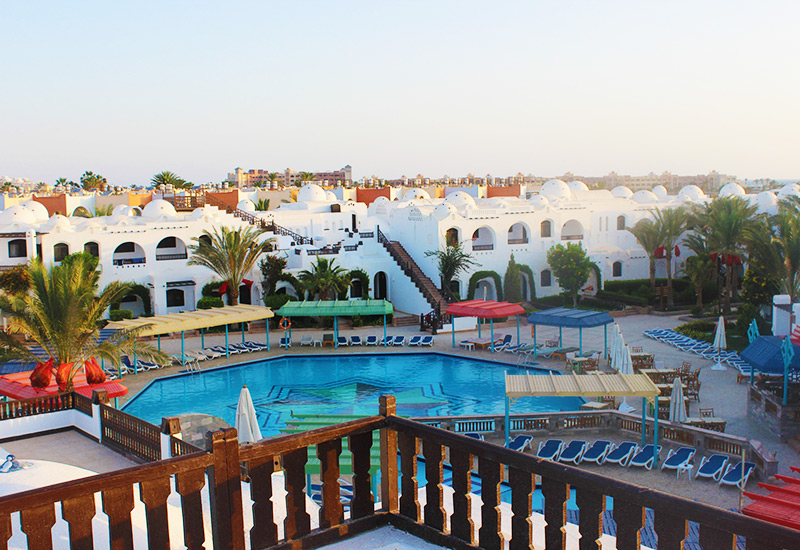 A lovely resort in Hurghada
6. Best things to do in Hurghada
1). Dive the Red Sea
The Red Sea is one of the most popular places to dive. It's easy to see why – the water is clear, calm and warm and there are vibrant, colorful marine life in it. Whether you are an experienced diver or just a beginner, Hurghada is the perfect place to delve deep under the water.
Most hotels provide diving excursions or courses that you can book. If you are a complete a complete novice, you may take a taster dive in the swimming pool of your hotel.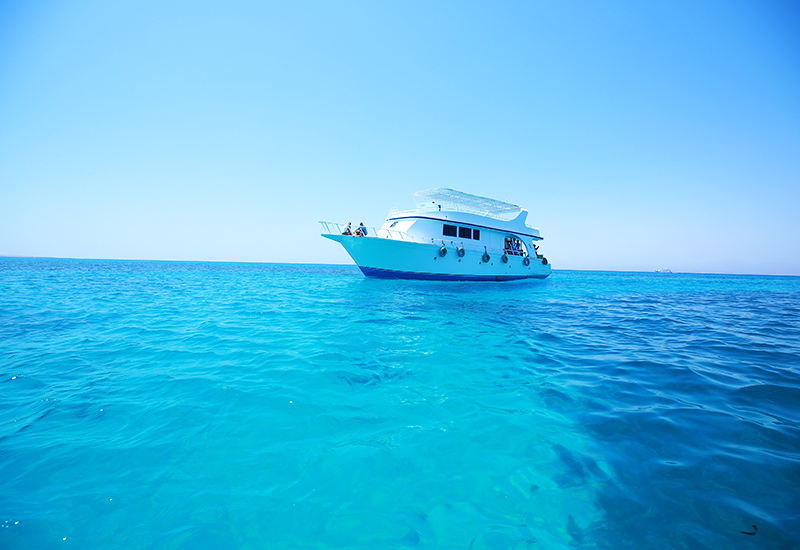 Water in the Red Sea is clear as crystal, perfect for a dive
Safety tips for diving in the Red Sea:
Check your diving equipment before you jump into the water as it is dangerous to dive with broken gear.
Don't break corals and take them out of water as it is forbidden.
Don't stand on the reef as there could be dangerous fishes there.
Avoid touching any fish however beautiful they may appear because they could be poisonous.
2). Go on a quad bike Desert Safari
A quad bike Safari on the Desert near Hurghada is fun, exciting, and rewarding. You'll travel across the shifting sand dunes before reaching one of the traditional Bedouin villages. Here you can enjoy a nice cup of mint tea, talk to the nomads and discover their way of life.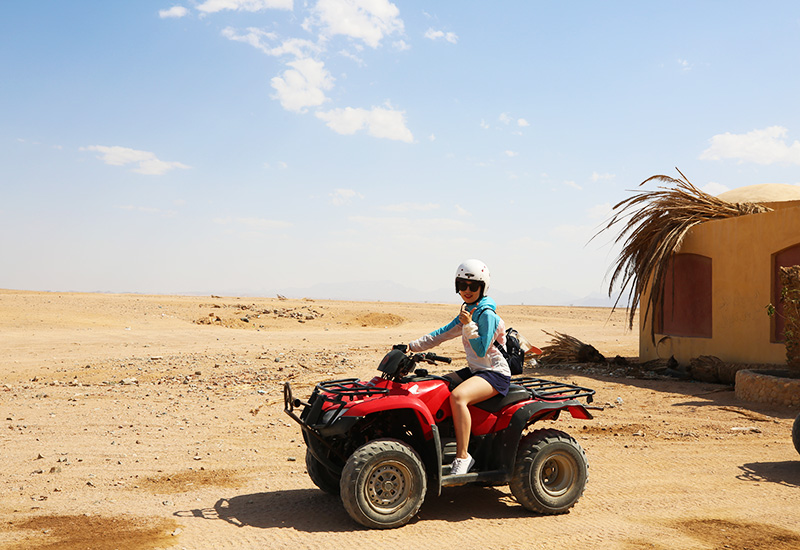 A quad bike experience on the desert can be fun
3). Try some traditional local food in El Dahar
If you fancy authentic local fare, visit El Dhar, the old town of Hurghada, which is packed with local restaurants and street stalls. Here you have the chance the try a variety of local food including falafel (slow-cooked broad beans), and taouk (grilled chicken sandwich), most of which are reasonably priced. After that, enjoy a cup of coffee or juice at a Bedouin bar.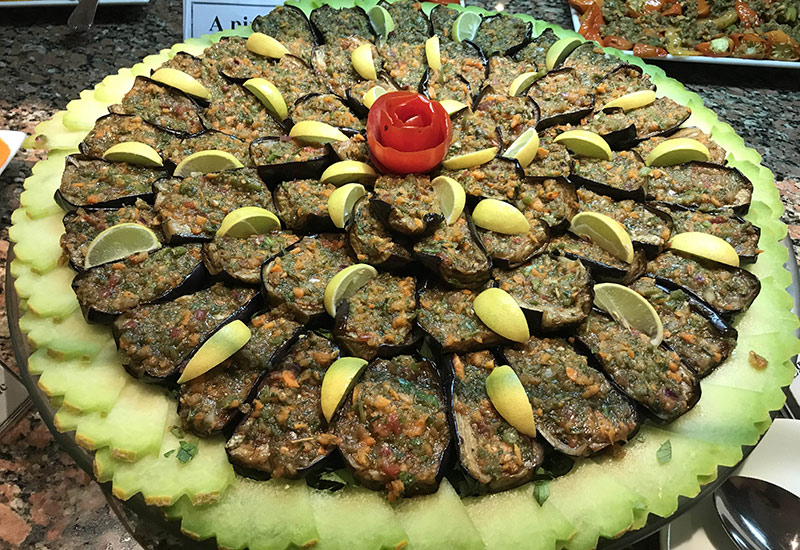 A mouthwatering Egyptian dish
4). Shop in Hurghada
Depending on your interests and budget, you might find many places to do shopping in Hurghada.
If you want to shop local and hunt for bargains, head to the back streets of El Dahar where you find a range of local products including Bedouin jewelry, perfumes, papyrus, spices, shisha pipes, etc. If you prefer modern shopping, go to Senzo Mall in New Hurghada, which has big, international brand shops such as Adidas, Aldo, etc. Besides, Sheraton Street is also a good spot to buy souvenirs.
5) Take a boat trip to Mahmya Island
The beautiful, sandy beach in the Mahmya Island is a must-see. The only way to get to the island is to take a boat ride from Hurghada, which takes around an hour. During the boat trip, you can appreciate the glistening blue waters. Get your cameras ready, because if you are lucky, you'll see dolphins swimming along. When you reach the island, you'll be amazed at the glowing white sand and crystal clear waters that can be found nowhere else. Then it's time to relax under the beach umbrella or snorkel to see the stunning coral reef.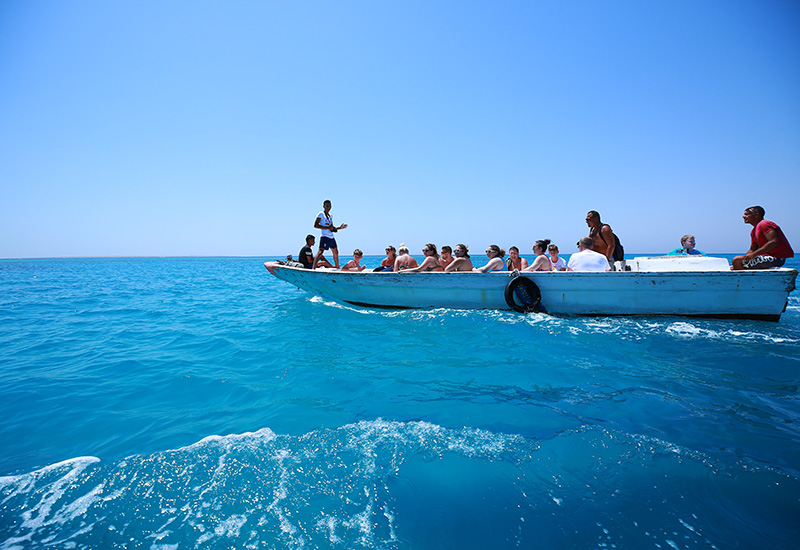 Boat ride on the Red Sea
Did you find this post helpful for planning your trip to Hurghada? To make your trip planning a hassle-free experience, let us tailor-make your dream trip to your budget, tastes, and interests.
What Our Clients Say
"Great Service and Value", "Exceed All Expectations", "Highly Recommend".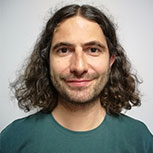 CONTACT A TRAVEL EXPERT
1-to-1 Service | Reply within 24hrs | Expert's Advice
STAY IN TOUCH WITH US
Subscribe to our newsletter so we can provide you with insider travel information, exclusive offers, and discounts.