Long and narrow Vietnam, from the north to the south, presents a variety of customs and landscapes. Whether you like to walk in the city, love to explore quiet towns alone, or have an obsession with islands, all your favorites can be satisfied here. And no matter whether you plan to stay for several days, a week or a month, you must try the 10 cool and fun things listed below.
1. Cruise Halong Bay
Scattered with 1,600 limestone islands, Halong Bay is a natural wonder in northern Vietnam and was designated a UNESCO World Heritage Site in 1994. The best way to travel in Halong Bay is by taking a cruise. You can see small islands in different shapes and sizes, French-style architecture built along the bank and numerous sampans and sailboats on the bay. If you are not content with just sitting on the deck and enjoying the sunset, you can visit the less-traveled Bai Tu Long Bay and Vong Vieng Fishing Village to learn about the fishermen's life, climb up Bai Tho Mountain to have a epic full view or handle a sampan or sailboat to explore the mysterious karst caves and forests.
2. Know history from Cu Chi Tunnels and the War Remnants Museum
If you are a history lover, you will not want to miss out on visiting Cu Chi Tunnels and War Remnants Museum in Ho Chi Minh City. Cu Chi Tunnels is an extensive network of tunnels (about 121 km / 75 miles) which played an important historical role in the War of Vietnamese Independence. It was like the headquarters of the Viet Cong to fight against the American and South Vietnamese military, and consisted of hospitals, schools, air vents, escape routes, and booby traps. Interestingly, you must find a guide to travel here as the entrance is well hidden and so narrow that only one person can pass through at a time.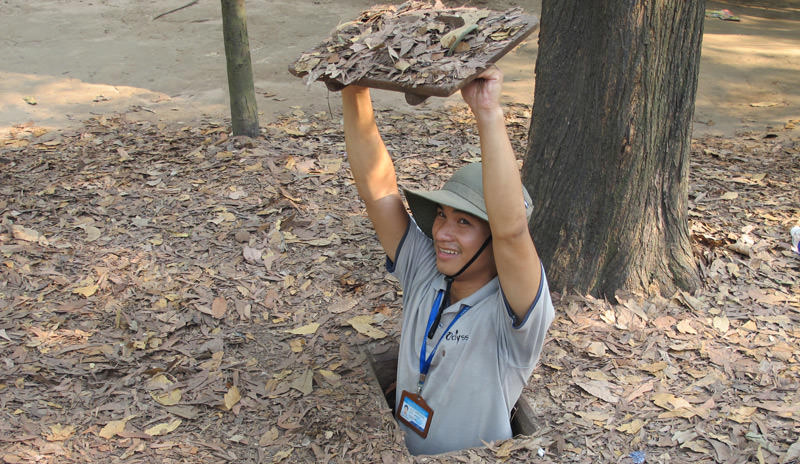 Cu Chi Tunnels
If you want to learn more about this history, you should also visit the War Remnants Museum which mainly displays exhibits relating to the Vietnam War and the First Indochina War involving the French colonialists.
3. Dine on Vietnamese cuisine
Known to be healthy, Vietnamese cuisine is one of the most distinctive and delicious cuisines in Indochina, which is more refreshing than other cuisines. In addition to the widely used tropical fruit and vegetables, the raw materials tend to be natural and fresh, with a heavier sweet and sour taste. You must try Vietnam's signature dishes - Pho (made of rice noodles, meat, various greens and spices, plus a little bit of fish sauce), Banh Mi (Vietnamese toasted baguette sandwiching meat, sliced cucumber, shredded turnip, and mayonnaise or chili sauce), Goi Cuon (Vietnamese Fresh Spring Rolls with the crystal clear rice paper wrapping and rich and varied fillings such as shrimp, shredded onions, macadamia nuts, kale and vermicelli) and Chao Tom Bao Mia (fried sugar cane sticks wrapped in minced shrimp, served with chili plum sauce), etc.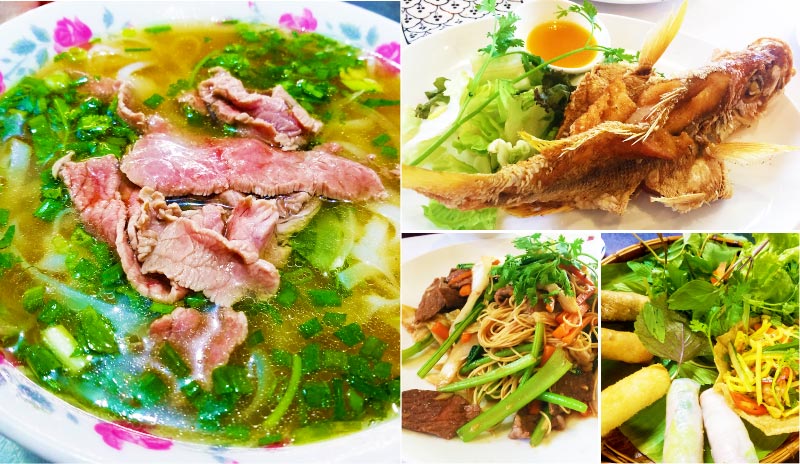 Vietnamese cuisine
There are also many kinds of street food in Vietnam, such as colorful Xoi (rice), White Rose, Fried Wonton, Banh Tom (Fried shrimp cake), Banh Xeo (pancake) ... Also, sipping a cup of egg coffee or local beer will make your meal more enjoyable.
4. Enjoy a water puppet show
With more than 800 years of history, the water puppet show is the most famous traditional folk opera in Vietnam, and maybe also the most unique puppet show in the world because it is performed on the water and combines puppets and water in a wonderful way. The performers are required to immerse themselves in water for a long time, using their strong arms and proficient rope handling skills to bring the dolls to life. Most of the stories are based on the life of Vietnamese people and folk tales. It's more worth taking an hour to enjoy the humor and performing arts of a water puppet show than spending the night in bars.
5. Try an Ao Dai in Hoi An
The Ao Dai is the national costume of Vietnam, most commonly worn by women. It consists of a tight blouse which is like a long Chinese cheongsam to show the feminine charm and loose pants. It is usually made of light, soft, and silk-like fabrics and has many attractive designs. Now the Vietnamese government also encourages women to wear Ao Dai on formal occasions. For example, a red one is commonly worn during the Vietnamese New Year Festival, the black one is for funerals, pink is best for weddings, and white ones are used as school uniforms to symbolize the purity of girls.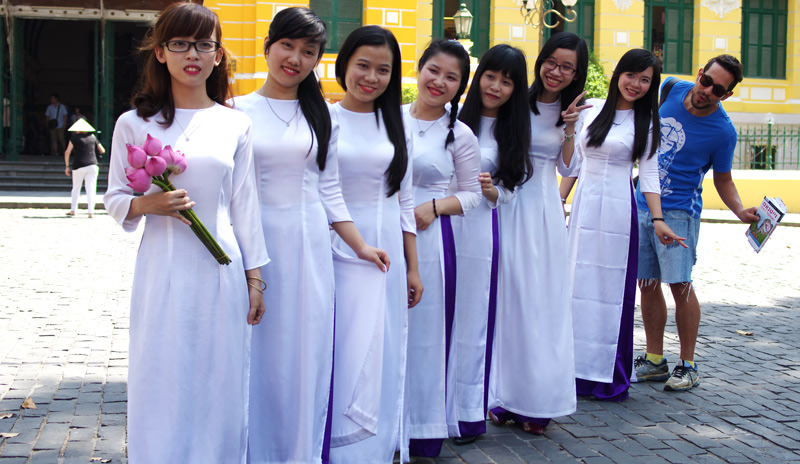 Girls in Ao Dai
You can see many shops selling Ao Dai in the streets of Vietnam, but Hoi An has the best tailors, so many tourists specially come to Hoi An to have an Ao Dai tailor made. Alternatively, you can rent one and wander in this ancient town like a local. Don't forget to take good selfies! Related: How to Travel like a Local in Vietnam.
6. Visit the local markets
Visiting markets is one of the best ways to soak up local culture and customs. Cai Rang Floating Market of Can Tho is the most famous and largest floating market in Mekong Delta. You can find local products harvested from nearby farms and other processed specialties priced reasonably: the freshest fruits, fish sauce, coconut candy, or dried fish, etc. If you have no time for a street food tour, you can try most local dishes here. Another market worth mentioning is Hoi An Night Market. When night falls and dazzling lanterns light the town, it's recommended to walk around the street to buy some cute souvenirs, such as lacquer paintings and unique handicrafts. A journey to Hoi An won't be perfect without shopping here.
7. Take a boat tour on the Mekong River
The Mekong has numerous tributaries, forming a huge network of rivers and canals to link with secluded islands, rice paddies, stilted villages and sleepy towns. It's a joy to explore this maze for several hours by a small boat or take one of the many cruises from Cai Be to Can Tho to experience a night on the river. You will feel very comfortable while being immersed in the rural scenery, peering into stilted houses along the riverbank and breathing in the cool breeze from the river.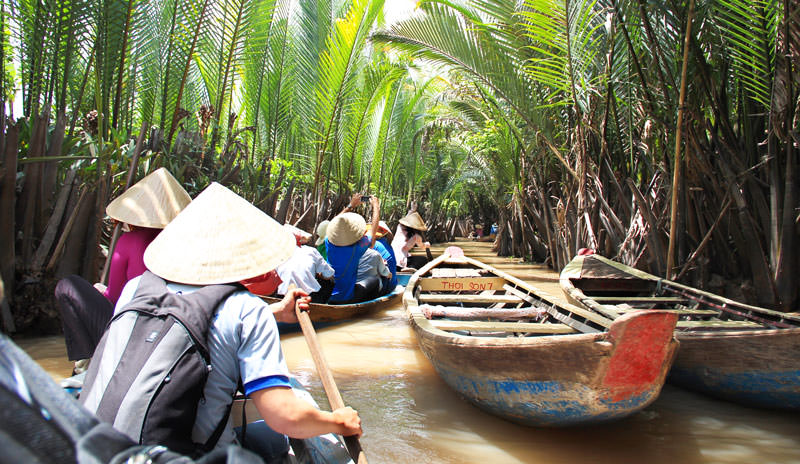 Take a boat tour on the Mekong River
8. Explore minority villages in Sapa
Sapa, located in the northwest of Vietnam, is a popular hiking destination for tourists. Taking a long walk to the villages scattered in the valley, you will be intoxicated by marvelous mountains and terraces. Here you can explore the Lao Chai, Ta Van, Ma Tra and Ta Phin villages to experience the life and folk customs of these ethnic minorities. Many traditional handicraft industries are still retained, like cotton and flax weaving. You may talk with locals dressed in ethnic costumes encountered on the road, or visit a local family and have a meal with them. Don't worry about the language problem, because most locals can speak fluent English or French due to French colonial history.
9. Ride a motorbike through Hai Van Pass
Hai Van pass is a famous scenic spot, a 21 km / 13 mile stretch of roadway between the cities of Da Nang and Hue. It is named Hai Van pass ("hai van" literally meaning "ocean cloud") as its ridge is surrounded by white clouds all the year round, which is in perfect harmony with the blue sea and sky. The most exciting thing is to take a motorbike adventure along this winding mountain road which is sandwiched between crystal sea and green peaks; however it is dangerous because of the steep slopes and curves. If you are a novice driver, then you can hire a motorbike with a driver, or hire a car and driver to take you up and over the mountains.
10. Sunbathe on the beaches
When you hear "Vietnam", you may associate it with many things: cities full of motorcycles, the mighty Mekong river, the Buddhist temples and pagodas. With all these temptations, it's easy to forget the fun of beautiful beaches and endless coastlines. Vietnam has many islands and beaches. Most notable of these are Khem Beach (Cream Beach) in Phu Quoc, My Khe Beach in Da Nang, Nha Trang Beach, White Sand and Red Sand Beaches in Mui Ne. Apart from that, there are beaches in other places like Hoi An, Da Lat, Ly Son, etc. All of these are ideal places for leisurely sunbathing and walks, diving or exciting water activities.
Itching to get to Vietnam now? Contact us to customize a unique Vietnam tour for you. Follow the professional guide of Odynovo, you will discover the other side of Vietnam you have never known.
What Our Clients Say
"Great Service and Value", "Exceed All Expectations", "Highly Recommend".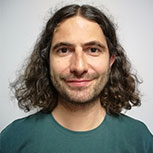 CONTACT A TRAVEL EXPERT
1-to-1 Service | Reply within 24hrs | Expert's Advice
STAY IN TOUCH WITH US
Subscribe to our newsletter so we can provide you with insider travel information, exclusive offers, and discounts.