To many travelers, spending time in an airport sounds almost like a nightmare. But believe it or not, it would be so worthwhile if your time is spent in Changi Airport, the stellar airport in Singapore and worldwide.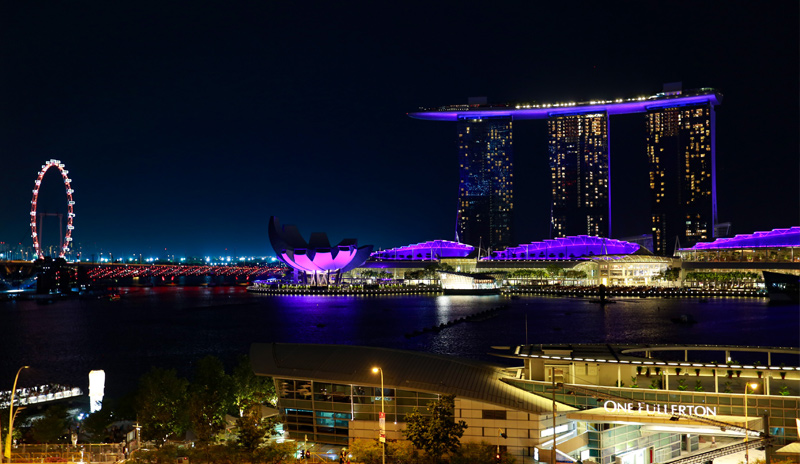 The classic, captivating night view over the Marina Bay Sands.
A major hub for flights through Asia, Changi Airport registered a record of serving 62.2 million passengers in 2017. While capacity plays an important indicator of the performance of an airport, what is more impressive about Changi Airport is that it has bagged the top airport in the world rated by Skytrax for the 6th time on a roll. According to Skytrax, a leading global guide for airline rating, more than 13 million airport survey questionnaires were conducted in 2018 to rank the best airport experience. Among the 500 airports on the shortlist, Changi Airport scores highly by providing passengers with eye-boggling airport amenities, fast check-in experience, a wide range of shopping options and the extreme cleanness (of course, it is Singapore) that you can hardly not notice.
To give more details, Changi Airport is most raved about its free movie theaters, the rooftop swimming pool along with some latest technology used in the contactless check-in services. Some travelers would rather take a connecting flight than a non-stop one only to get a Changi Airport experience. In fact, the airport is so much fun that even locals come here to spend a couple of hours having dinner or hanging out. If you are traveling through Changi Airport, here is a list of hand-picked things you can do in Changi Airport to while away the time when waiting for your next flight. Last but not least important, most of them come free.
Relaxation
Free movies
In both Terminal 2 and 3, you can find free movie theatres that play new releases 24/7. The screening schedule is available and changes every month. I suspect that this is the most popular venue so expect to sit on the floor if it is packed. For kids, there are films and classics played on an ever-changing schedule as well.
Where: Terminal 2, Level 3; Terminal 3, Level 3
Cost: Free
Rooftop swimming pool
We get that – a hot shower is just what every traveler needs especially after a long-haul flight. While there is no free shower in Changi Airport, the rooftop pool is a great alternative, which features a jacuzzi and shower facilities to wash off travel tiredness. The cost to enter the pool is the best deal you can make in Singapore. For SGD 17, you get a locker and good quality towels in addition to the features mentioned above. The pool is located inside the Aerotel Airport Transit Hotel but is open for the public to use, where you can watch planes landing and taking off when staying at the pool. There is also a poolside bar and spa area for more indulgence before boarding your flight, clean and fresh.
Where: Terminal 1, Aerotel Airport Transit Hotel
Cost: SGD 17 per person
Free massage
Changi Airport knows how much we love massage whether before, after or in between flights, so it provides massage machines free of charge to wow travelers. It is easy to find the foot massage machines scattering around all the terminals, ready to provide relief for your tired feet. And I am amazed at the extent that Changi Airport is so generous by providing some magical OSIM massage chairs, an indulgent full body massage chair for you to relax the muscles.
Where: (For full-body massage chairs) Terminal 3, Level 2, near Snooze Lounge
Cost: Free
Spas
You deserve to be pampered after a long journey, and Changi Airport has got you covered – a few spas are available in different terminals to help rejuvenate your body and spirit.
Nice and quietly placed, the spa opens from 6:15 am to 1 am and offers massages ranging from 20 minutes to 90 minutes, allowing different options to suit your need. Sauna and facial treatment are also on the menu.
Where: Terminal 2, Level 3
Cost: From SGD 45
24-hour head-to-toe massage provided by friendly staff who understand that the customer has a flight to catch, yet the quality of service is not compromised. The fish spa is an interesting feature to try, which has fish tickle your feet – feeling a bit weird but can be a fun experience.
Where: Terminal 1, Level 3
Cost: Varies
Lounges
It is always nice to have a good rest between flights. Upgrade your experience in Changi Airport by staying in one of its premium lounges which do not necessarily break the bank to enjoy. Some of the lounges are free to use for certain type of credit card holders. Check out the membership benefits of your credit card before going.
A pay by per use lounge, Plaza Premium Lounge opens 24 hours daily and offers passes in 3-, 6- and 12- hour increments. Rates start from SGD 16 for using the shower and having a welcome drink to SGD 58 for five hours' stay. Choose a pass that suits the time of your layover and feel free to enjoy 1) a decent range of make-to-order food including hand-rolled sushi; 2) drinks, such as wines, beer, coffee and soft drinks; 3) TV channels; 4) comfortable seating, Wi-Fi and more. There are private suites for a single (SGD 75 for three hours) or for family (SGD 180 for three hours). Meeting rooms are also available upon request for an additional fee.
Where: Terminal 1, Level 3
Cost: Varies. A 50% discount applies to children aged 2 to 11 and children under 2 enjoy free entry.
Ambassador Transit Lounge
Providing all the services and amenities you can expect from an airport lounge, Ambassador Transit Lounge also boasts buffet and spacious resting areas. The lounge is especially popular with business travelers who find the business center coming in handy to finalize their work or arrange a meeting with colleagues or clients. The lounge in Terminal 2 features a gym where you can enjoy a good workout.
Where: Terminal 2&3, Level 3
Cost: From approx. SGD 40 per person, children between 6 to 12 from approx. SGD 30.
Blossom Lounge is neatly located in the new Terminal 4, which was fully open in 2017. The lounge covers more than 1,100m², featuring a smart look and offers a cozy environment for travelers around the clock. The best way to make the most of this lounge is take a hot shower and then feast on the buffet before ordering a cup of fresh coffee from the barista station for a great reading/snooze time on one of the massage chairs. International style power points and USB ports are installed around the lounge to recharge the battery of your devices.
Where: Terminal 4, Level 2
Cost: From approx. SGD 58 per person, children between 6 to 12 from approx. SGD 30.
Napping
For travelers on long layovers, nothing beats some shut-eye. Changi Airport has free napping areas equipped with lounge chairs in all terminals, on which you can enjoy some quiet time or sleep. Seats are limited due to high demand.
Where: Terminal 1, Level 3; Terminal 2, opposite of E5 and E11; Terminal 3, Transit North Mezzanine; Terminal 4, Level 2
Cost: Free
City tours
If your transit period takes longer than 6 hours, why not take advantage of Changi Airport's complimentary guided tours around the city? The major attraction sites in Singapore is compact and easy to get to, perfect for those who have never explored Singapore. There are two city tours running daily:
Heritage Tour (2.5 hours)
Stops: Gardens by the Bay, Marina Bay Sands, the colonial district, the central business district, Merlion Park, Chinatown, Little India, Kampong Glam, and Malay Heritage Centre
Timing: Running 4 times daily and starting at 9 am, 11:30 am, 2:30 pm and 4 pm.
City Sights Tour (2.5 hours)
Stops: The Singapore Flyer, the Esplanade, Marina Bay Financial Center, Merlion Park at dusk, Marina Bay Sands, Gardens by the Bay
Timing: Running 2 times daily and starting at 6:00 pm and 7:30 pm.
Visitors are required to register at least one hour before the tour starts and leave at least two hours prior to the departure time of their flight. It is not suggested to sign up the tour if you have less than 6 hours. Check out more details of the itinerary.
Where to register: Terminal 2, Level 2 (near transfer lounge E); Terminal 3, Level 2 (next to transfer lounge B)
Cost: Free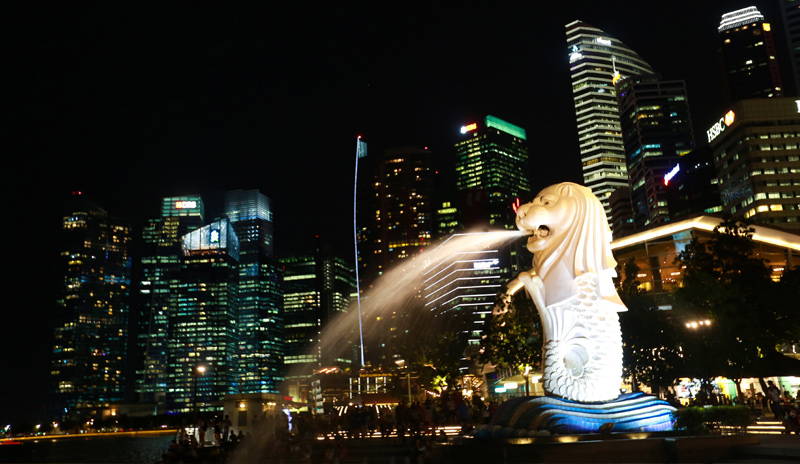 Merlion Park, the landmark of Singapore.
Food
Changi Airport never lacks flavors that tease your taste buds. From international restaurants to the authentic local bites, there is something for everyone. I personally recommend trying the following restaurants that offer not only delicious food but also a touch of the real Singapore – a dining experience in places that resemble hawker centers.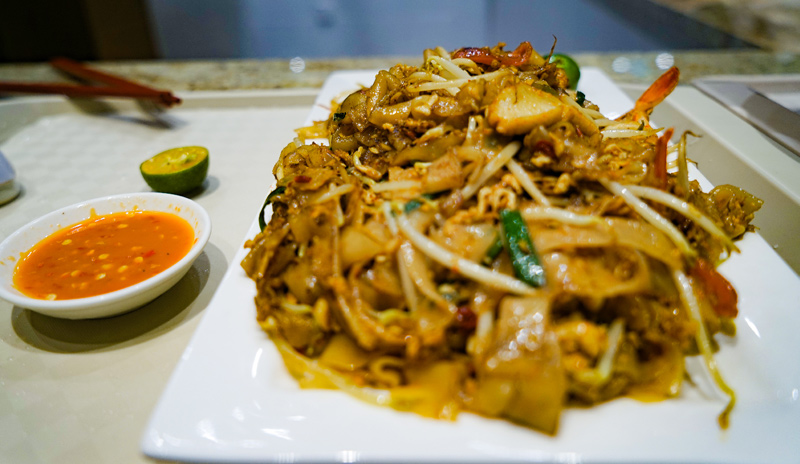 Noodle dishes play an important part in Singaporean cuisine.
If you don't want to spend pay a lot for western food in an airport, this food village is a good find. Although the name has said it all, this 24-hour running food village was awarded the prestigious Airport Food Court of the Year at The Airport Food and Beverage (FAB) Awards 2016, indicating that the quality of food doesn't compromise. Looking exactly like the old Singapore, it brings nostalgic flavors such as Bak Kut Teh and Laksa with soft drink at an affordable price. Multi-national cuisines are also available at different stalls selling Japanese, Korean, Vietnamese, etc. The self-service kiosks are a bonus when the place gets busy.
Where: Terminal 2, Level 3
Cost: Varies
Getting downtown price and taste at the airport is no longer a dream with this 1960s themed food street. It is cheap, tidy, and cozy. Assembling a series of carts and individual shops serving a great variety of food from meat, seafood, noodles to vegetarian dishes. I find it difficult to pin down what I want to have even after a few times of walking up and down as there are too many choices. The iced tea and local drinks are not to miss.
Where: Terminal 3, Level 3
Cost: Varies
It may sound weird to eat at a staff canteen, but it'll be a one-of-a-kind experience to chow down with the airport staff and probably have some fun conversation. Changi Airport absolutely knows how to treat their hard-working staff well, all nationalities employed here are catered for at a good price (the cheapest at the airport). Even Anthony Bourdain sang praise to the canteen, saying it has the best airport food. The canteen has been renovated recently and is still open to the public. However, as it was built to serve the staff there is no way you can find it on the airport's food directories, which makes it a more off-the-beaten-path food adventure.
Where: Terminal 2, Level 3
Cost: Varies
Gardens
Yes, it's plurals. Singapore is known as the "city of gardens", and even its airport lives up to that reputation. There are five themed gardens across the terminals, while I am going to introduce the ones that interest most people. Feeling stretching a bit? Take some time to stroll in the burst of nature and let the greenery regenerate you.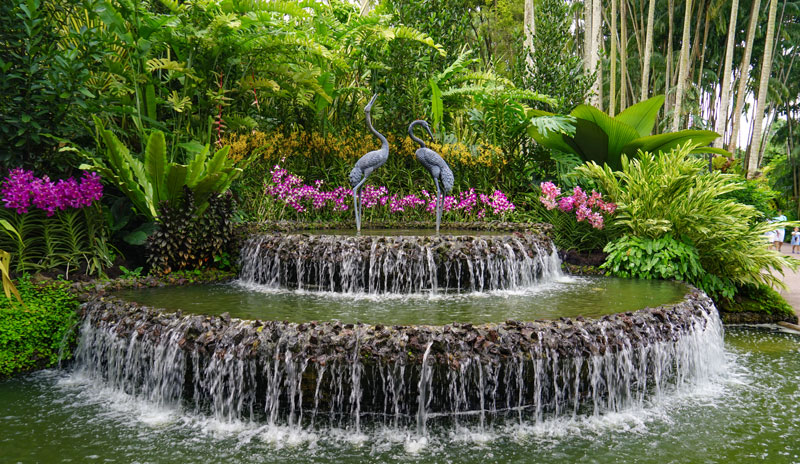 Ample greenery seen in Singapore city
Want to brighten your journey? This is the right place to go. A beautifully set outdoor garden growing thousands of bright sunflowers, the Sunflower Garden is one of my favorite gardens in Changi Airport. If your transit period happens during the day, it is always nice to take in the vitamin D while inhaling the fresh air and flower fragrance. This is also a great spot to enjoy the view and watch the planes taking off and landing.
Where: Terminal 2, Level 3
Cost: Free
It is simply amazing to enjoy a beautiful butterfly habitat in an airport (and it still stands the only one in the world!). It may not be big, but you can find many tropical butterflies species there and have an educational experience for both adults and children. The butterflies are normally active during the day, so come in the day time to observe the living and feeling process. The garden also features lush plants and a refreshing waterfall to cool off the heat. Highly recommended.
Where: Terminal 3, Level 3
Cost: Free
Looking for Instagram-worthy moments while transiting? Come to the Enchanted Garden, a botanical and architecture miracle set completely inside to welcome selfie-lovers. The garden is triggered by motion sensors and interactive installations that produce sounds of nature, meanwhile leaving an impression that flowers are blooming as you step in. The combination of flowers and technology will certainly lift your spirits, if not only visually satisfied.
Where: Terminal 2, Level 2
Cost: Free
Kids-friendly
Changi Airport takes your kids' needs into serious consideration. There are plenty of play spots for your little ones to kill time and indulge their animal instinct in.
Small in scale but coming with everything you would expect a full-size indoor playground has, Canopy Playground is a paradise for children from 18 months to 12 years old under 1.45m. This forest-themed playground is well padded, providing a safe environment equipped with exciting tunnel slides and trampoline. To enter, socks are required or you can get a pair for SGD 2 at the entry. It opens from 10:30 am to 10:30 pm to suit most parent traveler's time.
Where: Terminal 1, Level 3
Cost: SGD 6/30mins
Kids aged 1 to 12 would be happy to play in the colorful slides or enjoy cartoons here. This is the place where families can rest a bit, let the kiddoes make new friends, and feel free to use the diaper room and nursing room.
Where: Terminal 2, Level 2
Cost: Free
Both adults and children will be entertained at Zone X, where you can play a variety of arcade games from shooting games to dance machines to delight everyone in your group. Opening hours are from 10:30 am to 10:30 pm (Monday to Thursday) and will extend to 11 pm on Friday. Weekends see longer opening time from 10 am to 11 pm.
Where: Terminal 3, Basement 2
Cost: Varies
Feel connected with your inner child by trying the world's tallest slide in an airport – a giant slide that stretches 12 meters high and allows for speeds of 6 meters per second as you whizz down. Probably not something for the faint-hearted though. Children under 7 and 1.3m are not allowed, and participants must be under 2m due to safety concerns. For every SGD 10 spent in Terminal 3 you are entitled to have a free ride (redeem your receipts at the information desk), otherwise can use the free slide at Basement 2 which is less "scary" but not less fun. Opening hours are between 12 pm to 10:30 pm.
Where: Terminal 3, Level 1 and Basement 2
Cost: For every SGD 10 spent in Terminal 3/free
Arts and museums (free entry)
Changi Airport boasts a great number of public art displays and places depicts the Singaporean Peranakan history, which are all free to enjoy.
A sensational kinetic sculpture and billed as the largest one of its kind in the world, the two Kinetic Rain sculptures are made of 1,216 bronze droplets and has been installed in the departure check-in hall of Terminal 1 since 2012. Each sculpture features 16 different shapes of either abstract items or recognizable forms, such as a dragon or a balloon, making slow movements that are almost mesmerizing. The idea of raindrops embraces Singapore's tropical climate which sees lots of rains throughout the year. This massive artwork spans over 75 square meters, and from a different perspective it grants a unique visual experience, so take a few minutes to fully observe it.
Where: Terminal 1, departure hall
Want to get a glimpse of the Peranakan culture of Singapore? You should definitely hit the Peranakan Gallery, the first-ever collaboration between Changi Airport and the National Heritage Board, which is the custodian of Singapore's heritage. The gallery provides a snapshot of the real Peranakan community from the life-sized living room to artworks and fashion. A delicate dollhouse miniature of Peranakan shop architecture is displayed at the entrance to greet visitors, including local brands like Bee Cheng Hiang (specialized in Asian-style foodstuffs), Eu Yan Sang (for healthcare products), and Heavenly Wang Café (serving the best local tea), so you will have an idea of where to try out local delicacies when you are in town.
Where: Terminal 4, Transit Area
Travelers now can enjoy a fun art installation and interactive photo wall across three terminals. The Interactive Art uses smart technology that allows visitors to take monochromatic portraits in front of Singapore's iconic landmarks. You can choose a backdrop from Merlion Park, the Singapore Flyer, and the Gardens by the Bay and pose before them. Your portrait will be then integrated into the backdrop and remade in this black and white flip-dot display. The best part of this device is that it can send the portrait to your email, which is pretty convenient to share on either social media or print out as a memento.
Where: Terminal 1 (Level 3), 2 (Level 2) and 3 (Level 2)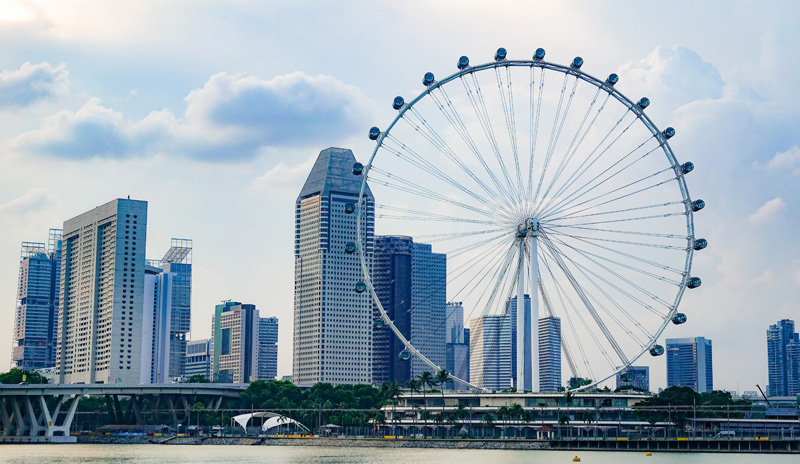 Singapore Flyer is the second-tallest Ferris wheel (165 meters) in the world after the High Roller in the USA.
Shopping
Changi Airport offers an enjoyable shopping experience as all shops have a nice design, probably the best in Asia. A wide range of products from the elegant ones to the world-renowned can be found in the duty-free shops, they simply have them all. The staff is well trained and professional. Ask them for any information and they will lead you to what you are looking for. While efficiency and nice service is all we need in an airport, the unbeatable prices are something that Changi Airport scores another point. If you want to save time on queuing, the www.iShopChangi.com can help you save the hassle by purchasing tax-free goods straight from the online store and then collect your items at the airport. From time to time exclusive discounts are offered, so keep an eye on that to save even more!
Where: Departure halls across all terminals
Free alcoholic beverage
Not many know about this, but you can actually score free cocktails at Changi Airport while shopping. In the wine and spirits store, you can find some of the world's largest selections of whiskey, craft beers, wines and other spirits, I will list the cocktail bars in the duty-free sections of Changi Airport that offer a free sample of cocktails or even make your own!
A small booth nonetheless providing a cozy atmosphere, the Cloud Bar uses interactive technology that allows visitors to pick the liquor and ingredients on a screen, and the bartender will make the drink according to the visitor's preference with a little tweak of his knowledge (always turning out trustworthy). The bar also offers a specially curated selection of liquor which rotates regularly.
Where: Terminal 1, DFS Wines & Spirits
Standing in the first level of the Wines & Spirits Duplex, the Central Mix-It Bar offers a wide range of new and classic spirits. With the posh design of the bar, you cannot miss it. This spot is one of global distillers' (like Bacardi and Hendrick's) favorite places to displays and host their sampling session, therefore you are very likely run into tutored tastings free of charge and get to taste new launches before anyone else. Even with a meager luck, the bartender is always happy to offer a sample of any of the brands on display.
Where: Terminal 2 &3, DFS Wines & Spirits Duplex
Situated at the Wines and Spirit store at Terminal 4, the Cocktail Bar invites shopping lovers to enjoy complimentary cocktails which use the alcohols you can get from the store. Nice way to attract customers, yet they do not compromise the quality of the cocktails. Here you can get a look behind the scene and create your own choice of booze. The experienced bartender is also a delight to deal with, so don't be shy to try your basics of cocktail-making. Bottoms up.
Where: Terminal 4, Wines and Spirit store
An ultimate destination for whiskey lovers. More than 100 leading whiskey brands are displayed in the shop where provides free sampling and food pairings recommendations. The staff have strong knowledge and are passionate about what they sell, so feel free to step in the shop and ask for an individual sampling experience.
Where: Terminal 2 & 3, DFS Wines & Spirits Duplex
If you don't have an opportunity to hit the town for some beer hunt when transiting through Singapore, the Craft Collection can quench your thirst for the local brew such as Sibeh Ho, the bespoke craft beer made by Archipelago Brewery. Walk in and do some beer sampling, chances are you can listen to the story behind the beer you taste from the friendly bartender. The cocktail bar also showcases small batch beers and a selected collection of spirits brands such as Whitley Neill and Copper Dog. Travelers can buy products on www.iShopChangi.com at least 18 hours prior to their departure.
Where: Terminal 4, Level 2
Events
It is not unusual that Changi Airport surprises travelers with celebratory events from time to time. From November 2018 to February 2019 we see "A Wizarding World Holiday at Changi" set at four locations from Terminal 1 to Terminal 3, which were turned into Harry Porter site and allow visitors to soak up magic atmosphere outside the Universal Studios theme parks. The other time Sesame Street-themed activities and events were held during the June school holidays, bringing live shows and greet sessions. Past programs and events include K-pop sensation highlights in the DFS section, free screenings of live World Cup matches, and spectacular art projects. To get a preview of what is happening in the airport you can check out their event page before arriving, or simply go to the information desk for the latest event information.
Something to look forward to
Jewel Changi Airport
I like how Changi Airport takes innovative development seriously. A new complex called Jewel Changi Airport is scheduled to be completed in early 2019, covering a massive area of 134,000m and spanning 10 storeys. It is constructed for the purpose of providing gardens (yes, more gardens), attractions, airport accommodation, aviation facilities, and dining, retail and entertainment options to travelers and locals alike. Set to link Terminals 1, 2, and 3 with a massive glass dome, the new building will introduce the world's largest indoor waterfall, the 40-meter-tall Rain Vortex, an adventure park that resembles the canopies of Costa Rica, and adds more than 40% Singaporean brands into the new retailers list. Moshe Safdie, the world-renowned architect who designed Jewel Changi Airport, described the concept behind it as a "new kind of urban space" that people wouldn't think of the mall as a mall but a new experience when they see it. In short, there will be more to do in the already impressive Changi Airport.
There are so many to do at Changi Airport that it is almost impossible to list them all. Hopefully, this post will help to navigate your layover and make it a smooth one. As the airport serves as a travel hub that connects many Asian countries, it would be a great idea to combine your Singapore travel with other destinations, such as Malaysia and Thailand. Send us an inquiry and personalize your Singapore tour or multi-country itinerary.
What Our Clients Say
"Great Service and Value", "Exceed All Expectations", "Highly Recommend".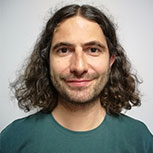 CONTACT A TRAVEL EXPERT
1-to-1 Service | Reply within 24hrs | Expert's Advice
STAY IN TOUCH WITH US
Subscribe to our newsletter so we can provide you with insider travel information, exclusive offers, and discounts.