When Europeans first set foot on the African continent, they did not believe that a snow-capped mountain rises nearly 6,000 meters above sea level near the Equator in Tanzania, a wonderful country in East Africa. It is the Mount Kilimanjaro. But besides Kilimanjaro, Tanzania also has many other things that it takes pride in, such as the Big Five game, Tarangire National Park, Serengeti National Park, etc.
Tanzania is one of the few places on earth where you can see so much wildlife. Our memorable trip covered the most popular places in northern Tanzania, including several main national parks. But what impressed me most were the magnificent sunrise view over Tarangire National Park and the three lion brothers in Serengeti.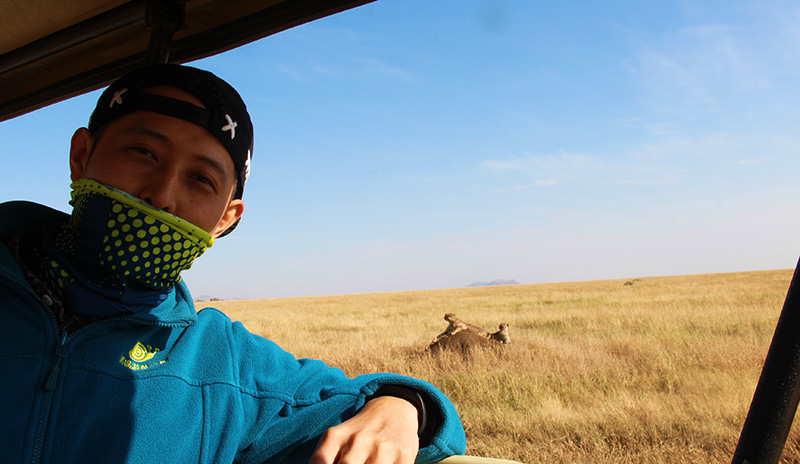 Me in a 4X4 vehicle, with two cheetahs in the distance.
Tarangire National Park
Driving about 2 hours from Arusha, the most prosperous city in northern Tanzania, we arrived in the Tarangire National Park. I was shocked by the giant Baobab Tree at the gate of the park. This tree looked like it was planted in the ground upside down as the tangled branches look more like its roots. But the most amazing part is not its appearance but its huge trunk, which can store plenty of water like a sponge. When the dry season comes, elephants or other animals will break the tree bark and drink the water inside if they cannot find other water sources. So Baobab Tree is also known as the Tree of Life. This baobab tree has had its water drunk by animals.
Baobab Trees are the iconic plants of Tarangire National Park and the Lake Manyara National Park.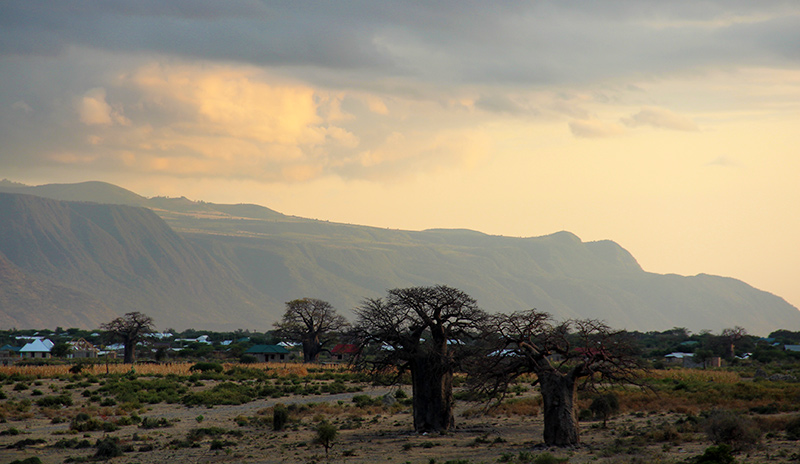 A beautiful view of baobab trees we enjoyed later in the Lake Manyara National Park
Tarangire National Park is so named because of the Tarangire River located in the central part of the park. Tarangire River is the primary source of fresh water for wildlife inhabiting in this area and other migratory animals, especially during the annual dry season. Animals often come to the river and drink water at dusk.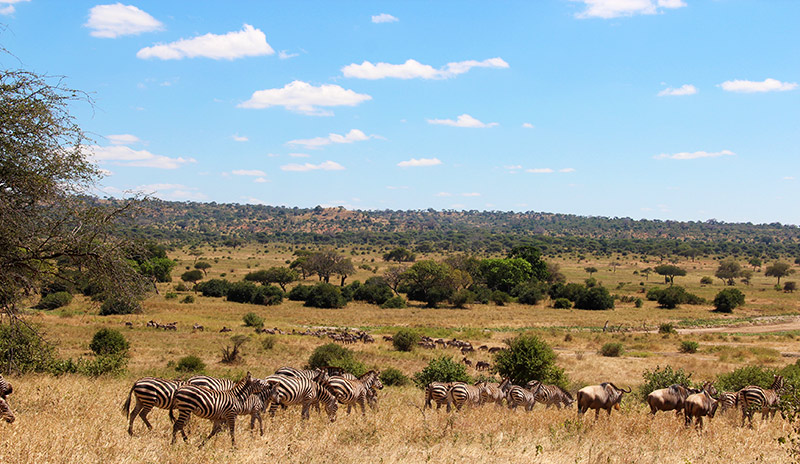 Zebras were moving towards the Tarangire River in line for water.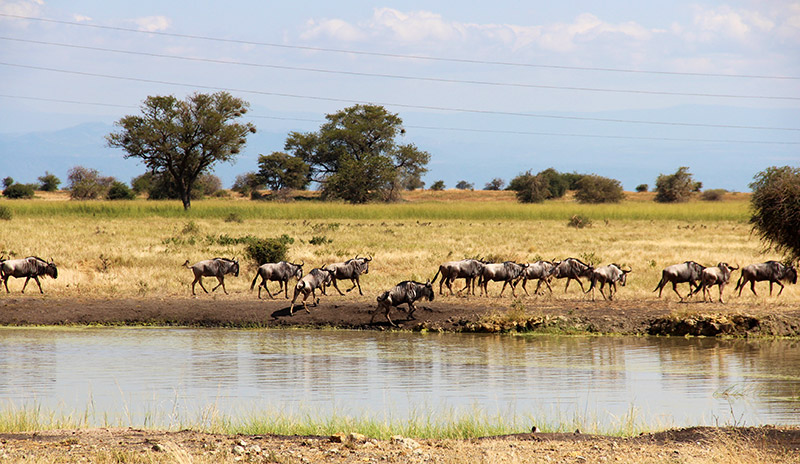 Wildebeests at the riverside
After a full-day thrilling game drive, we returned to our hotel outside the west gate of the Tarangire National Park. There are also some hotels and lodges in the Tarangire National Park, but overnight there requires a Concession Fee, which is not cheap. Besides, most of these hotels and lodges are older than those outside the park. For these reasons, we chose to stay at a hotel outside the park.
In Tanzania, it is worth to get up earlier as you will be rewarded with the breathtaking sunrise view!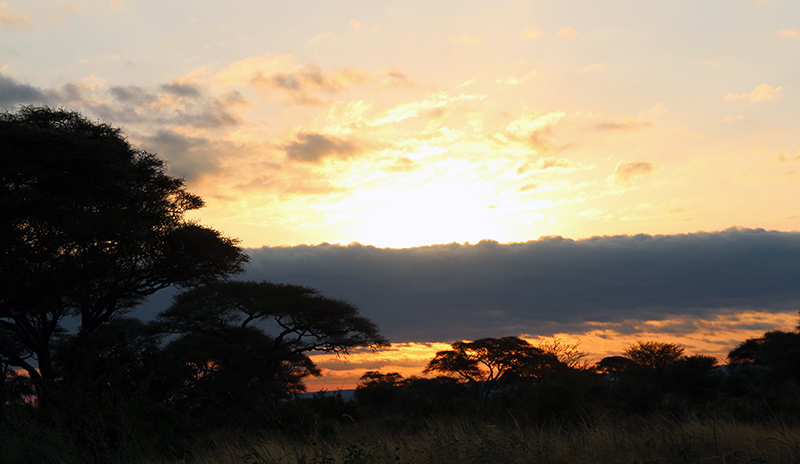 The breathtaking view of Tarangire National Park at sunrise
Serengeti National Park
Crossing the Ngorongoro Crater, we reached the Serengeti National Park, the habitat of the Big Five game (namely, African lion, African leopard, African elephant, black rhinoceros and Cape buffalo). The word "Serengeti" is from siringet, a Maasai word meaning "the place where the land runs on forever".
Tips: There are not many trees grow in the Serengeti. The best time to visit Serengeti is the dry season (June to October), when grasses are lower and wildlife is hard to hide. So you can see more wildlife at this time.
There are three types of accommodation available in Serengeti: camp, lodge and hotel. This time, we chose the camp, which we think is closer to nature. At night, I heard the roars of lions and the barking of wild dogs, and also felt elephants passing by our camp. It was really a unique experience of a lifetime. Hence, I recommend overnight in a camp, at least one night, as the wonderful experience can hardly be got in anywhere else of this planet.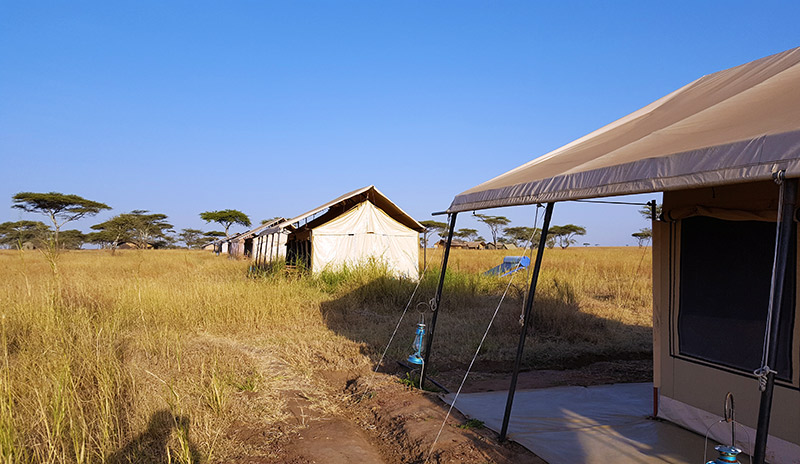 These tents look very simple from outside, but actually they are fully equipped with everything necessary.
At sunset, it's very easy to get great photos of Serengeti. A staff of the camp told us that it was not allowed to stay outside the camp after sunset so as to avoid any possible danger.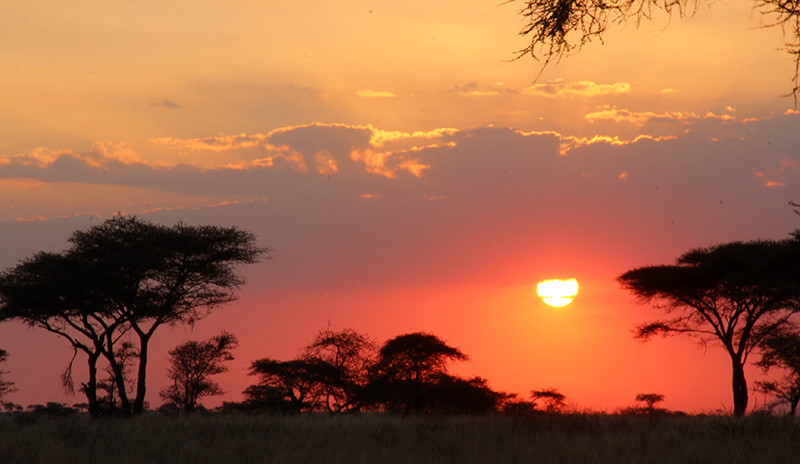 A splendid sunset view of Serengeti.
In my experience, a local experienced safari driver will help you get more surprises from the wildlife safari In Serengeti. Our safari driver is a magical person, because he can see various animals hidden in short grass from a very large distance, and also can pick the right roads quickly. So I guess he must have installed a navigation system and high-magnification telescope in his head. It was really amazing!
We got up early the next morning, and drove towards the central part of Serengeti National Park. When passing rocks like the one on the photo below, our driver told us that lions like to stay on rocks because they can enjoy the coolness under the shade of trees there, and also can easily find other animals around when looking down from high rocks.
As expected, we found a male lion and decided to drive after it carefully.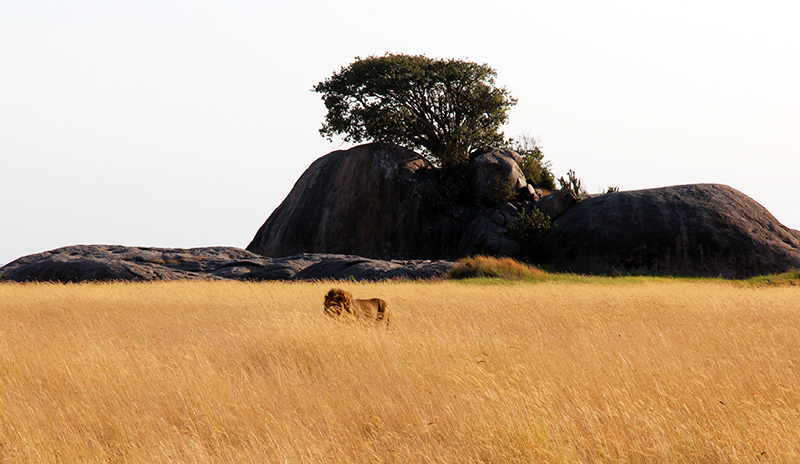 A male lion walking in the grass
Several minutes later, we knew it was walking towards the river for water.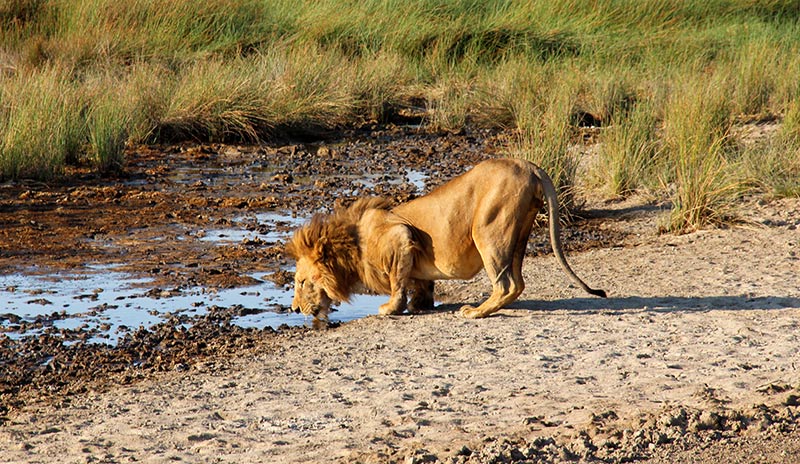 The lion was drinking water.
While the lion was drinking water, our driver found other two lions napping in the grass not far away. He thought they were three brothers. How lucky we were! We drove carefully towards the two lions to have a closer look at them.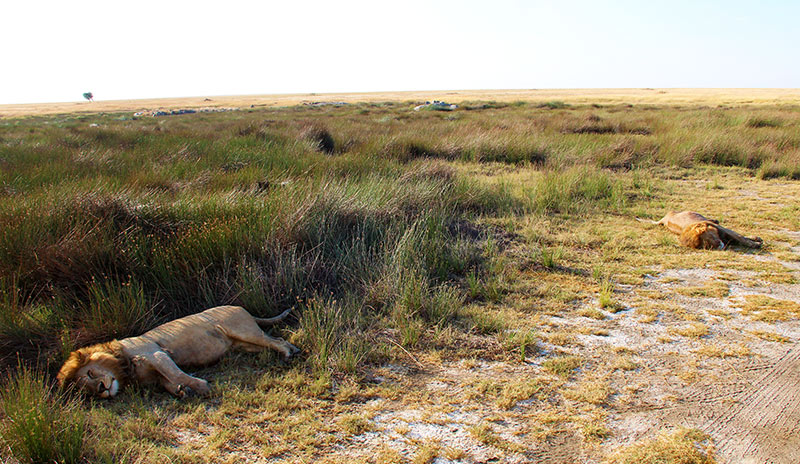 Two lions napping in the grass
These two lions are bigger. Their stomachs were round, so we guessed that they caught a prey very early in the morning. (Note: lions usually hunt when it's cool, such as in the cool early morning.)
We drove our vehicle close enough and then turned off the engine. We observed these two lion brothers very closely and carefully.
We got some of the best photos we took during this trip. We didn't have long lens but general cameras at that time, but we still got these incredible photos. Thus, you can imagine how close we were to them.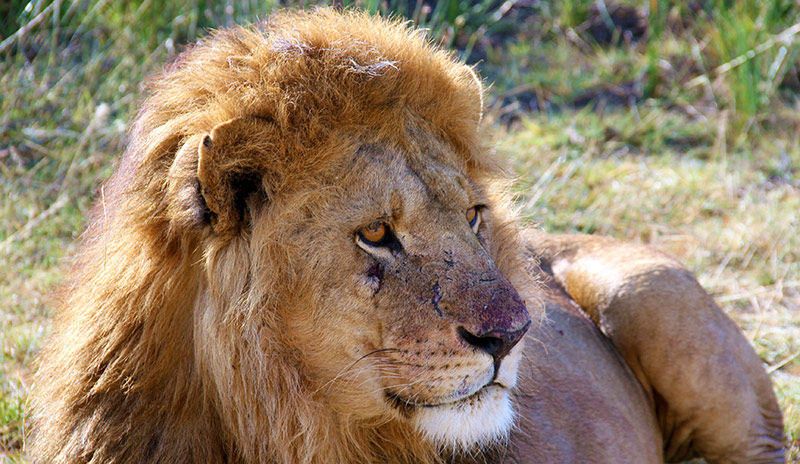 A close-up of a male lion
We stayed there for about 15 more minutes until the first lion came to the two lions and greeted with each other.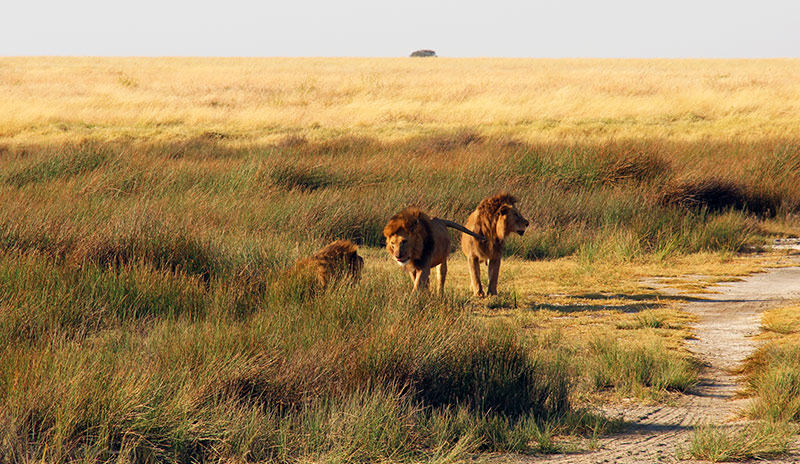 These three lion brothers were greeting each other intimately.
This was my first time that I was so close to wild male lions with no other tourists around. This was really a once-in-a-lifetime experience that I would never forget. Our driver quite agreed with me.
We drove away from the lion brothers with reluctant. While good luck continues to follow us through our trip, we saw the cheetahs, the fastest land animals.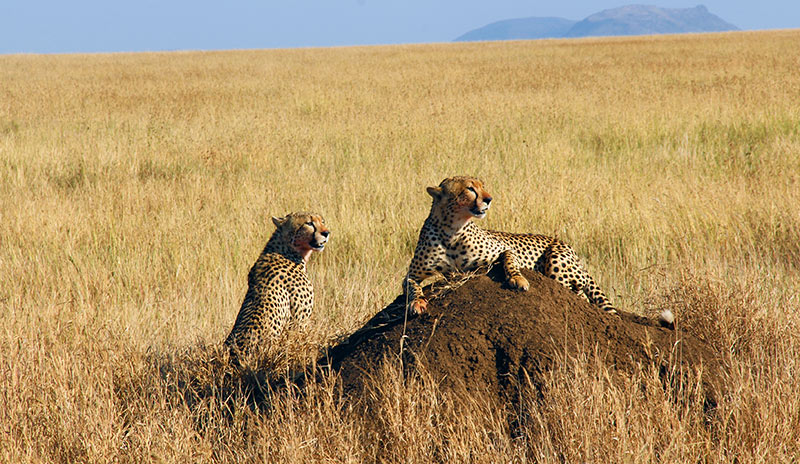 Two Cheetahs with blood on their lips after eating their prey
We also encountered the rare leopards, black rhinoceros, a herd of about 30 African elephants and many other wild animals. So we saw four of the Big Five game in a day!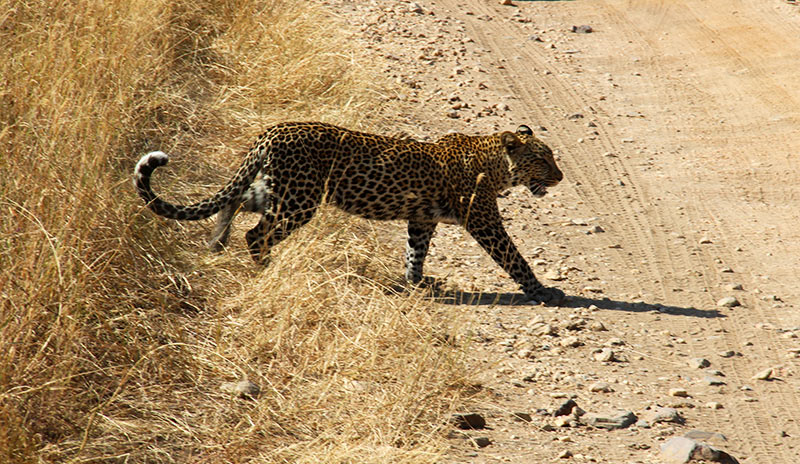 A leopard was crossing the road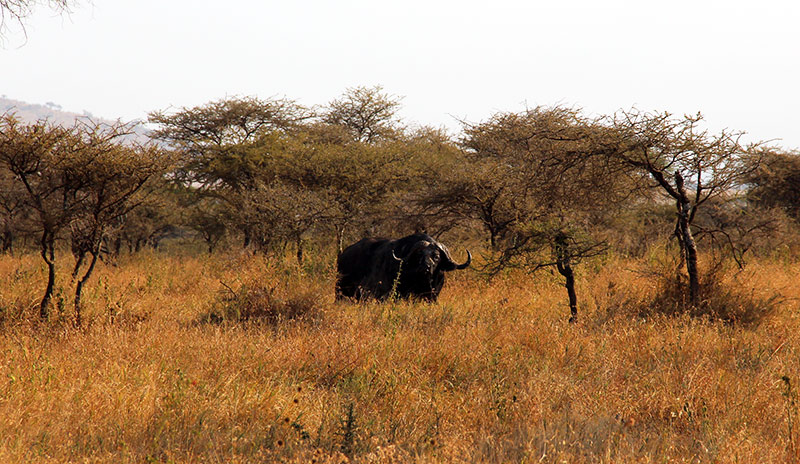 A Cape buffalo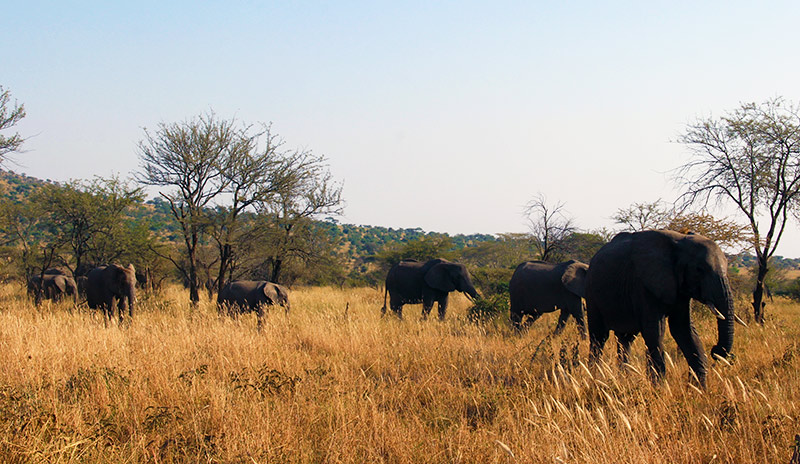 A herd of African elephants
Though we didn't see the popular Great Wildebeest Migration during this trip, we were keenly aware of the natural selection in this unspoiled land of Tanzania. Besides the great wildlife, we also experienced the unique Maasai culture, colonial culture, and coffee culture. I highly recommend a customized Tanzania tour once of a lifetime.
What Our Clients Say
"Great Service and Value", "Exceed All Expectations", "Highly Recommend".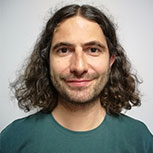 CONTACT A TRAVEL EXPERT
1-to-1 Service | Reply within 24hrs | Expert's Advice
STAY IN TOUCH WITH US
Subscribe to our newsletter so we can provide you with insider travel information, exclusive offers, and discounts.