When traveling in China, sometimes, to some spots, it is more comfortable and faster to take a train instead of a flight. So it's essential to know the luggage regulations of China's railway. Just sit back and let's start to learn the specific luggage rules of China's trains.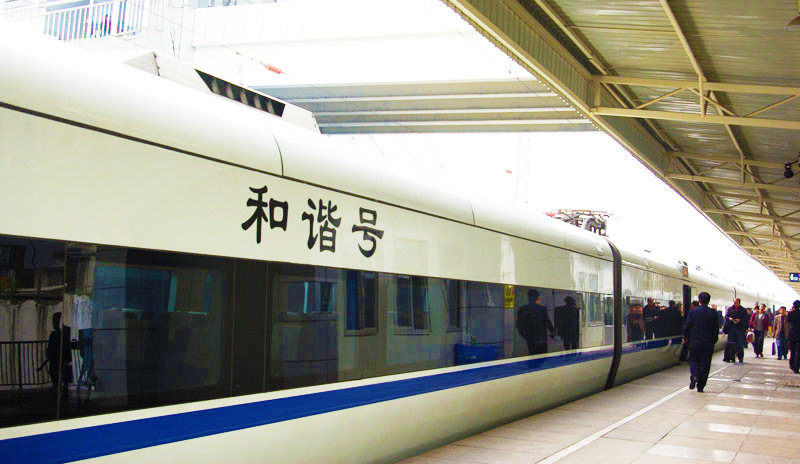 High-Speed train
Carry-On luggage allowance
When a trip is coming up, you may get used to being armed with almost everything you can take, but it may be wise to travel lightly for an easy journey.
Max. weight for carry-on luggage
For each child (including those eligible for free travel): 10 kg/22 lb
For each adult: 20 kg/44 lb
For each diplomat: 35 kg/77 lb
Max. size for carry-on luggage
For normal trains: 160 cm/63 in (Length+Width+Height) e.g. 28-inch suitcase
For high-speed trains: 130 cm/51 in (Length+Width+Height) e.g. 24-inch suitcase
The rod-shaped items (like fishing rods or tubes containing paintings): 200 cm/79 in for normal trains and 130 cm/51 in for high-speed trains.
Tips:
● The above allowance is not applicable to wheelchairs for the disabled.
● Bikes are not allowed to be taken on the train unless they are disassembled and packed as the size above. It is suggested to consign them.
● Luggage carts are not available in the train station, and sometimes lifts don't work. If you have a lot of luggage, you are recommended to find a "red cap" luggage porter who always wears red clothes or a red baseball cap to help at a cost of about 10-20 yuan (about 3 dollars) for each item of luggage.
● Label your luggage in case it is taken away by mistake.
Prohibited and restricted carry-on luggage
In order to protect your favorite items from being confiscated at security checkpoints, you'd better read the list of prohibited and restricted items before packing your luggage.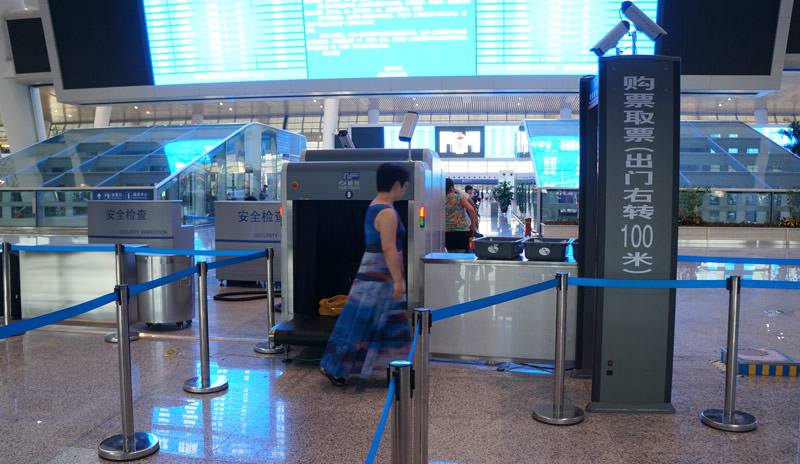 Luggage must be x-rayed at security checkpoints
Prohibited items
1. Weapons: guns and bullets, including military guns, sporting guns, prop guns, main parts, samples, and imitations.
2. Explosives: bombs, signal flares, tear gas, dynamite, fireworks, firecrackers, and imitations.
3. Knives: daggers, flicking knives, kitchen knives, fruit knives, axes, etc.
4. Instruments: spontoons, defibrillators, defense apparatus, bows, arrows, etc.
5. Inflammable items: oxygen (except bagged medical oxygen), hydrogen, methane, ethane, carbon oxide, and other liquefied gas; gasoline, kerosene, diesel, alcohol, other fuel oils, etc.
6. Dangerous items: poisons (rodenticide and highly toxic chemicals); corrosives (vitriol, hydrargyrum); radioactive items; infectious agents; magnetized items and foul-smelling items.
7. Live animals: any live creature (except guide dogs).
Restricted items
1. Nail polish, polish remover, hair dye: up to 20 ml
2. Insecticide, mousse, hair gel, air freshener, sunscreen spray, and pressure vessels: up to 120 ml
3. Safety match: 2 boxes at most
4. Lighter: 2 ordinary lighters at most
Tips:
● Live animals, including pets, are prohibited to be taken on the train. A guide dog with a leash is allowed to board the train if its owner can provide necessary documents, including valid ID or passport, certificate of disability, quarantine certificate, etc.
Luggage space on China's trains
It may be crowded on the train, so you should put your luggage safely somewhere you can keep eyes on. The inner structure and space for storing luggage on high-speed trains and normal trains are slightly different from each other.
High-Speed Train (C/D/G-Trains)
-First & Second Class
You can place large and heavy luggage (28-inch suitcase) in the cabinet at the joints between carriages and you will also get extra space for large luggage if you are seated in the first or last row. For small luggage, you use the rack overhead (for 24-inch suitcase).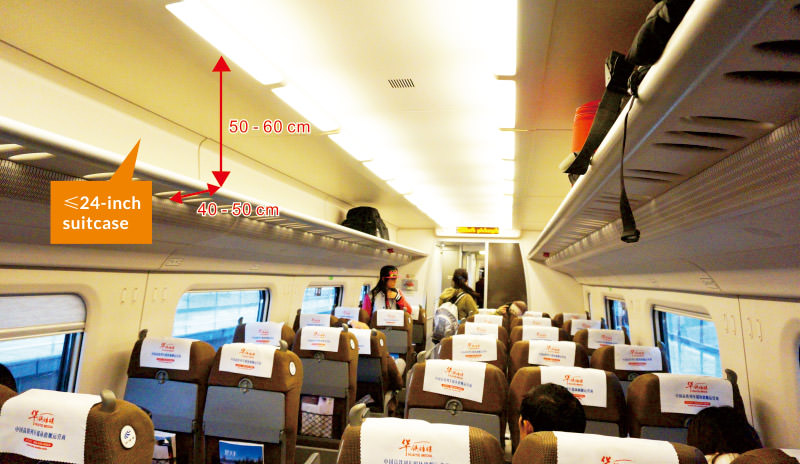 Second Class on high-speed trains
-Business Class
As the most comfortable seat class on the high-speed train, in addition to the same racks on both sides overhead, the business class provides enough room between each row for storing luggage.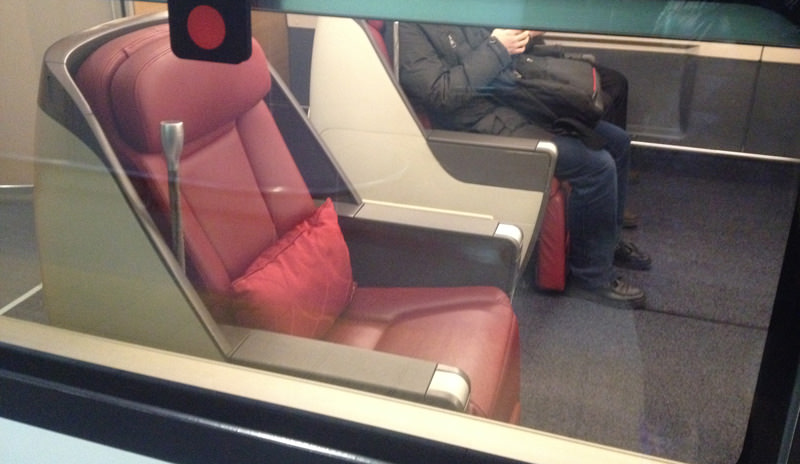 Business Class on high-speed trains
Normal Train (K/T/Z/L-Trains)
-Hard Seat Class
For convenience, it's best to put your luggage under your seat (12 in high) or stow your bags in the overhead racks (for 28-inch suitcase). Your water bottles and snacks can be placed on the middle small table.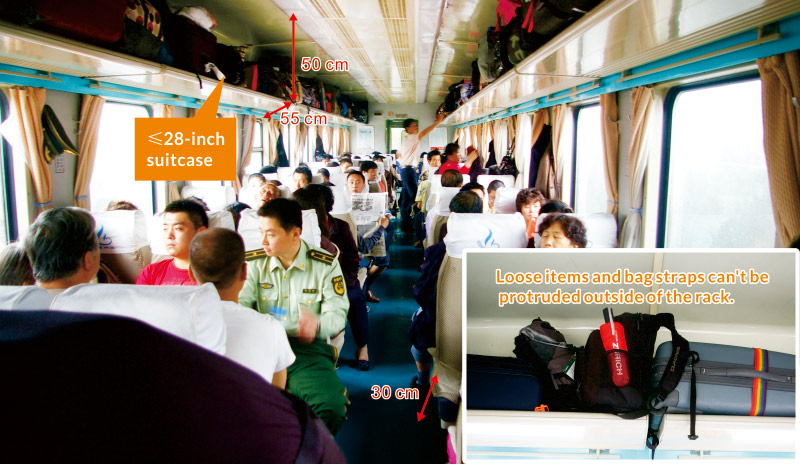 Hard seat Class on normal trains
-Hard Sleeper Class
If you take a hard sleeper berth, you can put the luggage in the overhead rack (for 28-inch suitcase) above the aisle, or under the lower berth (for 22-inch suitcase) and the middle small table (for 28-inch suitcase). In addition, you can hang your small bags with a wall hook in each berth.
-Soft Sleeper Class
Considering the comfort, many passengers will choose to take a soft sleeper berth. The soft sleeper carriage has three places to store your luggage: the rack opposite upper berth (for 28-inch suitcase), space under the middle small table (for 28-inch suitcase) and under the lower berth (for 22-inch suitcase). Also, there is a wall hook to hang your small bags.
Tips:
● Keep all valuables and important documents around with you.
● Don't leave your luggage in the aisle or by the door as passengers and train staff will pass by.
● Bag straps or water bottles mustn't protrude outside of the rack.
Left-Luggage service
For some passengers in transit, depositing the luggage at the left-luggage office and wandering around the city is a good way to kill time. You also can store your luggage in some shops and restaurants nearby. The costs depend on your luggage's size, amount and duration. If you want to leave your luggage overnight, check carefully with the staff first and don't leave valuables in your luggage.
Luggage consignment service
When you travel with excess luggage or some restricted items, you can choose the consignment service. Just fill in a consignment form and pay the fee, you will receive a receipt used for collecting your luggage. You can opt to buy extra insurance for your luggage and valuables.
If you are going to take a high-speed train, your luggage must be consigned by another separate normal train and may arrive later than your train as there is no specialized carriage for shipping on high-speed trains.
Tips:
● The maximum weight of each consigned luggage is 50 kg/110 lb, and the size should be suitable for loading onto luggage carts, but shall not be less than 0. 01 cubic meters. Pets lighter than 20 kg/44 lb with quarantine certificates can be consigned.
● Alternatively, you can find private logistics companies near the station to consign your luggage, such as SF Express, Deppon Express, Shengtong Express, Zhongtong Express, and Yuantong Express.
Today, taking a train has become one of the most popular ways to travel in China. If you are planning a trip to China and have any questions about traveling by train, don't hesitate to contact us.
What Our Clients Say
"Great Service and Value", "Exceed All Expectations", "Highly Recommend".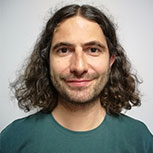 CONTACT A TRAVEL EXPERT
1-to-1 Service | Reply within 24hrs | Expert's Advice
STAY IN TOUCH WITH US
Subscribe to our newsletter so we can provide you with insider travel information, exclusive offers, and discounts.