The dream to travel the world has always lingered in the mind of many people. It's a great big world out there to be explored; you may be curious about it, imagine it, and daydream about it. Guess what? It can be done. Jessica Nabongo, a UN employee turned travel blogger, is someone you could look to for inspiration to travel. She is currently on a mission to become the first black woman to visit every country in the world. It isn't just about getting her name in a record book; what she really wants is to inspire others to travel and experience the world around them. Her story has been featured in Huffington Post, CNN, Forbes, and CBS, etc.
It is such an inspiring effort to travel worldwide as a female and solo traveler, indeed. Jessica was born and raised in a Ugandan household in Detroit, Michigan USA. She was high achieving since she was a young child; then after her graduation from university, she started a full-time career of her dream with a high-paying job. But, ordinary life never interested her, despite everyone thought that she was living the dream. Beyond that, she has always been curious about the world. Actually, she has been traveling after her first international trip to London and Uganda at the age of six. Her "visit-every-country" travel marathon started in earnest in 2017, by the time she had been to 60 of them. As of October 2018, there were 193 recognized countries in the United Nations, plus two with "non-observer status." Jessica is trying to hit the final by October 6, 2019, her late father's birthday. As I write this she has been to 149 countries, only 46 to go. Instead of just counting, she enjoyed every single county for an authentic travel experience.
Jessica's world travel brought her to China - the number 141 on her list of visited countries - in late September. Just a week before her arrival, an email was sent to Odynovo, inquiring about a Great Wall tour for Jessica's first visit to China. Besides that, she was excited to explore the rich history, learn about local culture, and interact with the locals. Tailor-made tours are our specialty; we got inspired a lot by Jessica's story and would like to help her to make the travel-the-world dream come true soon.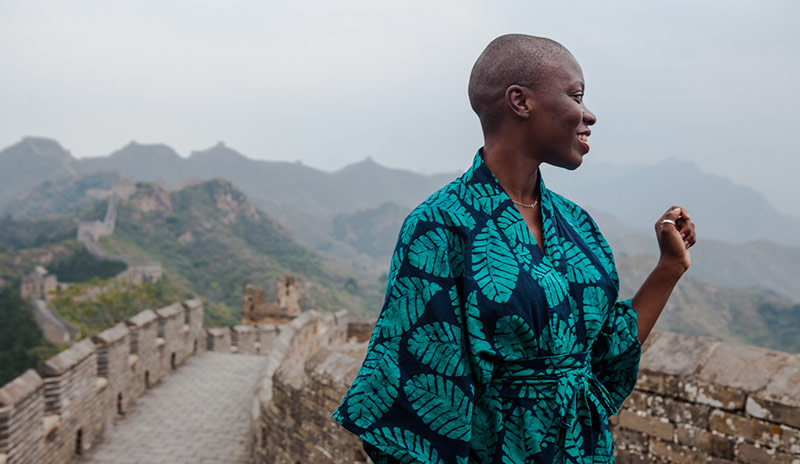 Jessica visited Jinshanling section of the Great Wall, Beijing China (Photo credit: Jessica Nabongo)
The Great Wall, as the iconic landmark of China, really is an absolute 'must' when traveling in Beijing. With a total length of 21196 kilometers (13170 miles), this man-made feat is actually connected by different wall sections built in different dynasties. From Beijing alone, there are more than ten sections of the Great Wall open to tourists; and each of the sections offers different sights and levels of accessibility. Due to this, it's best to decide which section to visit, Badaling, Mutianyu, Simatai or others. We further figured out Jessica's travel interest, "she just wants to see the best views, get amazing photos, and learn history about the wall." The Great Wall at Jinshanling has retained many original features since its construction several hundred years ago, and it is a less busy but accessible section with great views.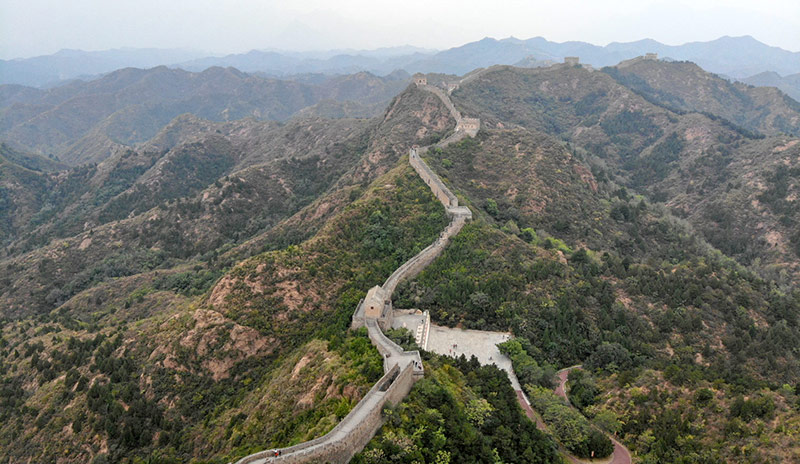 A bird's view of Jinshanling Great Wall, Beijing (Photo credit: Jessica Nabongo)
The Great Wall is the 6th of New Seven Wonders of the World, which Jessica has visited. We are happy to know that she has thoroughly enjoyed her Great Wall trip. "On my recent trip to Beijing Odynovo provided airport transfers and a city tour as well as a trip to the Great Wall of China! The part of the Wall that we went to did not have many tourists, which allowed us to enjoy the Wall without all of the tourists that you encounter at the parts of the Wall closest to the city. I highly recommend their services in Beijing." Jessica Nabongo reviewed us on Odynovo's Facebook page.
The Great Wall truly is a marvel to behold. Also, we fully understood that Jessica would like to get connected with history, culture and local people. The Temple of Heaven is the right place to cover them all. This site used to serve as the sacred place where emperors of the Ming and Qing dynasties (from 1420 to 1910) held the Heaven Worship Ceremony. But today, not just a collection of historic structures; it allows Beijingers to have various forms of exercise and recreation in its 267-hectare park, like doing tai chi, playing poker, singing, and dancing. Early morning is the best time to visit it, as the retired locals like to get up early and head home before midday. There are good chances to meet up them for casual talks, with a bilingual tour guide as the translator, and get engaged in their usual activities as well.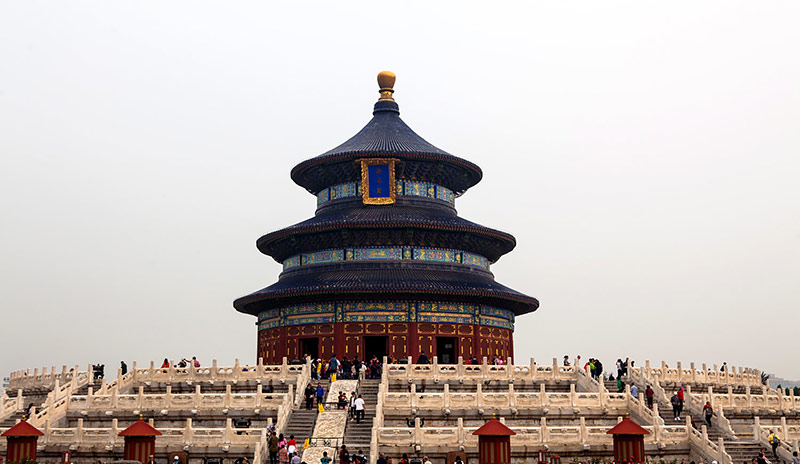 Temple of Heaven, the largest surviving sacrificial complex in ancient China. (Photo credit: Jessica Nabongo)
During Jessica's stay in Beijing, she had some time free for her own exploration. Beijing, an old city of ancient monuments or a modern city full of skyscrapers? Possibly this question would come to the mind of many visitors. On the one hand, it is a famous ancient capital with historical and cultural heritage, which attracts crowds of people day in and day out; marvel at the ancient wonders of China's past like the Forbidden City, walk through its traditional Hutongs, and get into centuries-old courtyard houses... On the other hand, it is a rapidly developing modern metropolis, where skyscrapers and modern architecture dot the skyline. As an ancient yet modern city, Beijing has its own unique charm. And what's more, if you like, you can choose to have some hands-on experiences on cultural activities, like Chinese Calligraphy, and Kung Fu Lesson.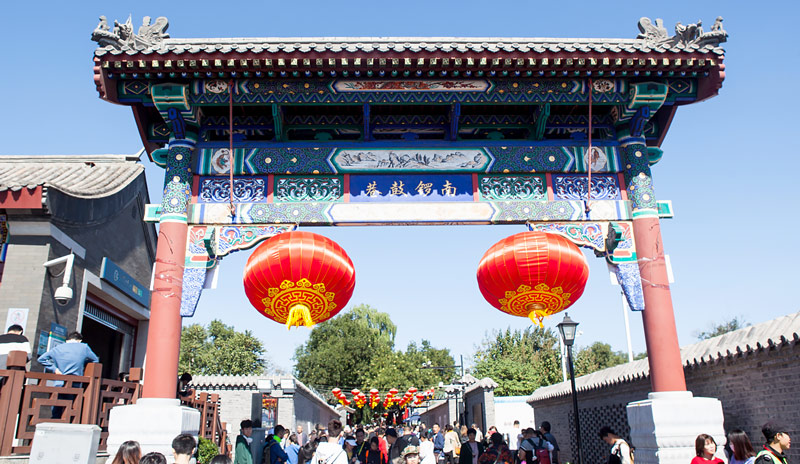 Nanluoguxiang, namely South Gong and Drum Lane, has a history spanning more than 800 years. Today, the 800-meter stretch is lined with bars, restaurants, boutiques, and surely traditional courtyard houses. (Photo credit: Jessica Nabongo)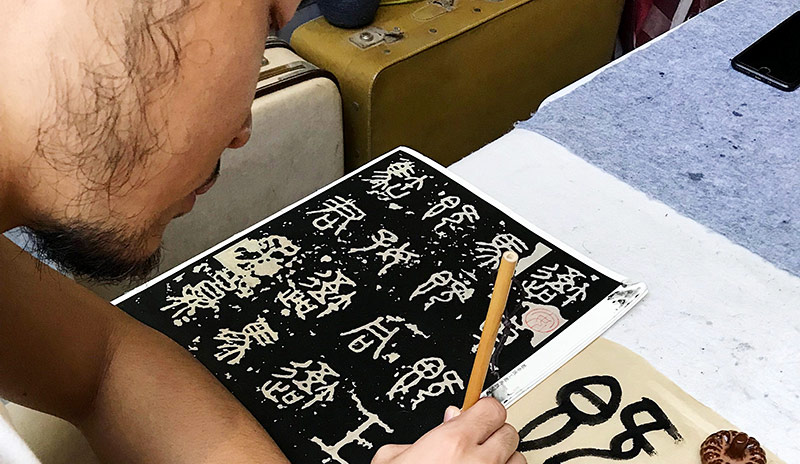 In a calligraphy workshop, visitors can learn about how to master Chinese character stroke order, and then try their hands at writing with a brush. (Photo credit: Jessica Nabongo)
"Yes, it was my first time traveling to China." Jessica told us after her Beijing visit, "Following my trip I felt that China is an interesting country with a very extensive history. There is so much to learn and I am happy to have gotten a small taste!" The purpose of traveling is to experience something different. We believe that around the world travel is possible, and every destination has something unique to offer. It is important to see what's out there. You just need to decide you're willing to take the first step and start planning your itinerary.
Why travel? Because we can. We are lucky enough to have much greater access to travel, all over the world. Odynovo provides custom vacations to 70+ destinations worldwide; please feel free to send a quick inquiry and request a tailor-made tour itinerary.
What Our Clients Say
"Great Service and Value", "Exceed All Expectations", "Highly Recommend".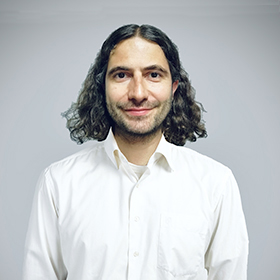 CONTACT A TRAVEL EXPERT
1-to-1 Service | Reply within 24hrs | Expert's Advice
SUBSCRIBE TO WIN A FREE TOUR
Subscribe to our newsletter for a chance to win a 5-day Japan tour for two people! And more insider travel news, exclusive offers, and inspiration will be sent straight to your inbox.