With Cairo as the center, Egypt has a good network of transportation and you can travel and discover Egypt in many ways. Getting around a new country may be an adventure. So we are here to offer you the most popular transportation options and useful traffic information.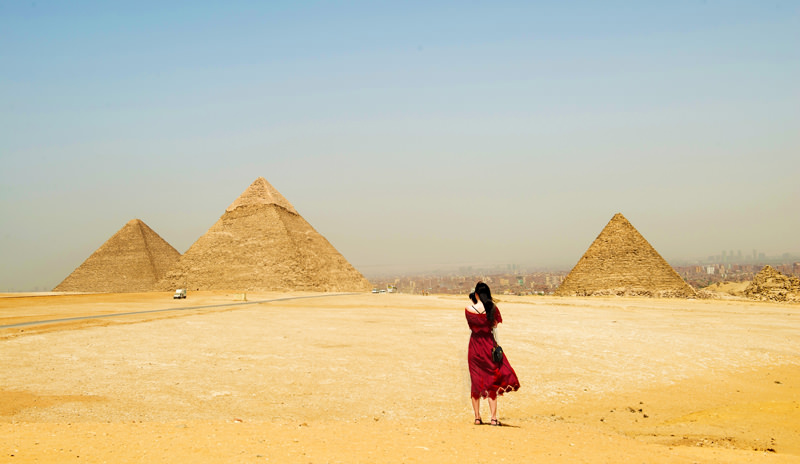 The pyramids of Giza near Cairo
How to get around Egypt?
By Air
The best way to get around Egypt is by air although there are reliable bus and train services, as it's often far from one tourist center to another. Domestic flight service is mainly provided by Egypt Air, but Nile Air has a few services between Cairo and other major cities. You can book tickets online and may get a cheaper flight if you book a long time ahead. And if you change your location to Egypt at the top of the website, the price will be shown in Egyptian Pounds and be much less than the same flight costs when you give a location outside of Egypt. Take earplugs if you want to have a rest or sleep during your trip because the sound of ads and music videos is loud on the plane.
By Bus
Taking a bus is the major way for locals to get around Egypt. You can get to most cities and towns by bus, at a reasonable cost. It's safe, reliable, and the best way to some rural districts beyond the Nile Valley. Five major companies monopolize long-distance bus services and each serves a separate area of the country. Eastern Delta serves the Canal area, Mansoura and Damietta; Middle Delta runs to Kafr El-Sheikh, Manufiyyah and Tanta; Western Delta serves Damanhur, Alexandria, the NW coast and Siwa; Southern areas serves all areas in the Nile Valley and along the Red Sea Coast; Sinai Buses Company serves all areas of Sinai. However, buses aren't fast and are often delayed. If you are going to or from Cairo, you can waste at least an hour in city traffic. Bring a blanket or scarf to keep warm on account of the low air conditioning temperatures on the bus.
By Train
There is an efficient north–south railway linking the Nile Valley, Delta and Canal Zone. You can enjoy a pleasant trip from Aswan in the south and Alexandria in the north by train. Mainline trains run from Cairo to Aswan via Luxor; Alexandria via Tanta, Suez and Ismailia; Damietta via Mansoura; Sallum via Mersa Matruh. There are fast a/c trains from Cairo to Alexandria or Aswan, including sleepers and normal non-a/c local services, while from Cairo to Luxor/Aswan, foreigners are only allowed to travel on four "tourist trains" (two of which are sleepers), so don't board the wrong train. Most trains leave from the main downtown station in Ramsis Square. There is a useful information office, and tickets are sold there, or you can check the schedule and book tickets at the Egyptian Railways website https://enr.gov.eg.
By Car
You can hire a car with a driver or self-drive to explore Egypt as petrol is cheap and by car is more flexible going from town to town. The maximum speed limit in the city or town is around 60km/h (37mph), 90km/h (56mph) outside town, 100km/h (62mph) on the high-speed way and 30km/h (18mph) for stretches of roads. But locals don't always obey the rules and highway limits are ignored, so you must be very cautious and avoid night driving. Read more: Most Frequently Asked Questions About Egypt.
How to get to the city center from Cairo International Airport?
Cairo International Airport is the gateway to Egypt and has nonstop flights to major world cities in Europe, Asia, Africa, and North America. You can fly direct to Cairo from New York, London, Paris, Toronto, Berlin and more cities. When arriving at the airport, you can get to the city center or some attractions in many ways:
Bus
You can go to the Bus Station located in the parking area in front of Terminal 1 and take the city buses to downtown. If you arrive at Terminal 2 and 3, then you should take a shuttle bus to Terminal 1 first. No. 111 bus runs to Shubra and No. 324 bus towards Imbaba. And both these two and No.381 bus stops at the center of the city, and you can walk to the Egyptian Museum and Tahrir Square within 15 minutes from here. The price is EGP 5 / USD 0.3 for a single ticket and it takes about an hour to the downtown.
Taxi or Uber
You can take a taxi in the arrival hall. The old black and white taxis usually do not have a meter so you can negotiate with drivers before travelling, and they are usually not air-conditioned. The white taxis have meters. Increasingly, yellow air-conditioned taxis are becoming available. It costs EGP 70–80 (about USD 4) to Tahrir Square in central Cairo, and takes up to 90 minutes to the pyramids, maybe longer during the peak time. Or you can call an Uber and wait at the parking area, but many drivers don't speak English, so it's best to send a message with your location to them to find you.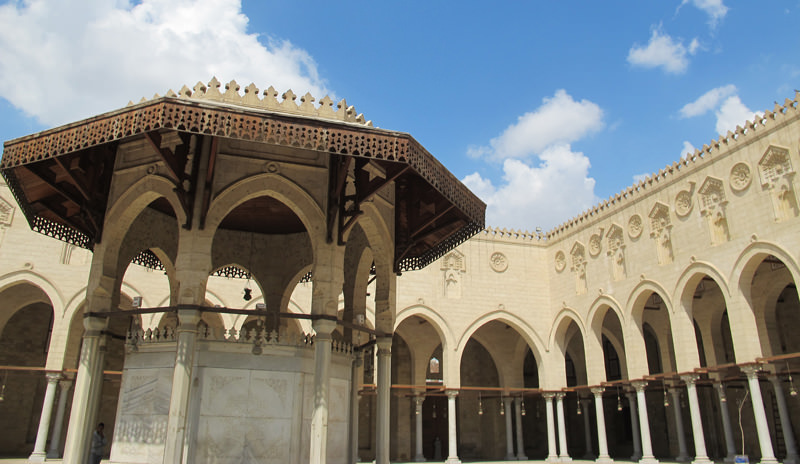 The old city of Islamic Cairo
Pre-arranged Shuttle Service
A door-to-door service via pre-arranged shuttle is the best way to get to the city center, especially for a group or family. Most airport transfers cost between USD 15–20 each way. The service not only runs to Cairo city center but also to Heliopolis, Nasr City, Giza, Mohandessin, Zamalek, Maadi and the Pyramids area. The best known two providers are:
London Cab: http://londoncabegypt.com.
Cairo Airport Shuttle: https://www.cairoshuttlebus.com.
Car Rental
You also can rent a car online or at the airport. Avis has a desk in Terminal 1 hall 3. Budget, Avis, Sixt and Hertz have desks in Terminal 3. The prices are fixed depending on the destination and the car category.
How to get around Cairo?
Metro
The most efficient way to get around Cairo is by metro (tel: +20 225748354, http://www.cairometro.gov.eg/). You can spend GEP 2 / USD 0.1 to any stop. It's not crowded and runs every five minutes from 6 am to 11:30 pm. By 2014, Cairo had three lines and 61 stations:
Line 1 or red line (New El-Marg–Helwan): reaches Maadi, Tahrir (Sadat station), Ramsis (El Shohadaa station).
Line 2 or orange line (Shubra–El Monib): reaches Cairo University, Giza, Dokki and El Sadat, El Shohada and Attaba stations.
Line 3 or green line (Attaba–El Shams Club): reaches Heliopolis (Al Ahram station) easily and soon will connect to the airport (it is said in 2019 or 2020).
Bus/Microbus/Taxi/Uber/Car Rental
Buses are very crowded in Cairo. You can use the private microbuses for certain routes (GEP 2–5 / USD 0.1–0.3), for example, from the Giza metro to the main gate of the Pyramids, and from Midan Ataba to Midan Al Hussein for Islamic Cairo. Another option is to take a taxi or call an Uber. If you have a language problem, you can ask your hotel for help. Some taxi drivers also provide guide service. Driving in Cairo is nerve-racking due to the heavy traffic and limited parking space. So it's recommended hiring a car with driver.
River Bus
Taking a river bus is so much better than a traffic jam though it's not so fast. It's a good choice if you want to visit riverside destinations, such as the historical Coptic area in Old Cairo. It runs every 15 minutes from the Maspero near downtown Cairo to Giza (30 minutes, EGP 1.50 / USD 0.1), via the Giza Zoo and Cairo University.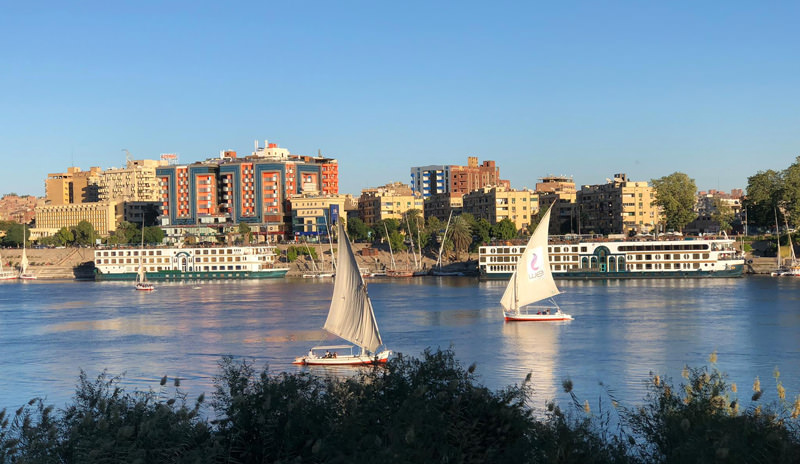 Cruises and feluccas sailing along the Nile
Felucca
Feluccas also offer a slow but scenic way of sailing the Nile. You can embark on one at Dok Dok landing stage in Garden City to Giza for the Pyramids and the Sphinx, at around EGP 60–80 (USD 3–4) for a one-hour ride.
Carriage
Although slower, horse-drawn carriages are popular for sightseeing. They can often get where taxis cannot, and the drivers usually know the area better than taxi-drivers. You can easily find them in downtown Cairo, Giza, Zamalek and along the Nile.
How to get to other destinations from Cairo?
You can travel to other hot destinations from Cairo through various means of transport, and here we recommend some practical options to you: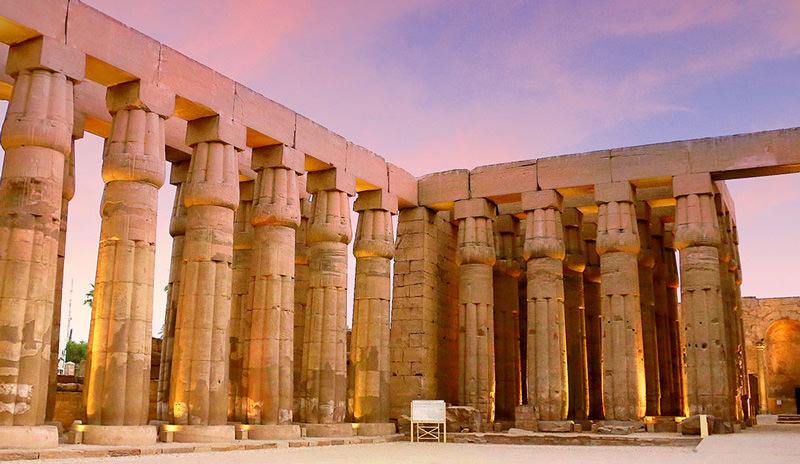 The Luxor Temple complex
Cairo–Luxor: Taking a flight is the fastest way from Cairo to Luxor. It takes around 1 hour at USD 48–221; or spend around 10 hours and USD 3–12 taking the train.
Cairo–Aswan: We recommend flying from Cairo to Aswan. It takes about 1.5 hours at USD 42–226.
Luxor–Edfu–Kom Ombo–Aswan: A 5D4N Nile cruise tour from Luxor to Aswan must be the highlight of your Egypt trip. You can enjoy the beautiful view of the Nile, and visit historical heritage sites and temple complexes, such as the Colossi of Memnon, Valley of the Kings and Queens, Temples of Abu Simbel, etc. If you want to take a train, it takes about 5 hours from Luxor to Aswan, at USD 2–6.
Cairo–Hurghada: Flying from Cairo to Hurghada is the fastest option and takes around 1 hour at USD 35–290; Alternatively, you can spend about 5 hours and USD 3–30 to Hurghada by bus. Read more: A Guide to Visiting Hurghada, Egypt's Red Sea Resort Town.
Cairo–Alexandria: The fastest way from Cairo to Alexandria is by bus, within 2 hours; or it takes nearly 3 hours by train, at USD 2–6. When you arrive in Alexandria, it's convenient to hire a taxi to visit El Alamein.
You may be dazzled by the various traveling transports and still don't know which one is the best way for your itinerary. Odynovo can customize a hassle-free Egypt tour for you, and It's you to decide where to go and stay, what to see and do. Just tell us your interests and needs, and we will offer you a tailor-made plan within 24 hours.
What Our Clients Say
"Great Service and Value", "Exceed All Expectations", "Highly Recommend".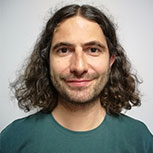 CONTACT A TRAVEL EXPERT
1-to-1 Service | Reply within 24hrs | Expert's Advice
STAY IN TOUCH WITH US
Subscribe to our newsletter so we can provide you with insider travel information, exclusive offers, and discounts.