Written by Bruce
Published by Lynn
Sabah, located on the northern portion of Borneo Island, is a state of Malaysia. It is nicknamed "Land Below the Wind" because it lies below (south of) the typhoon belt of East Asia but is never affected by the devastating effects of any typhoons. The Kinabatangan River, stretching over 560 km, brings infinite vitality to this land with lush forests and countless wildlife. During my 2-day tour to this land, I have encountered various amazing real wildlife.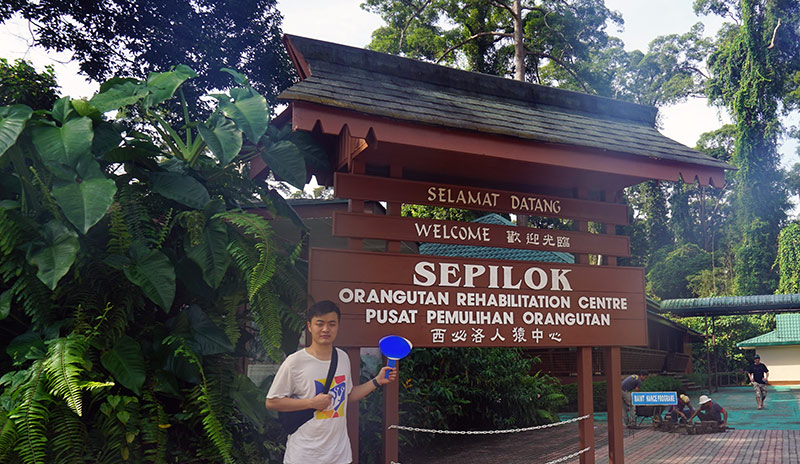 Sepilok Orangutan Rehabilitation Centre
After 1.5-hour drive from Sandakan City, I arrived at my first stop, Sepilok Orangutan Rehabilitation Centre, the best-known orangutan rehabilitation center in the world. Covering 43 square kilometers, the center was opened in 1964 for orphaned, injured or rescued orangutans from plantations, logging areas or illegal hunting. These orangutans are trained how to survive in the wild again; this learning process can take years. When they are ready, they are released into forests. More than 100 orangutans have been released successfully by the centre since its opening.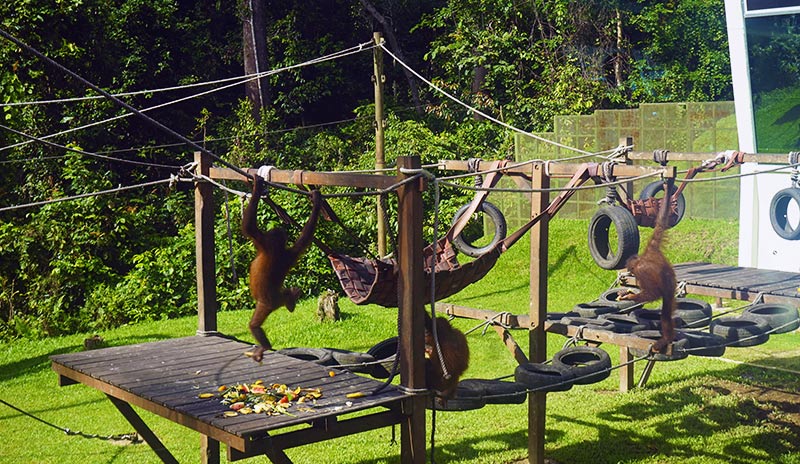 Orangutans are playing on the climbing area.
The best time to watch orangutans is the twice-daily feeding times: 10:00 and 15:00, when many of the orangutans living in the forest return to the centre for food (milk and bananas). Walking through the boardwalk leading to the feeding platform, I had a unique chance to get close to orangutans.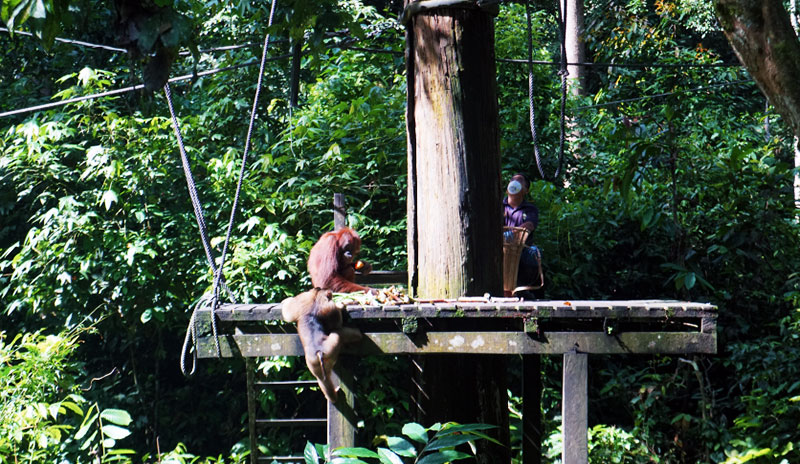 Orangutans are enjoying food on the feeding platform in the lush forest.
Opening hours:
The centre: Saturday to Thursday: 9:00-12:00, 14:00-16:00; Fridays: 9:00-11:00, 14:00-16:00.
Reception & Ticketing Counter: Daily 9:00-11:00; 14:00-15:30
Tailor a Sabah Private Tour to Meet Your Needs
Tailor Now
Kinabatangan River
At around 14:00, we took a speed boat along the Kinabatangan River from a wharf to our next destination, Abai Jungle Lodge.
Animals here usually hide in the lush jungle beside the Kinabatangan River during the daytime because of the scorching heat, and come out at dawn and dusk. Our guide Eric is very experienced, who searched both sides of the river constantly. When finding any animal, he turned off the engine of the boat, rowed the boat close to that animal quietly, and then pointed out it to us, and explained the name, characteristics and habits of the animal in detail. He also showed a visual encyclopedia of animals to us to enable us to learn more about the animals.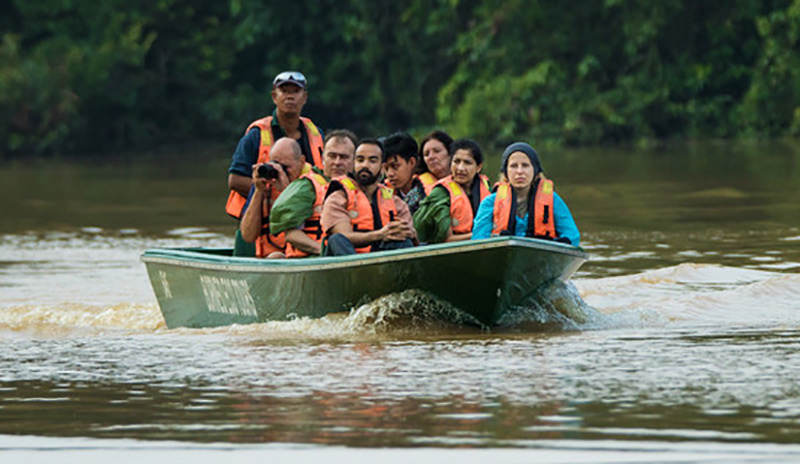 We encountered many visitors from other countries en route.
About 1.5 hours later, we reached the Abai Jungle Lodge. After a short rest, we, together with our guide Eric, set out for the Kinabatangan River again at around 16:00 to discover animals on both sides of the river.
As dusk fell, monkeys came out from the deep of the jungle. They drank the river water and picked fruits on trees as their dinner. After the meal, they climbed up trees and slept on high branches as their habit for safety.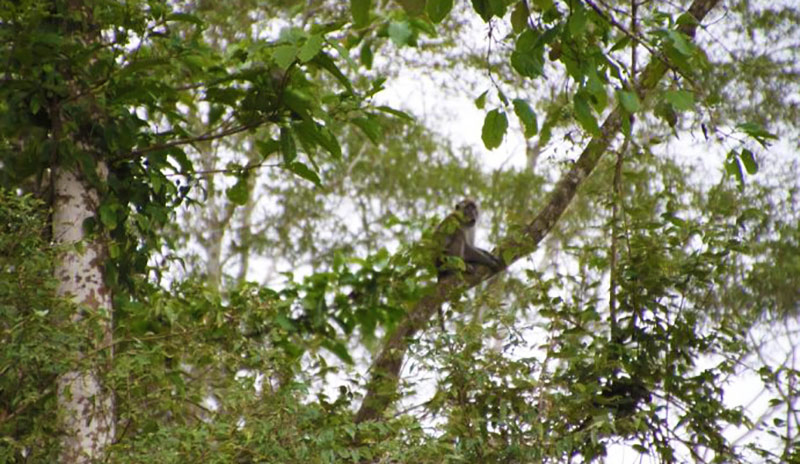 These long-tailed monkeys are aggressive and not afraid of humans. They dare to look into my eyes.
Here in Sabah, you have many chances to see hornbills. I also encountered many of them in the Labuk Bay later.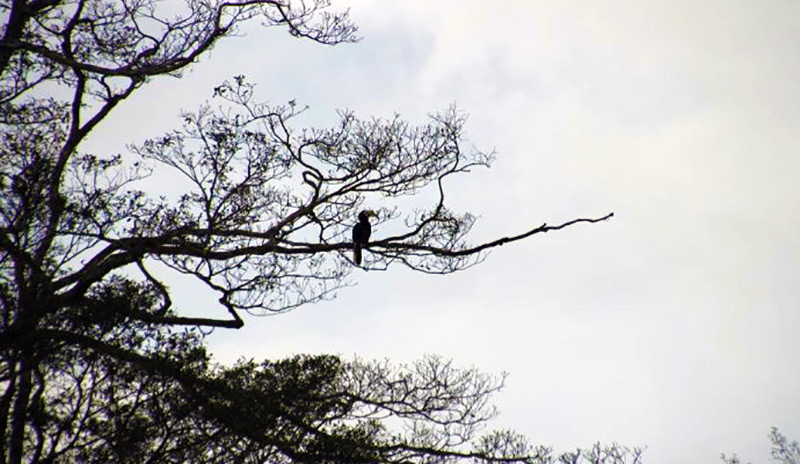 A hornbill in the tree
Trivia of hornbill
Hornbill is a kind of bird found in tropical and subtropical Africa, Asia and Melanesia.
They look very special as they are characterized by a long, down-curved and brightly colored bill.
They are monogamous, and have only one mate during their lifetime.
They are omnivorous birds, which eat fruit, insects and small animals for diet.
They usually nest in natural cavities in trees and sometimes in cliffs.
We finally saw a long-nosed monkey among the green leaves. It is a young female monkey.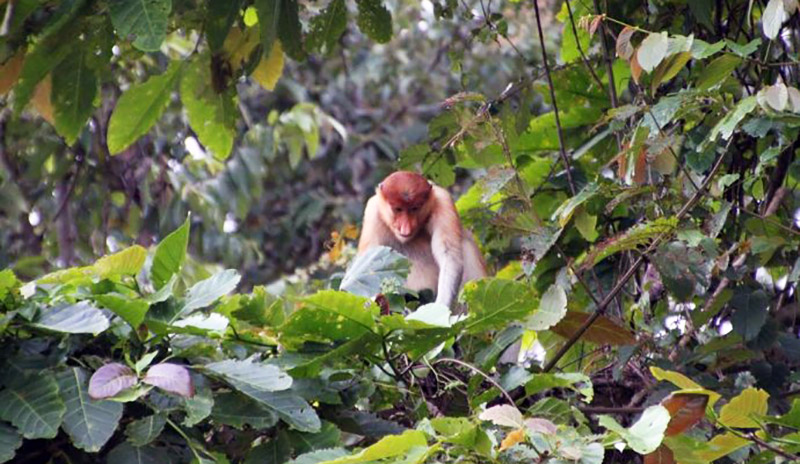 Trivia of long-nosed monkey
The long-nosed monkey (proboscis monkey or Nasalis larvatus) is endemic to the Borneo Island, and can be found in all three countries on this island: Malaysia, Indonesia and Brunei.
It usually lives in dipterocarp, mangrove and riverine forests in coastal areas and along rivers.
It may be the most aquatic of the primates, and usually stays within a few kilometers from a water source.
It is really an excellent swimmer, who can swim up to 20 meters underwater, and swim across rivers.
It is also a good jumper, capable of jumping off branches and descend into water.
It is a seasonal eater, eating mainly fruit and leaves, and sometimes eat flowers, seeds and insects.
It is large in size, being one of the largest monkey species native to Asia.
It is very easy to identify the male and female, as the male has an unusually large nose (proboscis), which can exceed 10.2 cm in length and hangs lower than the mouth. Theories for such long nose suggest it may be sexual selection by the females, who prefer louder sound, and the large nose contribute to high volume of call. The nose of the female is smaller, but still very large for a primate.
Its face changes in color several times during their lives. It is born with a blue colored face, which darkens to grey at 2.5 months, and becomes cream colored by 8.5 months.
The two layers of fur differ in color. The fur on the back is brick-red, yellowish brown, reddish brown or bright orange; and the underfur is light-grey, yellowish, or greyish to light-orange.
It co-exists with the Bornean orangutan.
It is endangered with the total population has decreased by over 50% in the past 40 years to 2008. They are losing their habitat continually because of oil palm plantations, logging, and hunting as a delicacy and a material of traditional Chinese medicine.
It is now protected by law in all regions of Borneo Island.
We had a short rest in the middle of the river, when we enjoyed the coffee pre-prepared by our guide. We call it "tea time". After that, we decided to return to our lodge.
As the sun went down, we saw more and more various animals, mainly long-tailed monkeys, and some macaques, silvered leaf monkey and long-nosed monkeys.
"Will I see elephants or crocodiles?" I asked our guide. The answer is a little disappointing: "The elephant herds have gone away and won't be back until November. Lots of elephants have been caught and killed in the past years because they tend to destroy the crops. It's a great pity that now it's getting harder and harder to encounter an elephant. As for crocodile, too many ships navigate on this river now, and the noise of the motors scares them. They are now hiding themselves. Maybe you will see some sleeping crocodiles on the river mudflat tomorrow morning." But immediately after he stopped talking, he turned off the motor and said to us: "Hey, guys, crocodile…". We looked in the direction he pointed, and found a crocodile with less half of its body above the water. How lucky we were!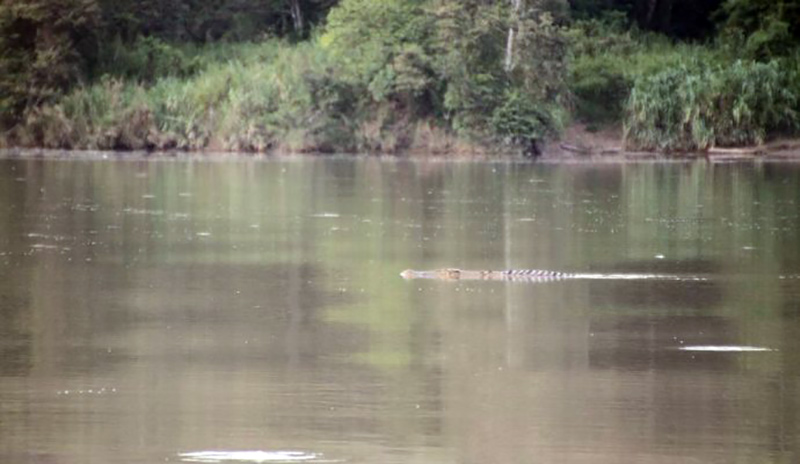 All of us were excited and took many photos of the crocodile.
After that, we returned to our lodge with satisfaction. The entire river cruise took about 2 hours.
Night walk in the jungle
After dinner, we took a 45-minute night walk in the jungle starting from 20:45 to encounter more animals.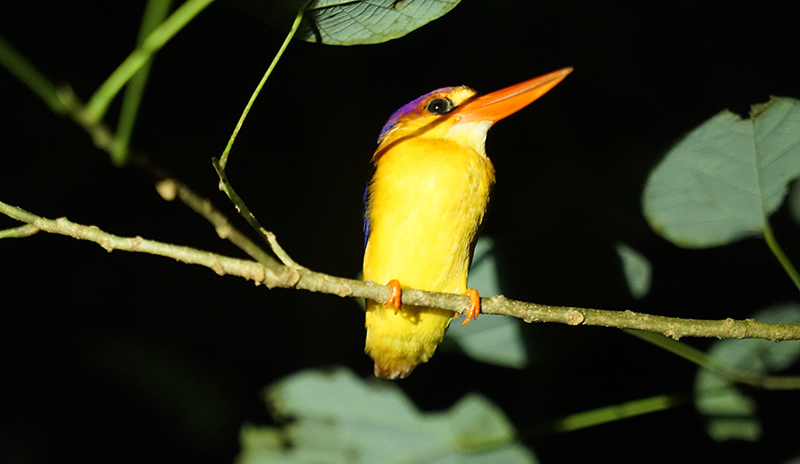 This kind of bird has night blindness, that means it cannot see anything at night. So it usually stops on a very tiny branch, and fly away immediately when it feels the branch swing.
Pitas Oxbow Lake
The next morning, we set out for a 1.5-hour tour to the Pitas Oxbow Lake at 10:00, though we planned to start at 6:30. It was delayed because of rain. So here, the weather is a big factor to take into account. The scenery of the lake was fantastic and made me feel like I was in the Mekong Delta.
Later in the afternoon, we admired the breath-taking sunset view of the Kinabatangan River, and said goodbye to this wild yet charming place.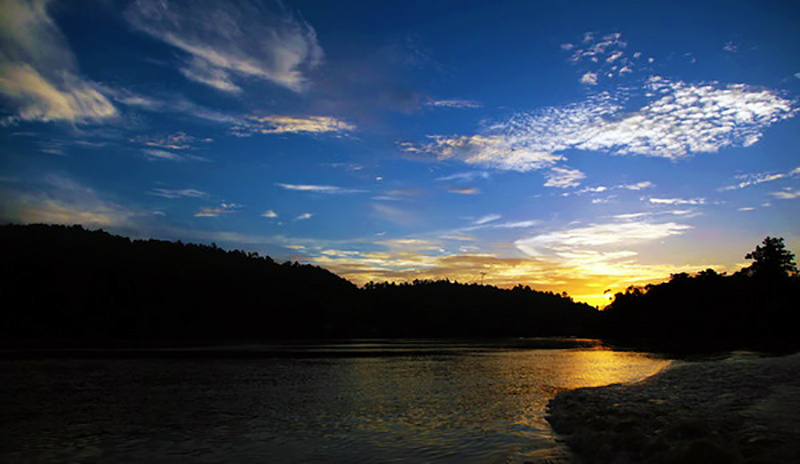 For wildlife lovers, I highly recommend Sabah, as you can encounter many real animals in the wild and it's cheap to make a tour here now. According to my experience, I suggest taking a raincoat, mosquito repellent, telescope and telephoto lens with you. And more importantly, relax yourself and enjoy the charm of this virgin rainforest.
What Our Clients Say
"Great Service and Value", "Exceed All Expectations", "Highly Recommend".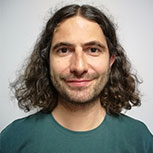 CONTACT A TRAVEL EXPERT
1-to-1 Service | Reply within 24hrs | Expert's Advice
STAY IN TOUCH WITH US
Subscribe to our newsletter so we can provide you with insider travel information, exclusive offers, and discounts.