Most travelers to Nepal will pay a visit to the Chitwan National Park, one of Asia's best national parks, for a view of its abundant wildlife, such as one-horned rhinos, Bengal tigers, wild elephants, sloth bears, monkeys, deer, and various types of birds. To gain the best experience, it's important to do some homework before you go. This post aims to provide some essential information that will help you plan your trip to this amazing park without hassle, from when to go to what to do and more.
About Chitwan National Park
Chitwan means "Heart of the Jungle"
367.81 sq mi (952.63 sq km )
Home to 68 mammals (e.g rhinos, sloth bears, monkeys, tigers, and leopards )and 600 bird species
Built in 1973 and listed as a UNESCO World Heritage Site in 1984
Around the park are many Tharu villages, the indigenous people of this area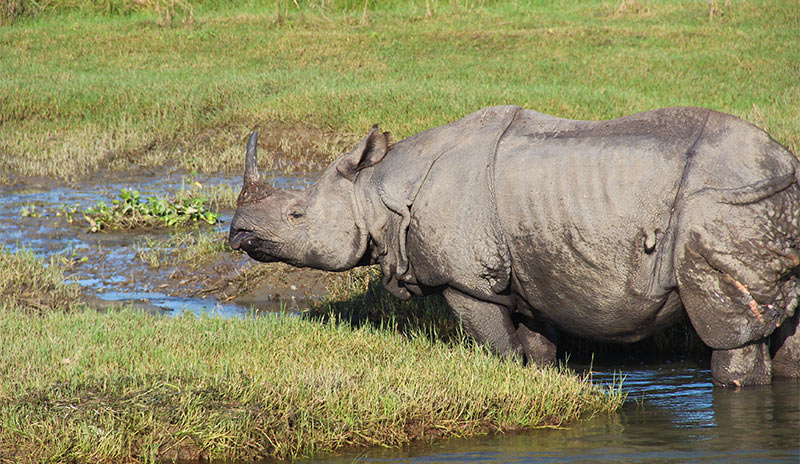 A one-horned rhino went out for water in Chitwan National Park
When to go?
Most comfortable time: Oct–Mar
Best Chance for view animals: Jan–Mar
Time to Avoid: Jun–Sep
Though the park opens all the year round, October to March is the most pleasant time to visit as the skies are clear and the average daily temperature is about 77°F/25°C. For seeing animals, the best time is late January to March when the villagers slash the towering grass, making it easier to spot wildlife.
The months that you may want to avoid is the monsoon season (June to September) when rivers may flood, making some tracks impassable, and the grass in the park grows very tall (up to 26 feet/8 meters), making it harder to see animals.
How to get to Chitwan National Park
There are several ways to get to Chitwan National Park. The most popular one is to take a bus. Air travel is also an option especially if you are short of time. Besides you can book a tour package that includes private transport to Chitwan National Park, which is more flexible.
Note that to reach Chitwan National Park, you must first travel to Sauraha, a small town outside the park that serves as a tourist hub with hotels and restaurants.
Getting to Chitwan/Sauraha from Kathmandu
By bus
Duration: 5–7 hours
Traveling by bus is the easiest way to get to Chitwan and there are two options:
Option 1: take a tourist bus that leaves the Thamel end of Kantipath in Kathmandu at 7 am. Hotels or travel agents can help make the booking.
Option 2: take an AC bus operated by Greenline, a local bus company that runs routes to/from Kathmandu/Pokhara. It departs from Kathmandu at 7:30 am. Always ask before planning as its service is intermittent or suspended during monsoon.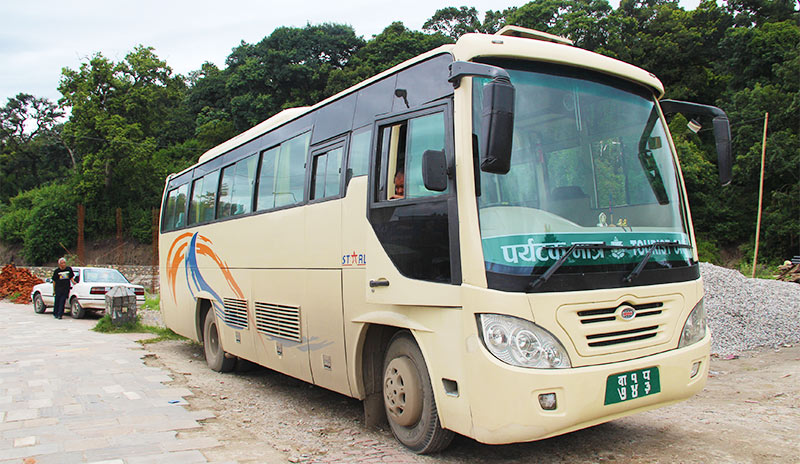 A tourist bus in Kathmandu
By car
Duration: about 5 hours
Private car transfer from Kathmandu to Chitwan can be arranged by travel agents or hotels. It is a more comfortable and relaxing experience than by bus.
By air
Duration: 30 minutes
There are daily flights offered by Yeti Airlines and Buddha Air between Kathmandu and Bharatpur Airport (10 km from Chitwan), from which you can take a taxi to Chitwan/Sauraha. or your hotel in Sauraha can arrange a transfer. During low season, flights are usually postponed until the next day. You can make the booking through travel agents or hotels.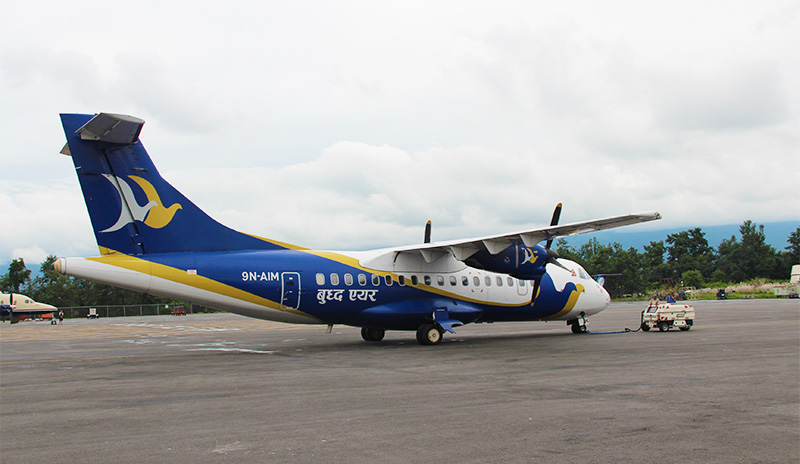 An aircraft in Kathmandu Airport
Getting to Chitwan/Sauraha from Pokhara
By bus
Duration: 5-7 hours
Option 1: take a tourist bus to Sauraha at Pokhara's tourist bus stand. The earliest one leaves at 7:30 am. Bachhauli tourist bus park is the final stop, which is a 15-minute walk from Sauraha. Tickets can be booked with the help of travel agents or hotels.
Option 2: take an AC bus operated by Greenline, which departs daily from Pokhara at 7:30 am. Always ask before planning as its service is intermittent or suspended during monsoon.
By air
Duration: about 20 minutes for direct flight; 1 hour 20+ minutes for connecting flight
There is only one daily direct flight from Pokhara, starting at 8:35 am. It reaches Bharatpur at 8:55 am. Two daily connecting flights are available, with a stopover in Kathmandu. During low season, the flight from Pokhara to Bharatpur often stops operating. Again, tickets can be purchased via travel agents or hotels.
By car
Duration: about 5 hours
At your request, travel agents or hotels can arrange a private car to transfer you from Pokhara to Chitwan.
Where to stay
Travelers usually stay in the town of Sauraha outside the park as there are no longer any lodges inside. There are a range of accommodation for you to choose, from Tharu village homestays and riverfront resorts to luxury jungle lodges. Most of the hotels can arrange activities like treks and safaris inside the park. Be sure to book your accommodation ahead in peak season.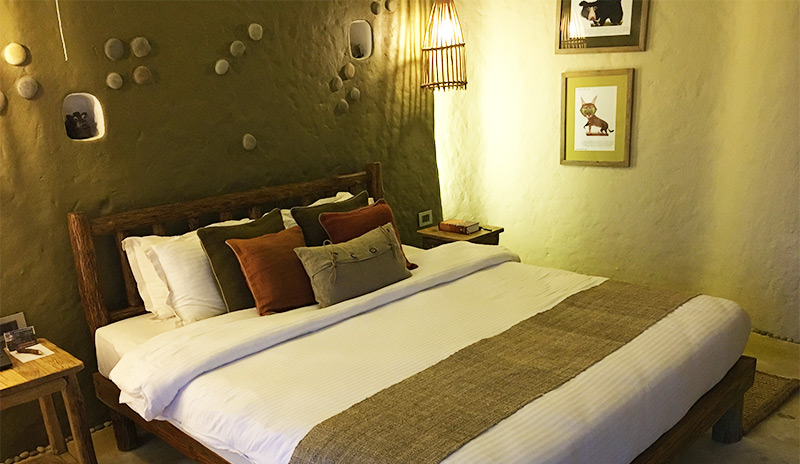 A hotel room in Sauraha
Where to eat
You can dine in the restaurant of your hotel if the tour package includes meals. If not, you can eat at the independent restaurants on the main street of Sauraha. Since it is a small town, there aren't as many restaurants and food options in Chitwan/Sauraha than in Kathmandu or Pokhara. But it's still easy to find restaurants that offer food suiting your taste. You can enjoy a range of cuisines here, including Nepalese, Continental, Indian, Thai, Chinese, etc. Some restaurants have very pleasant dining environment with views of a garden or river.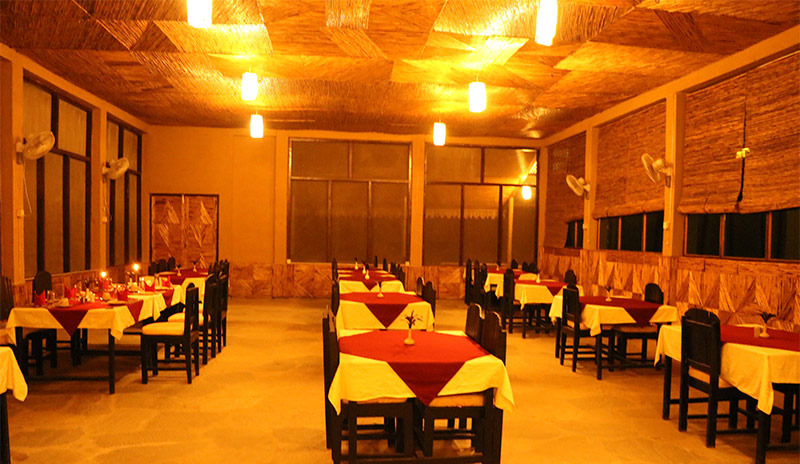 A hotel restaurant in Sauraha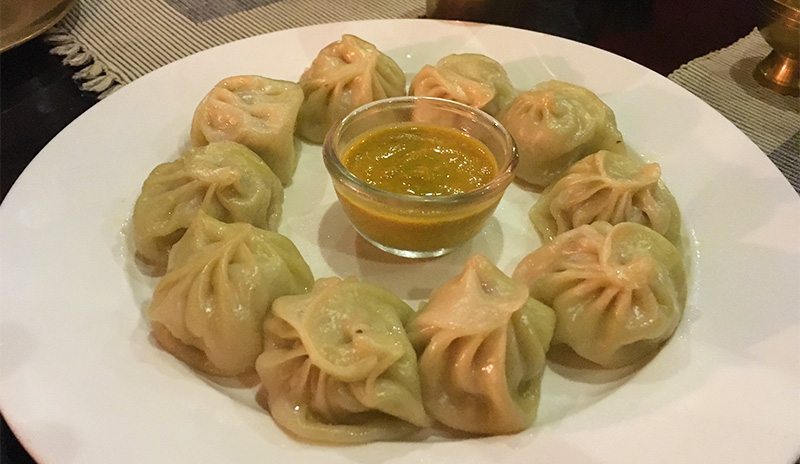 Momo, the Nepalese dumpling is a ubiquitous dish in Nepal
What to do in Chitwan
There are lots of things to do in Chitwan and most of them center around wildlife viewing. Below are some of the most popular activities which can be arranged through your hotels or travel agents.
Canoeing
A canoe ride on the Rapti or Narayani Rivers is a relaxing way to explore the Chitwan National Park. On this trip, you have a good chance of encountering crocodiles and birds found along the river. Canoeing is also a way to cross the river to start your jungle walk in the park afterwards.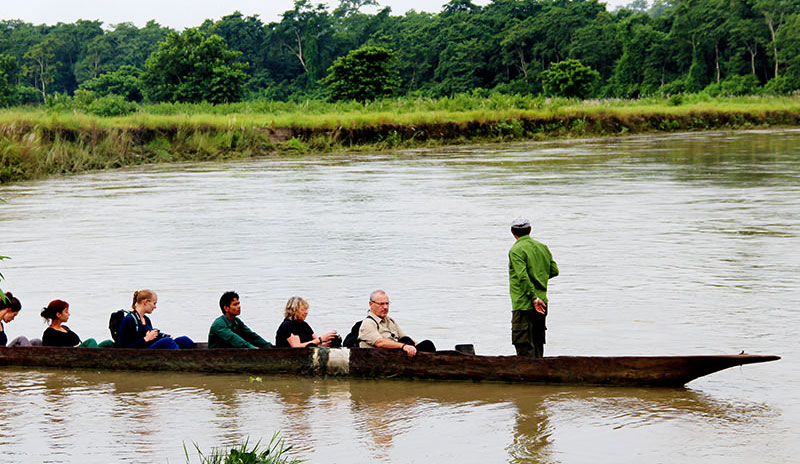 Canoeing offers you a unique way to see the wildlife
Jungle walk
A fantastic way to get close to the wild animals in the park is to have a jungle walk accompanied by an experienced guide. What you may see on this trip depends on luck. Most people have a good chance of seeing monkeys, birds, rhinos and other animals.
Travelers usually have a safe and enjoyable experience on the walk, but please note that there's a small risk of being chased by animals like a rhino since you are in the wild instead of a zoo. To stay safe in the jungle, there're rules to follow, which your guide will also brief you before the walk starts.
Keep quiet to avoid unwanted attention from the beasts
Follow your guide/companions closely
Always listen to your guide's advice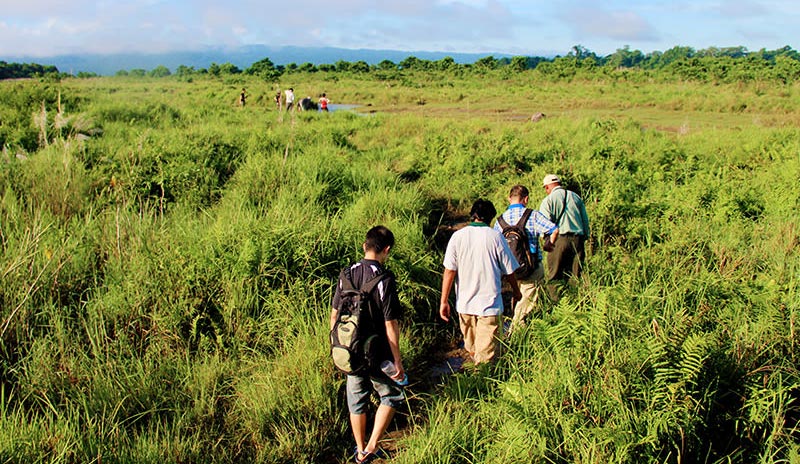 Jungle walk in the Chitwan National Park
Jeep safari
A jeep ride exciting way to explore the jungle and see wildlife up close. It's usually a 3-4 hour join-in trip (up to 7 people) that takes you deep into the jungle. You'll have the chance to get off the jeep for a rest, food or drink.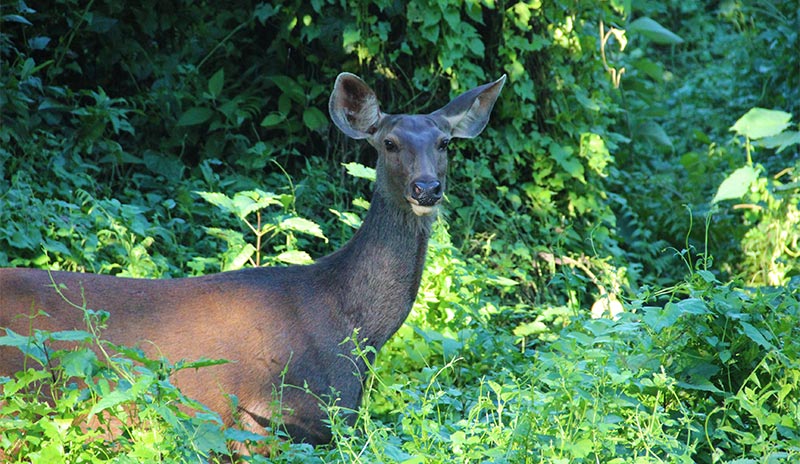 A deer in Chitwan National Park
Bird watching
Chitwan National Park is also an ideal place for seeing birds, with some 600 different bird species, both resident and migratory. About two thirds of Nepal's global threatened bird species can be found here. The alluvial grassland of the park is home to the endangered species such as Bengal florican, lesser adjutant, swamp francolin, and grass warblers.
If you're interested in birds, take a birding tour guided by a naturist who will tell you how to recognize different birds, their whistles and alarm calls.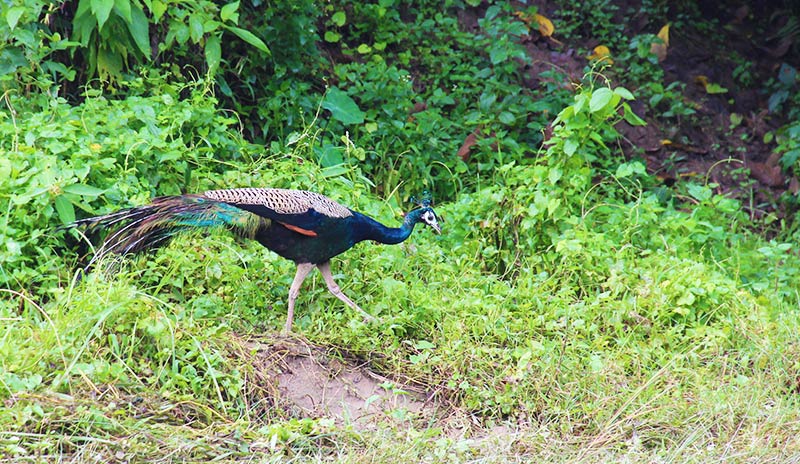 A beautiful bird hunting for food along the river bank
Tharu village visit
Apart from amazing wildlife, Chitwan is famous for the Tharu people, an ethnic group who mainly live in the Terai region of Nepal and are noted for their mud-walled houses. These are the people who call themselves "People of the Jungle". They still live their traditional way of life, growing rice, corn, lentil and hunting wild deer, rabbit, fish, etc. There's no better way to get a taste of Tharu culture than visiting the Tharu village. You can explore the village on foot or by bicycle.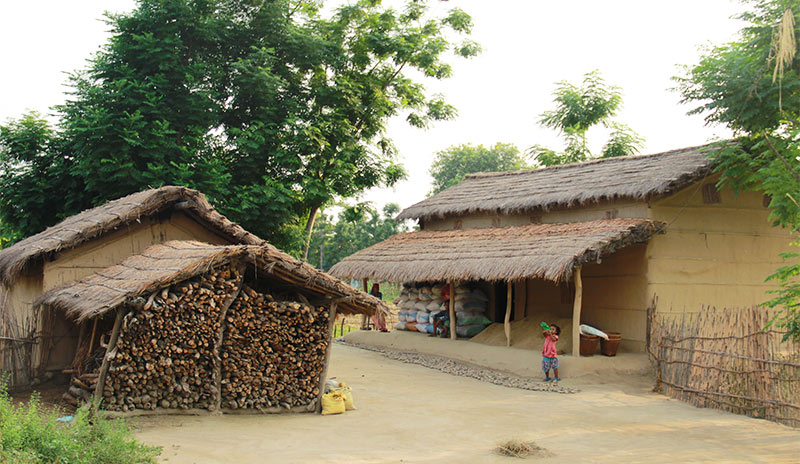 Traditional houses in a Tharu village
What to pack
Subject to tropical monsoon climate, Chitwan is hot and humid all the year round. You'll have many different activities in the park and should pack accordingly. Below are some of the items you'll find useful for your jungle adventure.
Camera (with extra batteries) to shoot photos
Binoculars for seeing animals
Sunscreen (as you'll spend most of your time outdoors)
Sturdy shoes comfortable for walking
Raincoat ( as Chitwan can be humid)
Clothing: light-color long sleeves and long pants to avoid bug/mosquito bites
Medications such as malaria pills
Anti-itch cream for insect bites
Water bottle for drinking water to stay hydrated
Hope this guide would be helpful for you to plan your trip to this beautiful park. To save the precious time and enjoy a worry-free experience, we recommend taking a private trip to explore Chitwan and the rest of Nepal. Accompanied by experienced local guides and drivers, comfortable vehicles, with food and accommodation matching your taste and budget, and itinerary built to your pace, you'll surely have a worry-free trip like no other.
What Our Clients Say
"Great Service and Value", "Exceed All Expectations", "Highly Recommend".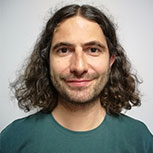 CONTACT A TRAVEL EXPERT
1-to-1 Service | Reply within 24hrs | Expert's Advice
STAY IN TOUCH WITH US
Subscribe to our newsletter so we can provide you with insider travel information, exclusive offers, and discounts.