When to Visit Kenya for Your Safari
Last updated: Dec 27th, 2022
Home to 54 national parks and reserves with fascinating wildlife species from lions, wildebeests, zebras, leopards, to cheetahs and more, Kenya is the ultimate game drive destination that draws millions of visitors worldwide. Wildlife sighting is possible year-round and when to go depends on a number of factors including the weather, your interests, and your budget. The Great Migration is, of course, unmissable, but you may also like to go on birding. Budget travelers may want to avoid peak travel season for they will be well rewarded with much cheaper tour and hotel rates for making a slight compromise on weather or animal viewing.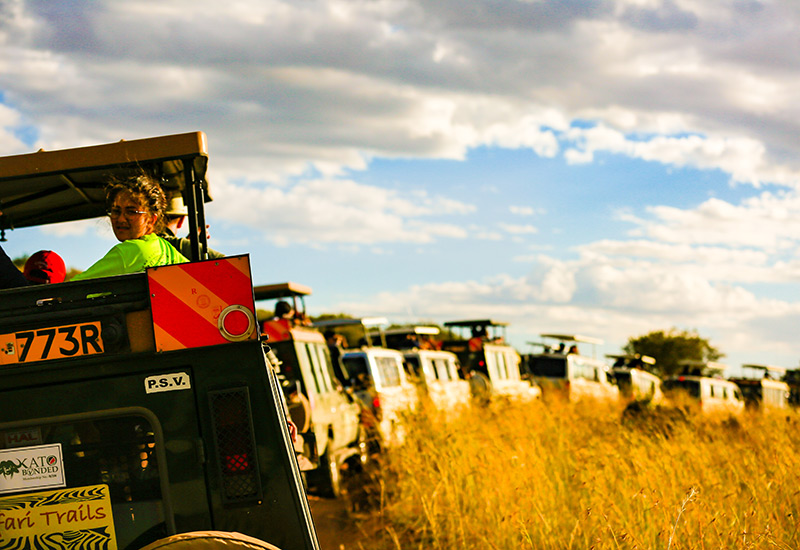 A Safari trip is a must-do experience in Kenya
Climate and seasons in Kenya
Located on the equator, Kenya has a pleasant tropical climate. However, climate may vary from place to place depending on elevations. Daytime temperatures are between 68°F (20°C) and 82°F (28°C), but it is warmer in the coastal areas where it is hot and humid all year round.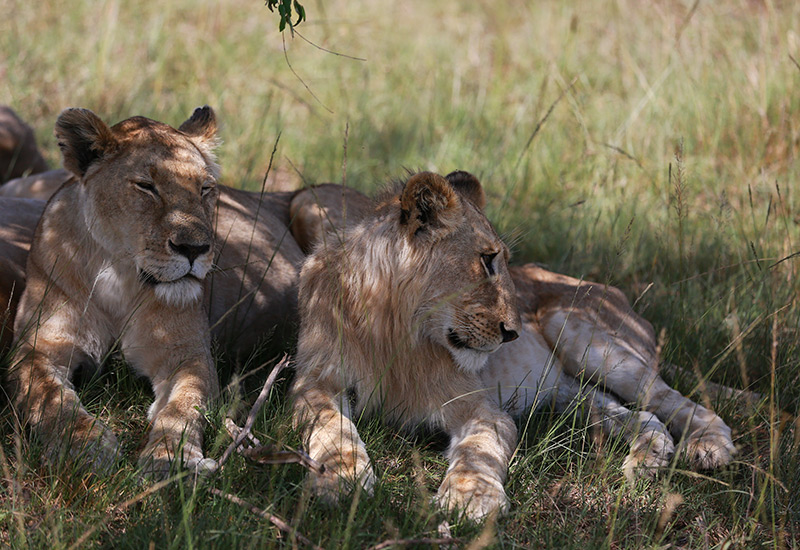 Two lions resting
In general, the climate of Kenya falls into two seasons: the dry season and the wet season.
Dry season (Jan & Feb, Jun - Oct)
There are two dry seasons in Kenya – a short one in January and February, and a much longer one starting from June through October. These months are often considered the best time to visit Kenya as days are sunny with clear skies, offering the most pleasant weather for game viewing. In high elevations such as Maasai Mara, temperatures average 73°F (23°C) in the daytime, while at lower altitudes, it is around 82°F(28°C). It can be cold in the early morning (about 50°F), so it is advised to prepare warm clothing if you start your game drive early.
Wet season (Nov & Dec, Mar - May)
November and December see short rains, but it is still good to view wildlife. The wettest months are from March to May. These are possibly the months you will want to avoid as long rains can turn the tracks in the parks into quagmires which make it impossible to pass. Some of the hotels may close and travel can be tough. In addition, mosquitoes are more common during the rainy season, meaning it is not the best time to visit.
The climate of some popular wildlife watching destinations in Kenya
Destination
Jan
Feb
Mar
Apr
May
Jun
Jul
Aug
Sep
Oct
Nov
Dec
Amboseli National Park
86°F
2"
88°F
2"
86°F
3"
82°F
6"
79°F
3"
77°F
1"
75°F
0"
77°F
0"
81°F
0"
84°F
1"
84°F
4"
82°F
3"
Lamu Archipelago
86°F
0"
88°F
0"
88°F
1"
88°F
5"
86°F
12"
86°F
6"
84°F
3"
84°F
2"
84°F
2"
86°F
2"
86°F
2"
86°F
1"
Masai Mara National Reserve
82°F
3"
82°F
4"
82°F
5"
81°F
7"
79°F
4"
79°F
2"
77°F
1"
79°F
2"
81°F
2"
82°F
2"
82°F
4"
81°F
4"
Nairobi
79°F
2"
81°F
2"
81°F
4"
77°F
8"
75°F
6"
73°F
1"
72°F
1"
73°F
1"
77°F
1"
79°F
2"
75°F
5"
77°F
3"
Samburu National Reserve
90°F
1"
93°F
1"
91°F
2"
90°F
4"
90°F
2"
90°F
0"
88°F
0"
88°F
0"
91°F
0"
91°F
2"
88°F
6"
88°F
2"
Watamu
88°F
1"
88°F
0"
90°F
1"
88°F
7"
84°F
11"
82°F
6"
82°F
4"
82°F
3"
84°F
2"
86°F
3"
88°F
3"
88°F
2"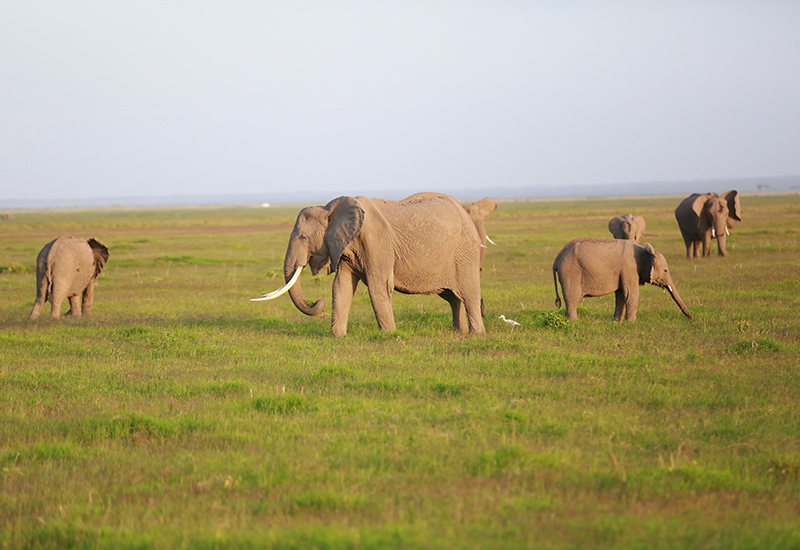 Elephants in Amboseli National Park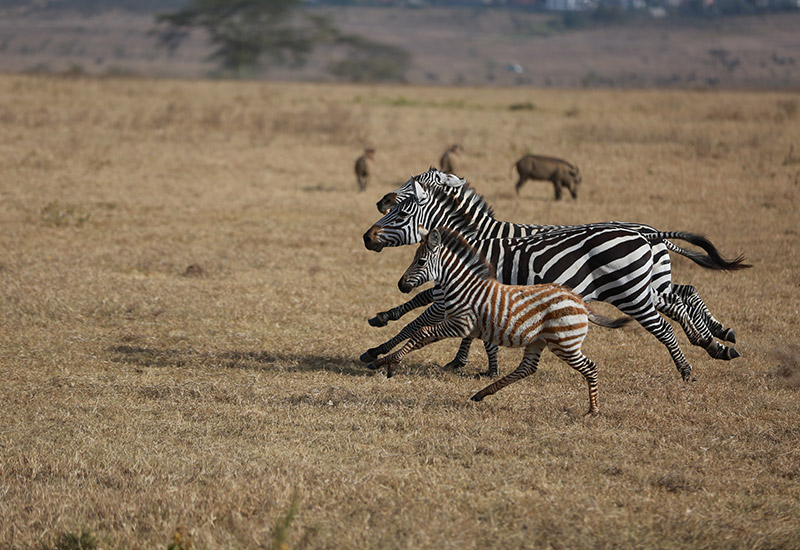 Zebras racing on the savannah
Best time to see the Great Migration
June, July, August, September, and October are the best months to see the Great Migration as millions of wildebeests, zebras, elands and gazelles make their annual journey north from Tanzania's Serengeti National Park to Kenya's Maasai Mara for water and grass. If you visit during these months, you may have the opportunity to witness this magnificent spectacle. Note that these months are the most popular with tourists, so be prepared to pay high season rates of tours and hotels and advance reservation is always a good idea.
Did you know?
Mara River crossing
The greatest challenge for the wildebeest is to cross the Mara River that divides the Serengeti and Maasai Mara. The Mara River is filled with hungry jaws of crocodiles who are waiting to snap the wildebeest. According to the National Geographic, around 1 million wildebeests survive the crossing every year, but thousands fall victim to crocodiles. Though it is possible to witness the crossing from Tanzania's Serengeti, the Maasai Mara offers the best viewpoints to watch the thrilling scene. To see the herds cross the river, September is the most reliable time.
Best time to go birding
For bird enthusiasts, the ideal time for birding safari is during the bird migration season from October to April when a large number of birds fly from Europe to East Africa. Tracks can be muddy, but the trip is rewarding.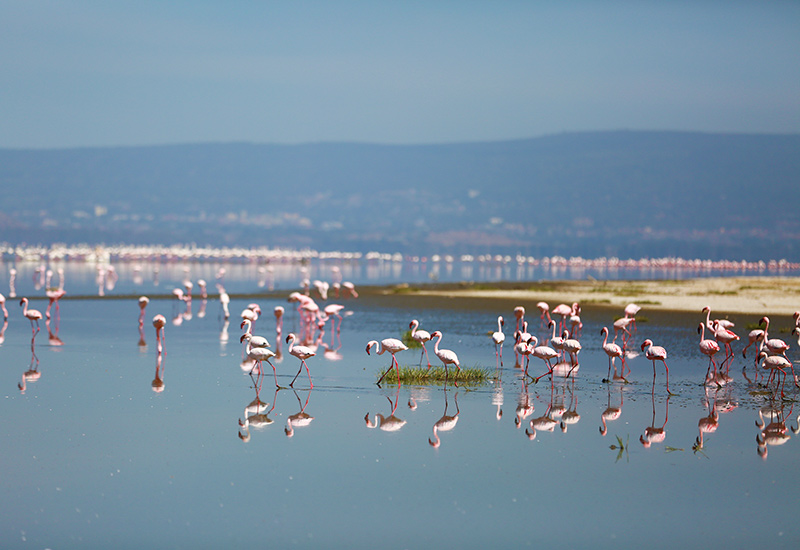 Herds of flamingoes perching on the lake
Kenya offers arguably the best bird-watching opportunities in the world, with over 1,000 bird species including flamingos, pygmy falcons, eagles, vultures, hornbills, weavers, and ostriches. Some 230 of these birds are migratory and they arrive in Kenya in October or November and leave in March or April. Birding safaris might take you to bird havens such as Lake Baringo, Kakamega Forest Reserve, Lake Nakuru, Amboseli National Park, Aberdare National Park, etc.
Why is it worthwhile to take a safari trip during the wet season?
Though dry season (Jun - Oct) offers the best weather and better chance of viewing wildlife, there are good reasons to travel to Kenya in the wet season (November - May).
1) Take in beautiful, lush green scenery, which is great for photos.
2) Get 30-50% lower prices for accommodation and tours.
3) There are fewer tourists.
4) Wildlife viewing is still available, especially newborns and migratory birds.
5) Rains usually fall in the afternoon or the evening (except in the long rain months from March to May), which seldom affect your safari.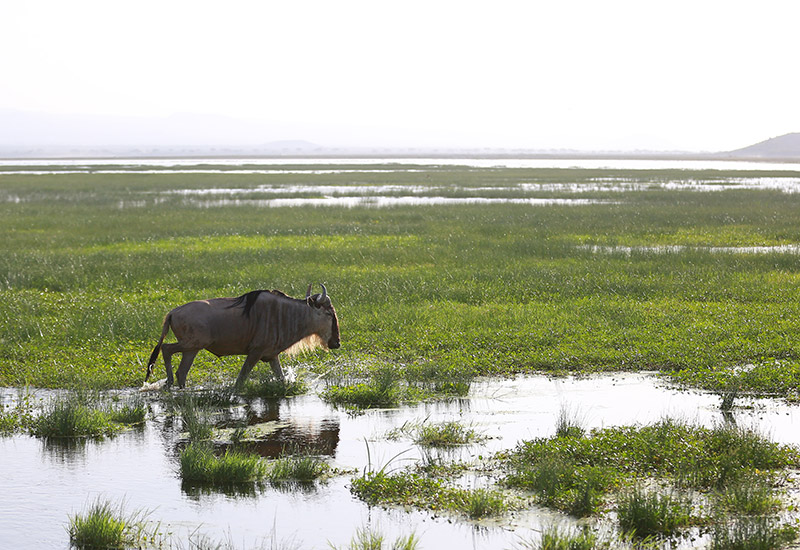 Short rains that drop in November and December turn the plain into a beautiful, green land
Hope this post would make it easier for you to decide the perfect time for your dream safari trip. Feel free to share it with your friends who might find it helpful in Kenya trip planning. For Africa travel, you are welcome to contact us to get a free Kenya itinerary tailor-made around your requirements.
What Our Clients Say
"Great Service and Value", "Exceed All Expectations", "Highly Recommend".
CONTACT A TRAVEL EXPERT
1-to-1 Service | Reply within 24hrs | Expert's Advice
SUBSCRIBE TO WIN A FREE TOUR
Subscribe to our newsletter for a chance to win a free 12-day China tour! And more insider travel news, exclusive offers, and inspiration will be sent straight to your inbox.