Malaysia is a country divided. Not by politics, religion or ethnicity, but by geography. Basically, it is in two parts: Peninsular Malaysia is physically connected to Thailand at the lower end of the SE Asian "mainland", which includes, Vietnam, Laos, Cambodia, Burma, etc; then, across the South China Sea there is Eastern Malaysia, an even larger part on the north of the island of Borneo, which it shares with Indonesia and Brunei.
As a country, Malaysia is very new. It was formed on the 16th September 1963, but of course, that is just political recognition. The Malay people have been there for centuries and today the country is highly multi-ethnic and multicultural with many Chinese, Indian and other people living harmoniously alongside the Malay majority. This has shaped the country in many ways from its beliefs to its cuisine to its four main languages, Malay, English, Chinese and Tamil.
Here I want to highlight 5 of Malaysia's prime destinations, but please remember this is merely a personal selection. There are many others.
KUALA LUMPUR
Kuala Lumpur, commonly referred to simply as "KL", is Malaysia's most modern and largest city and, of course, its capital. Although there had been a settlement in the area for centuries, it wasn't until the 1880s, that the small town began to develop into a city. Finally, it was declared the capital in 1963 when Malaysia became independent. Although the administration offices of the Federal Government have been moved to Putrajaya, KL remains the home of the King and where all the embassies and diplomatic missions are to be found.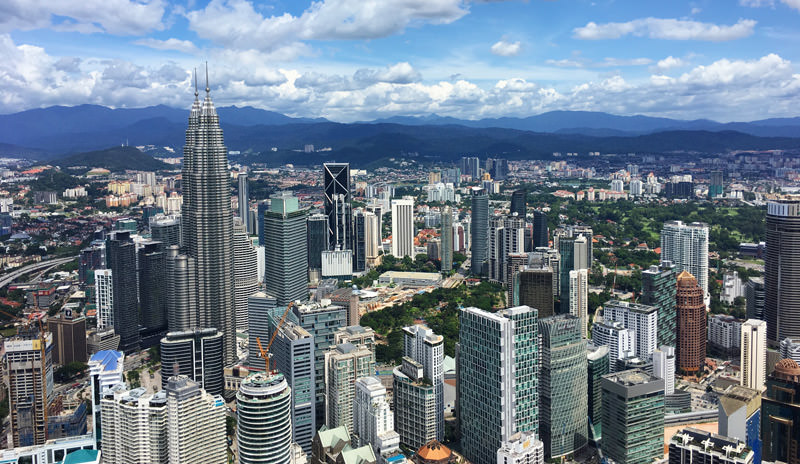 The city view of Kuala Lumpur
Today, the city is a thriving modern metropolis and is the economic and industrial powerhouse of Malaysia. However, it also remains an important tourist destination. Sites of interest tend to fall into the category of national monuments, with the National Museum (Address: Jalan Damansara, Kuala Lumpur), dedicated to documenting Malaysia's history and culture. Opened on 31st August 1963, the museum has four main galleries showing the country's national costumes, traditional weapons, musical instruments, arts and crafts, ceramics, musical instruments, flora and fauna, etc.
Important to the Malaysian people is Merdeka Square (Dataran Merdeka) known in English as Independence Square (Address: Jalan Raja, City Centre, 50050 Kuala Lumpur). It was here in 1963 that the Malaysian flag was raised for the first time over an independent Malaysia. Also important is the National Monument (Tugu Negara), commemorating the lives lost during Malaysia's long struggle for independence, first from the Japanese during World War II and then from the British between 1948 and 1960. The statue depicts seven soldiers: one triumphantly holding the Malaysian flag; two armed fighters; one taking care of a wounded companion and two dead combatants at their feet. The monument can be found at Jalan Parlimen, 50480 Kuala Lumpur.
The National Palace (Istana Negara) is the official residence of the Yang di-Pertuan Agong, the king of Malaysia. Built in 2011 to replace the old national palace which is now the Royal Museum (or the old Istana Negara), the king's residence is not open to the public but can be viewed externally. (Address: Jalan Tuanku Abdul Halim). The old palace is open to the public from 9:00 am to 5:00 pm daily. Shoes must be removed in the palace (a plastic bag is provided for you to carry them) and photography is forbidden. The guides are ex-royal retainers and lived and worked in the palace during its occupancy by the kings, so really know their stuff. The museum is at Istana Negara, Jalan Istana, Kuala Lumpur and entry is RM 10 / USD 2.4 for adults and RM 5 / USD 1.2 for children (6 to 12 y.o.)
Two very different architectural sites also deserve attention. One you'll have to look for; the other you can't miss. The Moorish style Old Railway Station at Jalan Sultan Hishamuddin, 50621 Kuala Lumpur was completed in 1910. Despite its appearance, it was designed by a British architect who incorporated a number of Anglo-Asian styles into the overall Moorish style which was then popular in Britain. Today, the station serves as KL's Railway Museum, but most visitors are there for the architecture.
The unmissable Petronas Twin Towers (Menara Berkembar Petronas) at Jalan Ampang, Kuala Lumpur, was the world's tallest structure until 2004 when it was overtaken by The Taipei 101 in Taiwan. With 88 floors, the towers reach a height of 452 m / 1,483 ft and have a viewing gallery on a bridge connecting the two on the 41st floor at 170 m / 558 ft above ground level. The towers are mostly office buildings but there is a luxurious shopping mall, Suria KLCC, at the foot of the towers.
MALACCA
Malacca is perhaps Malaysia's most interesting city for history. Colonized by the Portuguese, then the Dutch, then the British, before independence, it has also been hugely influenced by China and India among others. All these influences have been absorbed in true Malaysian style, making for a truly multicultural city.
Worth visiting are the ruins of St. Paul's Church (Gereja St. Paul), built in 1521 by a Portuguese nobleman, Duarte Coelho as thanks to his god for surviving a severe storm at sea. In 1548, St Francis Xavier, founder of the Society of Jesus (Jesuits), opened a school here and after his death in China was temporarily buried here. His open and empty grave still remains. One strange story is told of Xavier. It seems that in 1614, his body, now buried in Goa, India was disturbed and his right forearm removed as a holy relic. In 1952, a statue of Xavier was erected in front of St Paul's in Malacca. Next day a tree fell on the statue, breaking off the same right arm!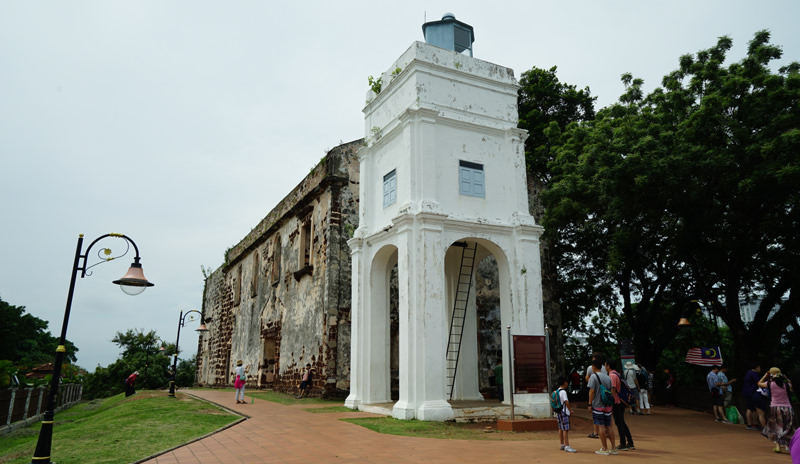 St. Paul's Church
A Famosa (Kota A Famosa) was a Portuguese fort built in Malacca in 1511, but taken over by the Dutch in 1641. The Porta de Santiago, is the only remaining part of the fort. It was renovated by the Dutch in 1670, hence the date on the arch. In the 18th century, the fort fell into the hands of the British, who decided the expense of keeping it was too much, so all but destroyed it.
Another Dutch relic is the Stadthuys on Laksamana Road. The name is old Dutch for "city hall". It was built in 1650 to serve as the residence and offices of the Dutch governor and vice-governor. The red building, with its distinctive, nearby red clock tower is now History and Ethnography Museum, which has displays documenting Malacca's complicated past.
Cheng Hoon Teng Temple (25 Jalan Tokong,75200 Malacca), the oldest functioning temple in Malaysia, is dedicated to what is known as "Three Doctrinal Systems", a Chinese religion-philosophical system combining Buddhism, Taoism and Confucianism. The beautiful 4,600 m² / 5,500 yard² temple was built according to Feng Shui principles and overlooks the river.
If you are feeling hungry after all that history, The Jonker Walk (Persiaran Jonker) on Jonker Street in Malacca's Chinatown is your best bet. From 6 pm until around midnight on Fridays, Saturdays, it is closed to traffic and becomes a huge night food market. However, on any night there are many restaurants selling great Malaysian food in all its variety.
PENANG
Just typing the name Penang sets my taste buds off. Malaysia is known as a great food destination, but within Malaysia, Penang is considered to have the best street food in the world. And for the best of the best, there is only one place to go, George Town, the provincial capital.
George Town, on Penang Island just off the western shore of the peninsula, was the first British settlement in what is now Malaysia and was named for King George III. Established in 1786, it was given city status by Queen Elizabeth II in 1957, just before independence, becoming the country's first city. The city is noted for its mix of architectural styles, with the oldest part of the city being recognized by UNESCO as a World Heritage Site. Outside the UNESCO site is a new, thriving city of skyscrapers.
Malaysian food is special due to its integration of many influences. Although it has dishes originating from China, India, Thailand, Myanmar / Burma and more, as well as its own local tradition, each cuisine borrows heavily from all the others, so that a restaurant identifying itself as Malaysian might make use Chinese and/or Indian ingredients and techniques in its dishes, transforming them into something quite unique. Similarly, an Indian restaurant may use Malay or Chinese ingredients.
Penang cuisine is no different. Its dishes incorporate all the above influence plus a heavy dose of Peranakan cuisine. The Peranakan people, who refer to themselves as Baba Nyonya, are ethnic Chinese who migrated here in mainly the 15th to 17th centuries and fully integrated with the Malay population. Their cuisine is similarly integrated.
Nyonya Laksa is popular throughout Malaysia, but Penang has its own version, Asam Laksa, a sour, fish and tamarind soup. An example of a Malay dish would be Otak-Otak, a dish of fresh fish with mild spices, coconut milk, makrut lime leaves and other aromatics made into a kind of fish paste.
The best way to experience Penang food is on a guided food tour. While it is possible to do this yourself, a good guide will know the best spots and the best dishes and offer useful information on the background to what you are eating. Several companies offer such tours at various prices.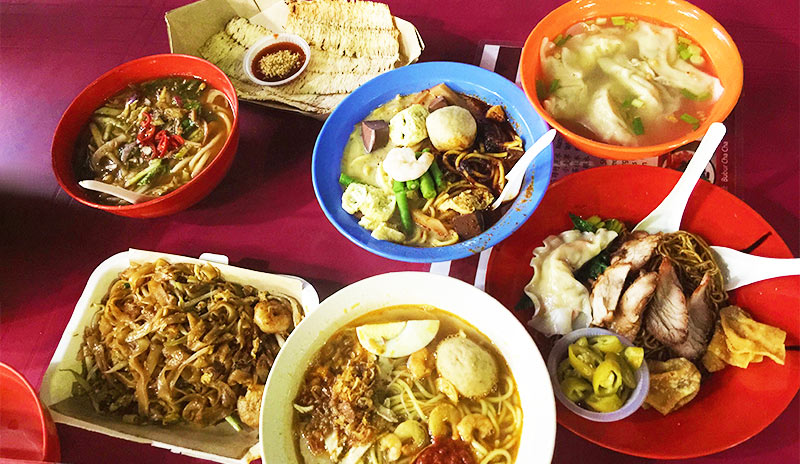 Delicious Malaysian cuisine
A good start is to visit Chowrasta Wet Market (Lot 26, Jalan Chowrasta, 10100 George Town; Open 6:30 am to 6:00 pm daily) to see the wide variety of produce used; the market is popular with both visitors and locals. Best time to visit is early morning. Also popular is Gurney Drive (Persiaran Gurney), home of Gurney Drive Hawker Centre, one of the city's largest street food venues. This is a good place to sample char kuey teow (wide rice noodles served on a banana leaf with seafood, shrimp paste, chili, bean sprouts, etc.), Hokkien mee (rice and egg noodles with hard-boiled eggs, prawns, pork slices, bean sprouts and water spinach in a spicy prawn and pork bone stock) and many other local dishes.
An amusing oddity in George Town is the Wonder Food Museum (49, Lebuh Pantai, George Town, 10200; Tel: +60 4-251 9095; Open 9 am to 6 pm daily). This museum features replica Penang dishes, many much larger than life size, but is also very informative about the local cuisine.
Two non-food related sites in Penang are, first Kek Lok Si Temple, the largest Buddhist temple in Malaysia and an important pilgrimage site for believers from across SE Asia and beyond. Built between 1890–1930, the temple is an interesting mixture of styles. Look out for the pagoda which is built in three layers, each having a different architectural style. The bottom third is Chinese; the center third Thai and the top Burmese. Somehow these fit together smoothly.
Second is Penang Hill (Bukit Bendera), 9 km / 5.6 mi west of George Town city center. The peak can easily be reached via the funicular railway and offers exhilarating views over the whole of George Town. The hill, or rather range of hills, is rich in rare flora and fauna and is an important conservation and study zone. There are nature trails and even the Flight of the Colugo zip line which allows visitors to see the rainforest canopy from above.
IPOH
Ipoh, capital of the state of Perak is noted for its distinct British colonial architecture, particularly in Ipoh Old Town. On the outskirts of the city is a large number of limestone caves some of which contain temples. The best known, largest and oldest is the Chinese Sam Poh Tong (Three Buddhas Cave). A steep climb of 246 steps is required to access the cave, which contains various examples of Buddhist artwork and a reclining Buddha.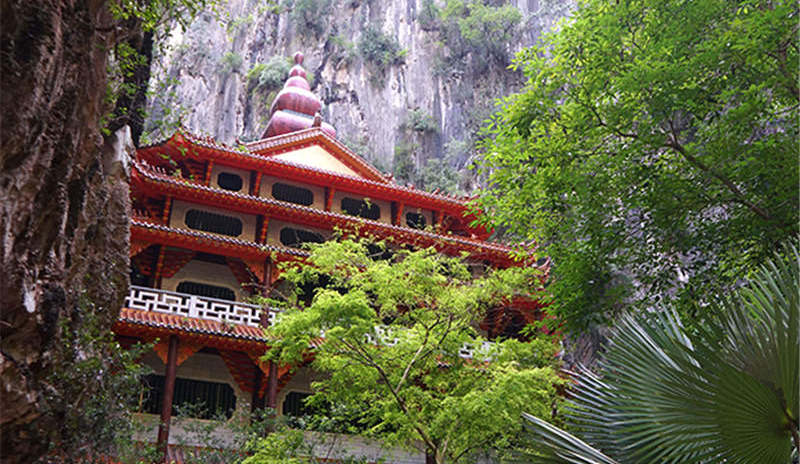 Sam Poh Tong
Ipoh cuisine is also well-known and like Penang, there are a number of hawker centers and restaurants, many specializing in local dishes. There is a strong Chinese influence to Ipoh cuisine, with favorite dishes including Sar Hor Fun, rice noodles with mixed meats and seafood; and Nga Choi Kai, chicken with soy sauce and beansprouts topped with pepper, among many others. This is the place to try Ipoh white coffee, made from palm-oil roasted coffee beans and served with condensed milk. You may want to accompany your coffee with Heong Peng, the local pastry specialty.
Ipoh is also noted for its fine fruit, especially pomelos and guavas, but more so for its durian. Don't try taking one back to your hotel though! This is strictly forbidden in many hotels.
MALAYSIAN BORNEO
The largest part of Malaysia is Eastern Malaysia, comprising the two states, Sarawak and Sabah as well as the Federal Territory of Labuan. It lies on the northern coast of the island of Borneo which it shares with Indonesia and Brunei. Although making up approximately 60% of Malaysia's land space, Malaysian Borneo is less populated and less developed than Peninsular Malaysia. Most of the land is covered by rainforest, harboring a diverse flora and fauna.
Kota Kinabalu, known to most people as "KK", is capital of Sabah province in the eastern part of Malaysia's Borneo territory. Previously known as Jesselton when under British rule, the city was almost completely destroyed by the Japanese during World War II. In fact, only three pre-1945 buildings are known to have survived.
Easily accessed from Peninsular Malaysia via Kota Kinabalu International Airport (KKIA) (ICAO Code: WBKK), KK is considered the gateway to Sabah and particularly to Kinabalu National Park, one of Malaysia's first national parks (1964) and the country's first UNESCO designated World Heritage Site (2000). The park is centered on Mount Kinabalu, at 4,095 meters/13,436 feet, Borneo's highest peak. It is home to over 500 species of flora and fauna, including 326 birds and around 100 mammals. It is also home to more than 110 snail species.
The park is around 88 km / 55 miles from KK, so many visitors like to break their journey at Nabulu Market (Pekan Nabalu), a lively food market, but also full of reasonably priced souvenirs and local handicrafts. It is also a great place to view Mount Kinabalu in the distance. There are special viewing platforms, and although the mountain is often shrouded in mist, if you are lucky the cover will break allowing you a great shot.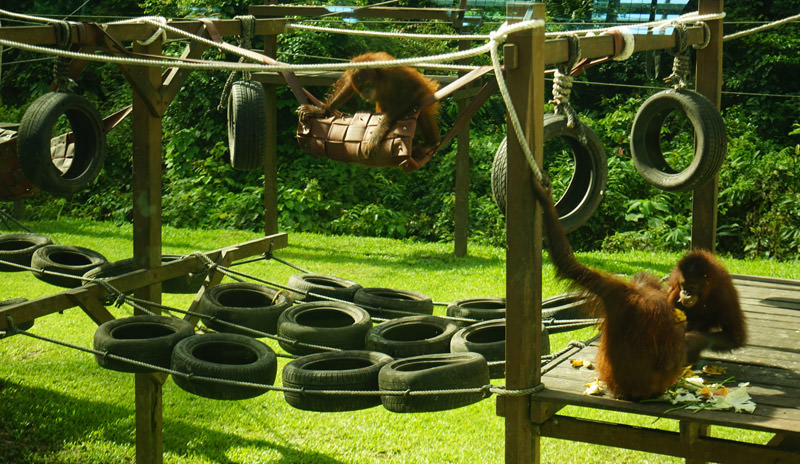 Sepilok Orangutan Rehabilitation Center
Another Sabah must-see for many is the Sepilok Orangutan Rehabilitation Center. This is located 25 km / 15.5 miles west of Sandakan on the province's far eastern shore. Opened in 1964 in a forest park comprising mainly virgin rainforest, the center is home to between 60 and 80 orangutans at any time. These are mainly orphaned animals rescued from logging sites, plantations, victims of illegal hunting or having been kept as pets. The orangutan, genetically our nearest cousins, are trained to survive in the wild and released as soon as is feasible. In 2014, a nursery section was also opened to the public where you can see the youngest orangutan play and prepare to live on their own. Related: Encounter Various Amazing Wildlife in Sabah.
The center is open from 9–11am and 2–3 pm every day. Tickets are RM 30 / USD 7 per adult (18+) and RM 15 / USD 3.5 per child (under 18). There is an extra RM 10 / USD 2 per camera. Tickets last one day so can cover both opening sessions which are built around feeding times.
Odynovo will be happy to provide you with a free, custom-made itinerary with private guides for your trip to Malaysia or any of 70+ destinations around the world. Just tell us what you want to see or ask for our suggestions if you aren't sure and we will get back to you in 24 hours.
What Our Clients Say
"Great Service and Value", "Exceed All Expectations", "Highly Recommend".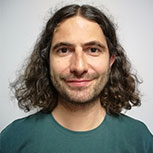 CONTACT A TRAVEL EXPERT
1-to-1 Service | Reply within 24hrs | Expert's Advice
STAY IN TOUCH WITH US
Subscribe to our newsletter so we can provide you with insider travel information, exclusive offers, and discounts.