Many pet owners who want to spend their vacation in India may wonder whether they can take their pets with them. The answer is yes, but there are a number of factors to be taken into account, from pet entry requirements, pet transportation, accommodation, etc. So here are the things you might need to think about when planning your vacation with your pet to India.
1. What are the requirements for taking my pet to enter India?
To bring your pet (dog or cat) to India, you need to obtain the following documents:
Health Certificate
India requires an up-to-date health certificate from an accredited veterinarian for pets entering the country. It must be issued no more than ten days of the flight. To get a health certificate, your pet must be examined by a veterinarian to check that it is healthy to travel and has no signs of a disease that is infectious, such as Aujeszky's disease, distemper, rabies, leishmaniasis, leptospirosis or tuberculosis.
DGFT License
Before getting a No Objection Certificate to travel India, your pet must obtain a DGFT license required by India's Directorate General of Foreign Trade.
No Objection Certificate (NOC)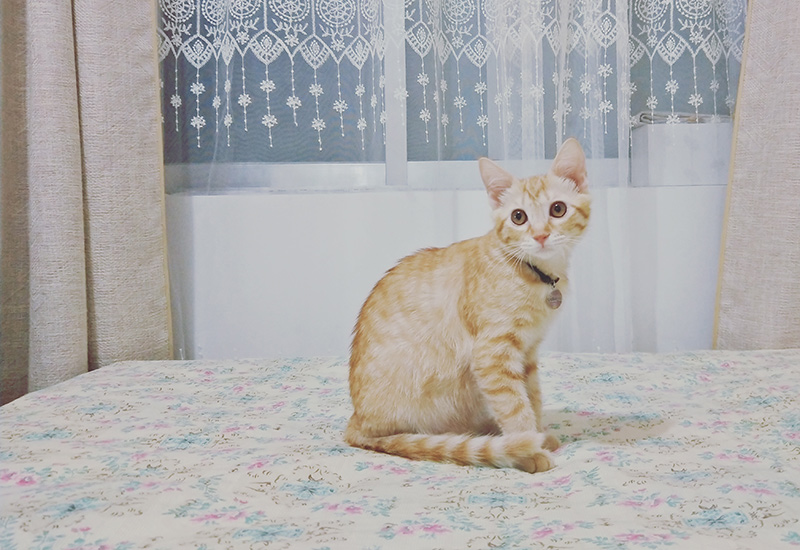 A cat on the bed
In order that your pet is allowed to enter into India, a No Objection Certificate (NOC) issued by the Animal Quarantine and Certificate Station (AQCS) in India is required. The NOC must be obtained from a quarantine center in India 15 days before arrival. It can be obtained by mail, fax, or in-person, and takes about 5 working days to process. You may consider asking a local pet relocator agent to obtain the NOC.
To get the NOC, you are required to prepare these documents:
Vaccination records of your pet.
Veterinary certificate issued by the government in your home country
Confirmation of your travel into India
Flight details/Copy of the airway bill
Contact details of Animal Quarantine and Certificate Station (AQCS) in India:
New Delhi
Address: Kapashera (Crossing), New Delhi 110 001
Telephone: + 91 11 2506 3272
Fax: +91 11 2506 0647
Mumbai
Address: Cargo Terminal Building, Phase I, Chhatrapati Shivaji International Airport, Sahar, Mumbai 400099
Telephone: +91 22 2682 8194
Kolkata
Address: Narayanpur, P.O R-Gopalpur, North 24-Parganas, West Bengal 7435
Telephone: +91 33 2573 9777
Fax: +91 33 2573 9777
Bangalore
Address: Alpha 3, Room No. 024, 1st Floor, Bangalore International Airport, Devanahalli, Bangalore 560300
Chennai
Address: Velachery Main Road, Pallikaranai, Chennai 601302
Telephone: +91 44 2246 0659
Fax: +91 44 2246 0659
2. Can I take my pet on a flight in India?
When valid health and vaccination certificates are provided, most Indian airlines allow pets on domestic flights, each having its specific rules and requirements. Only Air India accepts pets in the cabin and some other airlines allow the carriage of pets in cargo. It is advisable to check the details of their specific pet policy before booking a flight.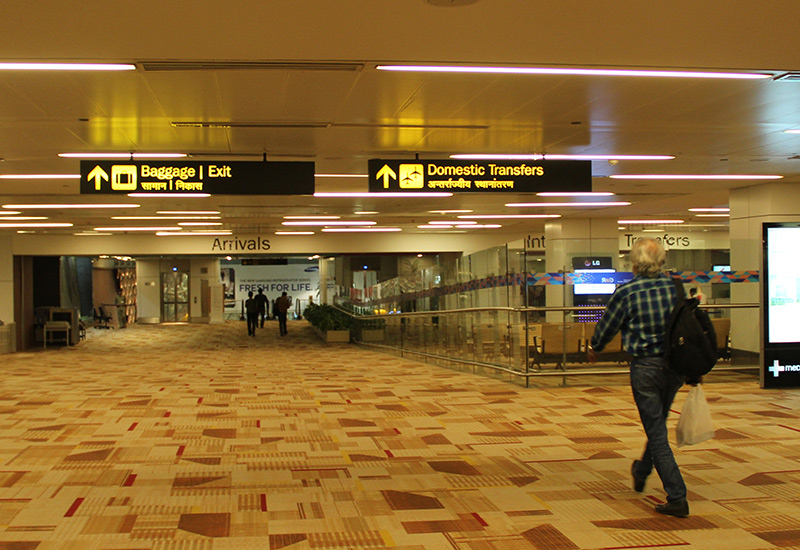 Delhi Airport
Air India
Passengers can take up to two small pets including dogs, cats, and birds in Air India's cabin or cargo in domestic flights with at an additional charge.
Air India also allows the carriage of pets on its international flights with similar policy as that of domestic flights. However, passengers cannot bring pets with them on non-stop flights operated by Air India on the India – USA – India route.
Jet Airways
Passengers of Jet Airways can take birds and rabbits on domestic flights in the cargo.
Spice Jet
The airline accepts the carriage of pets on the Boeing 737- 800 and 900 series aircraft in the cargo. Dogs and cats must be at least 12 weeks old and properly crated.
IndiGo
No animals are allowed to be carried in IndiGo's flights. The only exception is the guide/service dog for visually impaired passengers.
3. Can I take my pet on a train in India?
Yes. Though Indian Railways only has specific policies for dogs, it allows passengers to take other pets on the train with charges as well. You can keep your pet close to you in the compartment only when you book an A.C. First Class cabin (four berths) or coupe (four berths). If you travel in other classes, your pet will travel separately in a specially designed box in the luggage van. Most passengers traveling with pets prefer the former option. Just make sure that your pet will not cause any nuisance to the fellow passengers, or it may have to travel in the luggage van. In either case, you will be responsible for the food and water for your pet during the trip.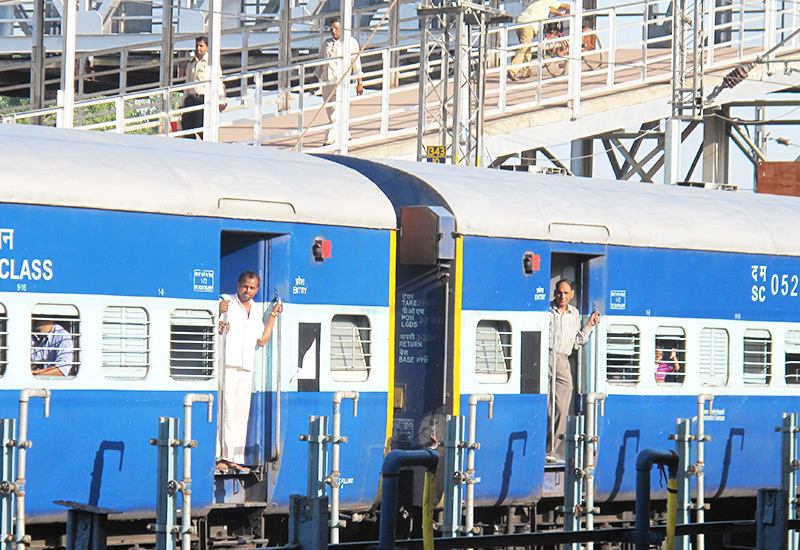 An Indian train
4. Can I take my pet to a restaurant in India?
The concept of pet-friendly restaurants is pretty new in India. There are some restaurants and cafes that allow pets in cities such as Delhi, Mumbai, Bangalore, Chennai, Kolkata, Gurgaon, Pune, and Noida. Some not only have special menus for pets, but also have the outdoor section for pets to socialize with each other. Before taking your pet out for a meal, make sure you check with the pet policy of a restaurant and make a prior reservation if necessary.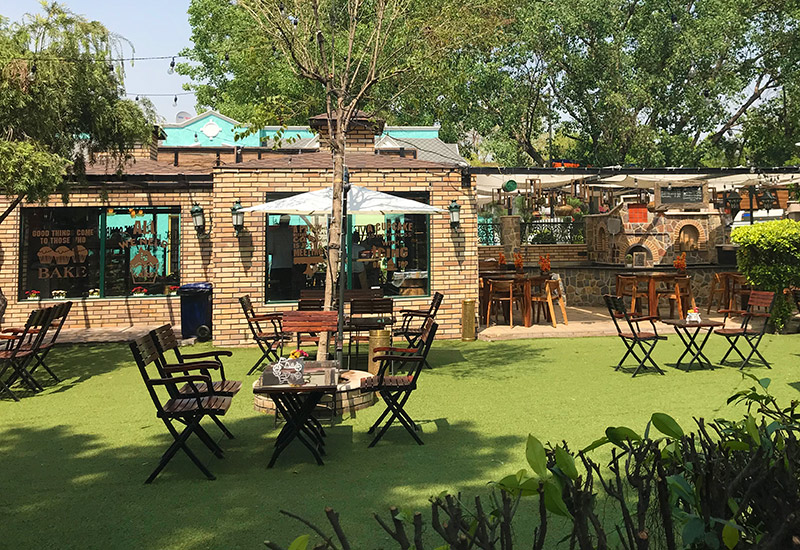 An outdoor canteen in New Delhi
Tip: you may use BringFido to look for restaurants that welcome pets in India.
5. Are there any hotels in India that accept travelers with pets?
It is estimated that there are over 500 pet-friendly hotels, bungalows, resorts and homestays across India. They may have different pet policies. Some provide accommodation for the pet free of charge, while others will charge an extra fee. So make sure you check with them before booking.
Tip: TripAdvisor.in enables you to search for hotels that allow pets. First, enter a destination, then click the "find hotels" button, and finally click the "More" link to see the "Pets Allowed" option to find hotels.
6. Are pets allowed in tourist attractions in India?
Most tourist attractions in India don't allow visitors to bring with their pets. Some require that pets are kept in special places until their owner finishes the tour. If you cannot take your pet with you when visiting a site, you may have to leave it in the hotel. In this case, it is recommended that you tell the hotel staff the specific requirements for looking after your pet, including feeding, medications, etc. so that you can fully enjoy seeing the sight without worrying about your pet.
A word of caution: it can be a stressful experience for your pet to travel on a long flight. It can also be difficult for the pet to adapt to the new environment in India. So if having your pet on a vacation is not the best option, consider asking your friend or family to take care of it or taking it to one of the pet kennels while you are on vacation.
Traveling with your pet requires a lot of extra care, but if you are well-prepared, you will come across a lot fewer obstacles and make the journey a fun and rewarding experience. Hope this post would be helpful for you to plan your Indian vacation with your pet.
What Our Clients Say
"Great Service and Value", "Exceed All Expectations", "Highly Recommend".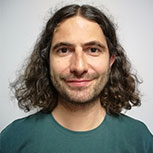 CONTACT A TRAVEL EXPERT
1-to-1 Service | Reply within 24hrs | Expert's Advice
STAY IN TOUCH WITH US
Subscribe to our newsletter so we can provide you with insider travel information, exclusive offers, and discounts.