I'm going to try the near impossible. Visiting Cambodia (កម្ពុជា) without seeing the wats (temples), especially the country's number one attraction, Angkor Wat, would be like visiting Paris and skipping the Eiffel Tower or going to China and not seeing the Forbidden City or Great Wall. Not that for one second am I suggesting you don't visit Cambodian wats – of course you should. My colleague has written here about A First-Time Visitor's Guide to 10 Beautiful Temples in Cambodia covering the best to see in this land of temples.
Instead, I want to talk today about something to do in Cambodia after you've done the wats and to show that there is more to the country, important though the Buddhist culture is. While there are plenty of wonderful sights still to be seen, the darker side of Cambodia's recent past also can't be ignored.
But first an important practical note on currency. Cambodia effectively operates on two currencies. The Khmer Rial (KHR, symbol ៛) and the US Dollar (pristine condition bills only. The slightest tear on a US bill renders it unacceptable; no coins). If you pay in US dollars, any change due will normally be given in rials.
We are heading for the country's capital, Phnom Penh (ភ្នំពេញ), once named "The Pearl of Asia". The city as you see it today was largely laid out by the French, who ruled over Cambodia from 1863 to 1953 apart from a spell when it was occupied by the Japanese during World War II. It was the seat of the French administration, but also of the Cambodian king.
The Royal Palace (ព្រះបរមរាជវាំងនៃព្រះរាជាណាចក្រកម្ពុជា)
During the French colonial era, Cambodia was officially a French Protectorate with the King still in place, although in practice he had no power other than the symbolic, a situation which continues to the present day and the current king, His Majesty Norodom Sihamoni. Still being his official residence, most of the palace is closed to visitors. The huge palace consists of four walled compounds, only two of which can be seen.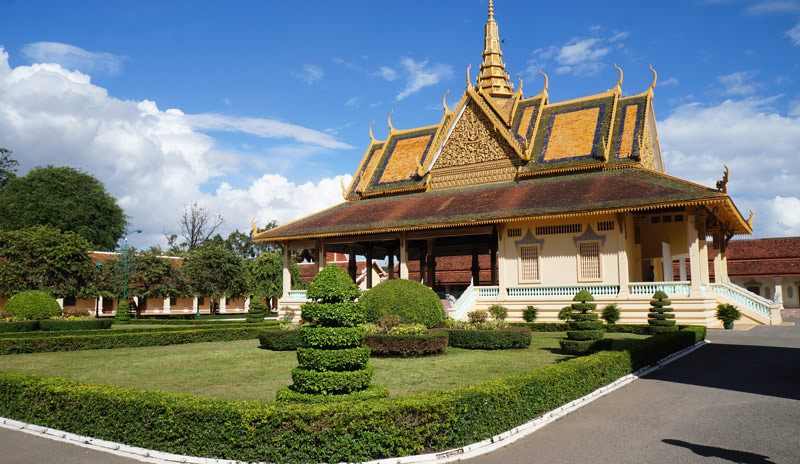 The Royal Palace in Phnom Penh
The Central Compound contains the palace's greatest attraction, the Throne Hall. The present hall was built in 1917 to replace a previous hall which had fallen into disrepair. This new cross-shaped building with its three spires is dripping with gold, both inside and out. Originally, it was used as the main meeting room of the King and his court, where they conducted affairs of state. Today, it is still used for important ceremonies such as coronations and royal weddings. It is where the king formally meets new ambassadors and visiting heads of states etc.
The hall actually contains three thrones, two in traditional Khmer style and one in a more western style. The most important of the Khmer-style thrones is the Preah Tineang Bossabok used by the king at his coronation, while his queen uses the Preah Thineang Nearyrath Sophea behind him. Nearby stands a gold statue of His Majesty Sisowath Monivong who reigned from 1927 to 1941. He is holding the Royal Sword. There are also golden busts of the past kings and queens of Cambodia and a table holding a golden tea set and betel and areca nut containers, also gold.
Near the Throne Hall is the Preah Thineang Chan Chhaya (ព្រះទីន័ងច័ន្ទឆាយា), known in English as the Moonlight Pavilion. This open air pavilion is used for performances of Khmer Classical Dance and has a raised balcony which can be used by the royal family to observe parades passing by outside the palace complex. State banquets are also held here. The pavilion as it is now was built between 1913 and 1914 to replace the previous wooden building, but was designed to be the same basic shape and layout as the original. As it can be seen easily from the city, the pavilion has become a sort of unofficial symbol of Phnom Penh.
Silver Pagoda (ព្រះវិហារព្រះកែវមរកត)
In the southern compound is the Silver Pagoda, popularly known to locals as Wat Preah Keo (វត្តព្រះកែវ). (I told you it would be impossible not to mention wats!)
The main building in the pagoda complex is home to Cambodia's national treasures, particularly Buddha statues made from gold and other precious materials. The two most attractive are an almost life-sized Maitreya Buddha covered with 9,584 diamonds and wearing royal regalia; and a small crystal Buddha known as the "Emerald Buddha", giving the pagoda its alternative name, The Temple of the Emerald Buddha.
Many of the pagoda's treasures were lost (stolen) during the tragic rule of the Khmer Rouge (1975–1979), but what remains is a sight you shouldn't miss.
Notes:
1)Photography is not permitted inside the Silver Pagoda nor in some other buildings.
2)The Royal Palace enforces a strict dress code. Long trousers or below knee length shorts are required and the shoulders and arms should be covered.
3)Touching or posing inappropriately with Buddhist statues is heavily frowned upon. Respectful behavior is expected at all times.
Address: Samdech Sothearos Blvd, Phnom Penh.
Opening hours: 7.30 to 11 am and 2–5 pm.
Admission: ៛40,000 KHR or $10 USD.
National Museum of Cambodia (សារមន្ទីរជាតិ)
The National Museum of Cambodia, adjacent to the Royal Palace is Cambodia's largest, most important museum and contains exhibits covering Khmer culture and history from prehistoric times. The collections consist of 14,000 items including Khmer art and sculpture, ceramics and bronzes and much more.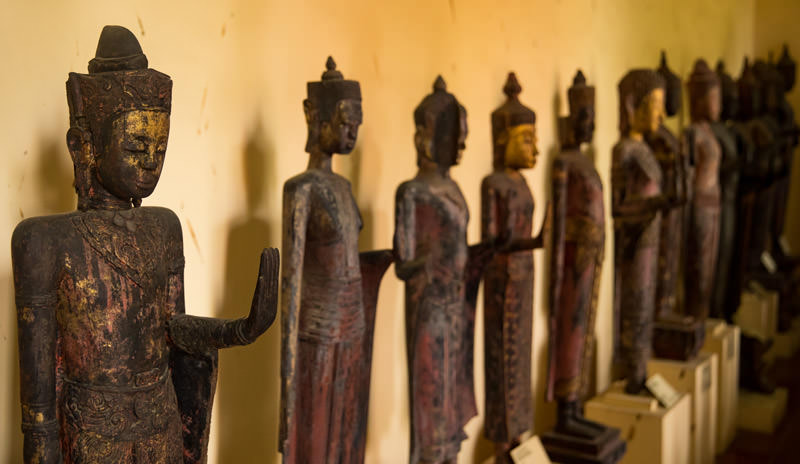 National Museum of Cambodia, Phnom Penh
Designed by French historian George Groslier (1887–1945) and built in Khmer style by the French between 1917 and 1924, the museum was restored in 1968. It was then closed during the Khmer Rouge's reign of terror and left to rot. Many of its treasures were stolen or damaged. Several of its staff were murdered in the genocide. After the Khmer Rouge were ousted, the museum was cleaned up and repaired and reopened on the 13th of April 1979.
Along with the Royal University of Fine Arts and its archaeologists, the museum intends to research, enhance and spread knowledge of Cambodia's culture. It also has a religious function as it holds an important collection of Buddhist and Hindu sculpture.
There is a small shop by the entrance selling books in Khmer, French, English and Japanese, replicas of exhibits, postcards, souvenirs and gifts. You know – the sort of thing museum shops sell!
Address: Street 13, Sangkat Chey Chumneas, Khan Daun Penh, Phnom Penh.
Opening hours: 8.00 am to 5.00 pm daily. Last admission 14.30 pm.
Admission $10 USD for adults 18 and over. $5 USD for 10 to 17 year olds. Under 10 years old free. For Cambodian citizens, admission is ៛500 or $0.1 USD.
Photography is not permitted inside the galleries, but is allowed in the grounds, gardens and central courtyard.
Mention of the Khmer Rouge brings me to two places in or near Phnom Penh, which are not tourist sites in the conventional sense, but instead are to mark and never forget the victims and horrors of the genocidal Pol Pot and his regime.
Tuol Sleng Genocide Museum (សារមន្ទីរ​ឧក្រិដ្ឋកម្ម​ប្រល័យ​ពូជសាសន៍​ទួលស្លែង)
Tuol Sleng Genocide Museum was originally a high school, but in 1976 was turned into a prison known to the Khmer Rouge as "Security Prison 21" (S-21) and which over the next three years held around 20,000 prisoners (the exact number is unknown) who were starved, tortured and beaten. Whole families, including children were held. The majority of the prisoners were Cambodian but a number of foreign prisoners were also held, including 488 Vietnamese, 31 Thai, one Laotian, one Arab, one Briton, four French, two Americans, one Canadian, one New Zealander, two Australians, one Indonesian, as well as an unknown number of Pakistanis and Indians. None of the foreigners survived. A few prisoners committed suicide and an unknown number were murdered. Of the estimated 20,000, only 35 are known to have survived. The prison was eventually closed in 1979, when the Vietnamese army ousted the Khmer Rouge. Tuol Sleng was only one of between 150 and 200 of such torture and execution centers in Cambodia.
Today, the prison's four main buildings hold grisly photographs, instruments of torture, small individual cells and larger rooms which held the bodies of prisoners. It is considered to be an education center and memorial to the dead.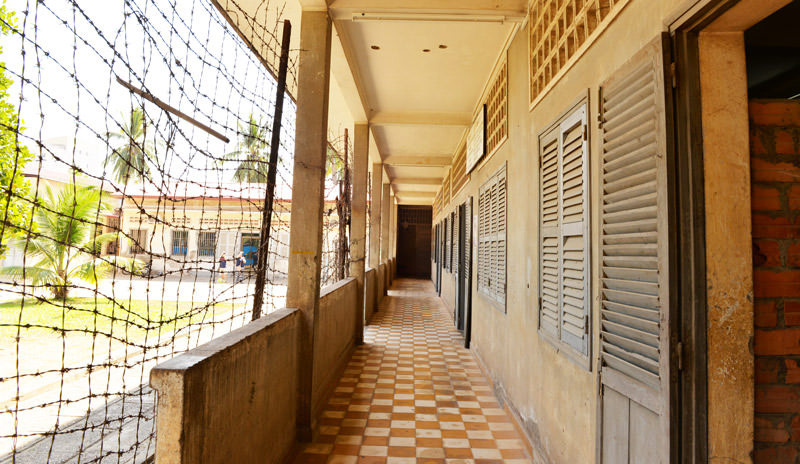 Tuol Sleng Genocide Museum in Phnom Penh
Address: Tuol Sleng Genocide Museum St. 113, Boeung Keng Kang III, Phnom Penh. Open daily, 8 am to 5 pm.
Tel: 023 6 555 395/077 252 121.
Admission : Adults: $5.00 USD; Children between 10 and 18: $3.00. (Cambodian citizens can visit for free).
The Khmer Rouge Killing Fields (វាលពិឃាត)
The Khmer Rouge Killing Fields are where up to 2 million prisoners were beaten and starved to death by the Khmer Rouge and buried in mass graves. Few were shot as ammunition was too scarce. Again the precise number is unknown, but studies by Yale University suggest that at least 1,386,734 bodies have been found in 20,000 mass graves. The Khmer Rouge even admitted that the number was over 2 million. UNICEF estimated 3 million were killed.
Most of the prisoners from Tuol Sleng ended up in graves in what was an old Chinese cemetery in the village of Choeung Ek (ជើងឯក), about 15 kilometers / 9 miles south of Phnom Penh. 8,985 bodies of mainly Tuol Sleng prisoners – men, women and children – have been exhumed here from 129 mass graves, but 43 communal graves with an unknown number of bodies remain untouched. Human bones, teeth and torn clothing litter the ground, especially after heavy rains. There are 8,000 skulls displayed behind glass, arranged by sex and age, which can be seen in the Memorial Stupa, built in 1988. There is also a small museum here and every year on May 9th a memorial service is held.
Admission to the Choeung Ek Memorial Park is $3 USD, but it is highly recommended you spend another $3 USD on renting an audio guide at the ticket booth. This useful guide will help you better understand what you are seeing as you follow the well-signposted, numbered path round the park. Signs and explanations are given in both Khmer and English.
Note: This is a memorial to thousands murdered in one of the world's worst genocides, so modest dress and respectful behavior is a must. Quiet is expected and smoking is forbidden. See the dress code advice above for the Royal Palace for advice on what to wear.
Sisowath Quay (សួនច្បារមាត់ទន្)
Sisowath Quay, also known as Riverside Park is a 3 km boulevard along the banks of the Mekong and Tonle Sap rivers opposite the Royal Palace. On one side is a landscaped open space with lawns and paths, while on the other are bars, cafés, hotels, massage parlors and shops which stay open well into the evening. The Riverside is popular with both visitors and residents. The many touts trying to sell everything from overpriced tuk-tuk rides, to illegal substances and girls can be very annoying – just ignore them.
The park is also popular in the early morning when many locals come here to do their morning exercises and watch the wonderful sunrise over the palace.
Central Market (ផ្សារធំថ្)
Near Sisowath Quay is Phnom Penh's Central Market or New Market to be more precise to the translation of the Khmer. This is worth visiting for the recently restored, domed, 1930s Art Deco building alone. Built on drained marshland, the market was opened in 1937 when it was said to be the largest market in Asia. It was completely renovated in 2011 at a cost of $4.2 million USD. The dome is 45 meters / 148 feet in diameter and 26 meters / 85 feet high, making it one of the largest in Asia.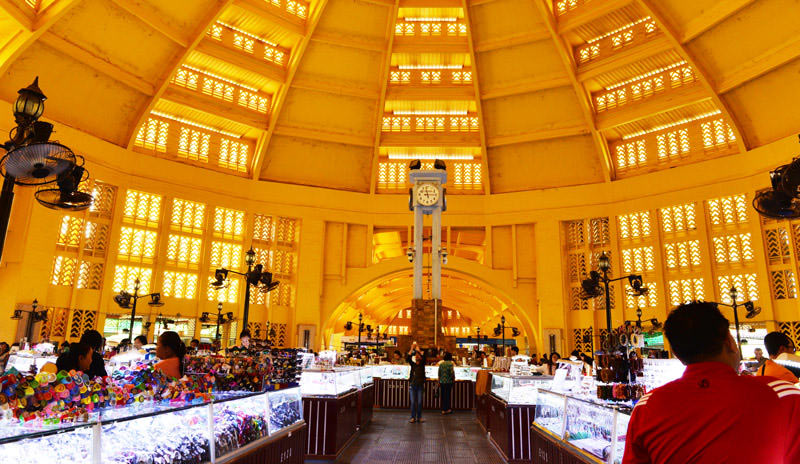 Phsar Thmei Central Market in Phnom Penh
Much of the merchandise on sale is overpriced, especially for foreign tourists, but it is still a fascinating place to browse. Gold, silver, old coins, antique curios, Buddha statues, silk, flowers, custom-made and ready-to-wear clothes, DVDs and CDs, watches and electronic goods are all for bargaining over. The watches are nearly all fake and the electrical goods probably won't last until you get home, but it's all good fun! There are also fresh food stalls as well as stalls serving local cuisine.
Phnom Penh and Cambodian cuisine, like Cambodia itself lies somewhere between Vietnam and Thailand and their cuisines, but is closer to Vietnam while still being a bit different. Vietnam's Phở and Bánh mì are also popular in Phom Penh. The locals use a lot of rice and freshwater fish from the Mekong and Tonle Sap in their dishes. Fish amok, fried fish or crab and grilled squid sit beside beef salads and various noodle dishes. Treat yourself to a nice plate of red tree ants with beef and holy basil and enjoy a cold glass of Angkor beer! When you are hooked on Cambodian food, you can take a Cambodian Cooking Class, which begins with a trip to the market to stock up on what you need then return to the cooking school, usually in a restaurant, and prepare a few authentic dishes lead by a professional chef-instructor.
These are just some of the things you can do and see in Phnom Penh; there are several others. Odynovo can arrange you a custom-made tour to Cambodia, including the iconic Angkor Wat and all the sites and sights I have described here as well as many others around Cambodia, South-East Asia and over 30 other destinations. Tell us what you want and we'll get back to you in 24 hours.
What Our Clients Say
"Great Service and Value", "Exceed All Expectations", "Highly Recommend".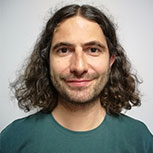 CONTACT A TRAVEL EXPERT
1-to-1 Service | Reply within 24hrs | Expert's Advice
STAY IN TOUCH WITH US
Subscribe to our newsletter so we can provide you with insider travel information, exclusive offers, and discounts.