The Middle East is such a unique region, blessed with cosmopolitan and ancient cities, vast expanses of unending desert and stunning seas as well as the distinctive culture. If you are headed to the Middle East for an adventure, your packing essentials need to be both practical and respectful of local culture. So, how to set about it? Here are some suggestions for what to pack for your Middle East tour.
Travel Documents
A valid passport and visa: It is beyond obvious that a valid passport and visa are the essentials you should pack first. Keep in mind that many countries require your passport to be valid for at least six months from your arrival date, so please check that you have a current passport that does not expire within six months.
International driving permit: You must have an international driving permit that translates your driving license into the local language if you want to rent a car in other countries.
Travel insurance information and medical record: You should take your insurance information and medical record with you in case of any emergencies. Read more: How to Select Your Travel Insurance Plan?
Carrying an accessible copy of these mentioned documents or sending them to your email can bail you out if you lose them.
Money
You can exchange some local cash beforehand or on your arrival, and US dollars, Euros and UK pounds can be changed into local currency more easily. Keep a suitable amount of local cash with you in case ATM and POS terminals are unavailable in some remote spots, but never carry more than you can afford to lose. It's recommended to pay small bills with cash and large bills with credit cards.
Appropriate Dress
Before traveling to the Middle East, you need to prepare clothing for all conditions: the bustling city, stately mosques, burning deserts and stunning seas.
For a city tour: You may see many tourists wearing whatever they want. But the Middle Eastern countries are relatively conservative, so you should wear clothing that covers both shoulders and knees (men and women both), for reasons of sunlight and respect for local customs; During Ramadan, it's best to choose long sleeves and trousers. Carry a lightweight smock or shawl when wandering through the shaded alleys and wear comfy walking shoes or sneakers if you like to explore the city on foot. Also, you should take a jacket to keep warm in the evening. Don't wear flip flops or sandals to travel in some rural region and market, or you will return to the hotel with a pair of dirty feet.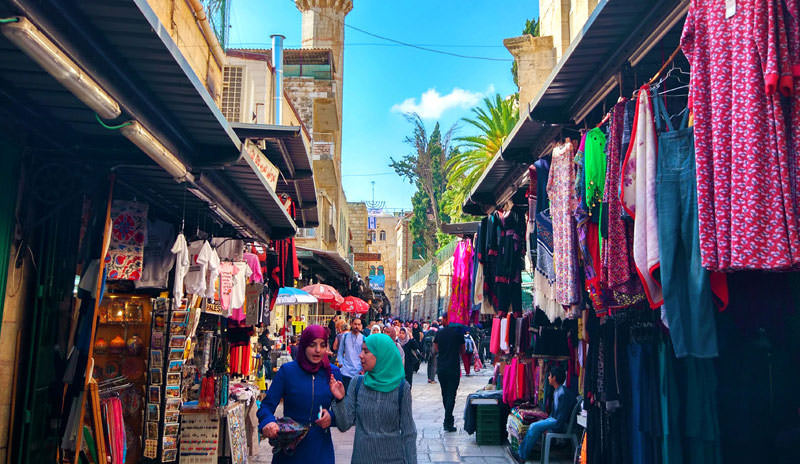 Street view of Jerusalem
For visiting mosques: As mosques are sacred, it's not appropriate to wear short clothes that show much skin. Men should wear long trousers and shirts, and women wear a non-transparent and long-sleeved dress, long shirt or trousers. In most mosques, non-Muslim women are not required to cover their hair, but in some Muslim countries such as Turkey, head coverings are required. The staff will likely provide you with an oversized robe and head covering. It is recommended to wear sandals or flats so you can easily remove your shoes before entering mosques.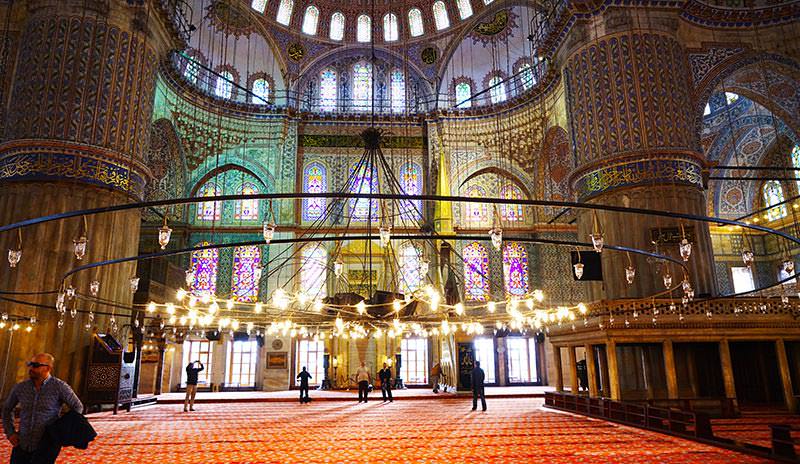 Blue Mosque in Istanbul
For a desert safari: In the desert, it's very hot in the daytime and much cooler in the night, so take a jacket to wear after sunset. You can wear loose clothes and sandals to shake out the sand easily. A long dress, a colorful scarf together with sunglasses and a hat are the best choices for women who want to take good photos, but trousers are better for riding a camel.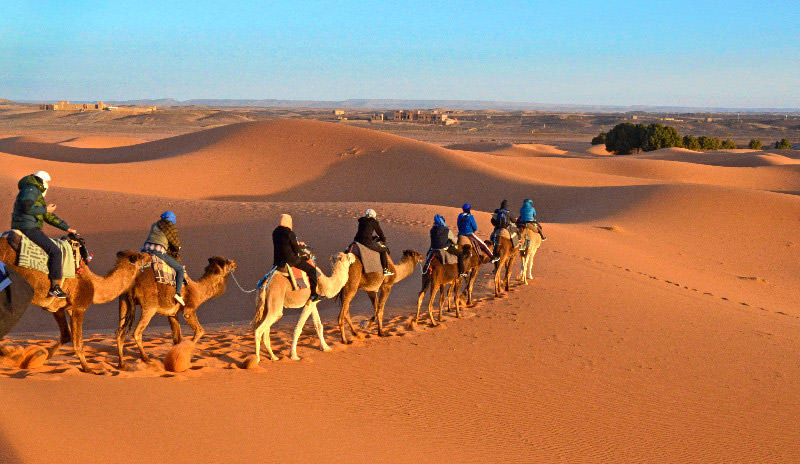 Sahara Desert
For the beaches: Swimsuits are a must and so are flip flops. You'll never want to miss out on going to the beaches of Dubai or floating in the Dead Sea in Jordan. Swimming trunks and other swimwear would be acceptable to wear at the resorts or wandering around towns in the destinations on the Red Sea. But in most Middle Eastern countries, swimsuits are only allowed in pools or on the beaches, you should get fully dressed before walking from and back to your hotel.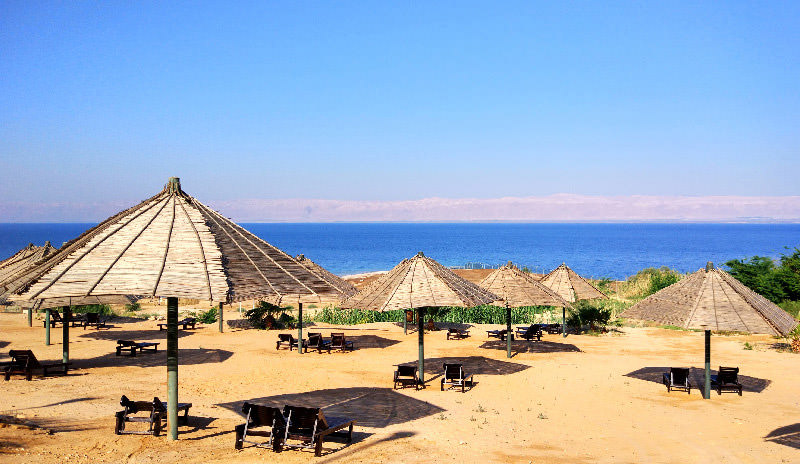 Dead Sea
25-Day Morocco, Egypt, Jordan and Israel
Morocco: Casablanca, Fez, Marrakech; Egpyt: Cairo, Aswan, Edfu, Luxor, Alexandria; Jordan: Amman, Petra, Wadi Rum, Dead Sea; Israel: Jerusalem, Bethlehem, Tel Aviv
View Details
Essential Items
Sunblock items: Suncream (high factor advised), lip balm and lotion are necessities to protect your skin from the dry weather and strong sunlight; Sunglasses, a hat or a scarf can be used for shading and adornment. Besides, you can use a scarf to cover your hair or body when you visit some mosques.
Toiletries: Some hotels may not automatically provide disposable toiletries, such as toothbrushes, toothpaste or slippers, so you may need to ask for them at the front desk, or prepare and take your own toiletries.
Shaver: Don't forget to remind him to take a shaver if there is any male companion in your group.
Toilet paper: Bring your own toilet paper. It's hard to find it in most restrooms in Egypt.
Cleaning wipes: Always take some cleaning wipes to clean your hands because some dishes in this region may be needed to eat with your hands.
Voltage converter and universal adaptor: Voltages and electricity sockets vary from country to country, so be sure to take a voltage converter and universal adaptor for your electronic devices and chargers.
Earplugs: If you are a light sleeper, you'll need earplugs to have a good sleep at dawn when the call to prayer sounds.
Insect repellent: To avoid mosquito bites, use insect repellent on your exposed skin.
Rain Gear: Take rain gears if you plan to visit the Middle East in the winter.
Medicine and Vaccinations
It may not be very convenient to find a drugstore and buy pills in another strange land, so you should prepare some common medicines for colds, diarrhea and gastroenteritis. The law can be stricter in the Middle East, and certain medicines may be seen as controlled drugs even though they are common in other countries.
For traveling to Egypt, any NARCOTIC and PSYCHOTROPIC medicine is prohibited to carry into Egypt EVEN with a doctors' prescription (and letter). Please note that any medication containing Methadone is NOT permitted to take into Egypt. Prescribed medications are permitted but must be in boxed original packaging and in amounts for the duration of your trip. An official letter from your GP is required, specifying that the medication is for your personal use only, the quantity you will be carrying and details of your medical condition. Not allowed also: pork products, electronic cigarettes, weight loss products or sexual claims products.
For traveling to Morocco, Turkey, Israel and Jordan, prescription medications are allowed but bring any prescriptions and documents from your GP with you to show that the medicine is for your personal use and you have your doctor's authority for use of the medicine. Make sure you carry them in the original packaging. Do not bring large quantities of painkillers or psychotropics, then you should be fine.
For traveling to the United Arab Emirates, travelers can carry along with prescription medicines for personal use, for a period of NOT more than 3 months consumption with a valid medical prescription. And it's best to read the guideline for carrying personal medicines published by the Embassy of the UAE and check at the website of the Ministry of Health on which lists 70 currently prohibited medicines, such as painkillers containing codeine, Tylenol Arthritis Pain Caplets, Niquitin Mint Lozenges and Otrivin Nasal Spray.
For traveling to Saudi Arabia, prescription medications must be accompanied with your doctor's prescription and recent medical report (less than six months), and the amount is allowable for the duration of the visit or one month's supply. Please check more details at the website of the Embassy of the Kingdom of Saudi Arabia.
Therefore, when you are not sure whether your medicines are prohibited or not, please first inquire with the customs or embassy of the country you are headed to, and bring your prescription on hand if the medicine is a must for you. Keep tablets and liquids in the boxes or bottles with the prescription sticker, and don't take over bulk amounts more than you need.
Travel vaccination is an effective way to prevent some infections. The Hep A, Hep B and Typhoid are recommended for most travelers to this region. Camels are potential sources of MERS (Middle East respiratory syndrome), so wash your hands after contact with animals.
In order to avoid overpacking, read our handy guide of packing tips before you even take your suitcase out of the closet, or contact our travel experts to get some suggestions about your trip plan. Odynovo specializes in customizing one and only tours for our customers, so let us tailor-make a hassle-free Middle East tour for you.
What Our Clients Say
"Great Service and Value", "Exceed All Expectations", "Highly Recommend".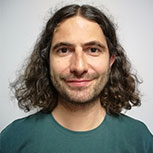 CONTACT A TRAVEL EXPERT
1-to-1 Service | Reply within 24hrs | Expert's Advice
STAY IN TOUCH WITH US
Subscribe to our newsletter so we can provide you with insider travel information, exclusive offers, and discounts.