Known as the Pink City because of the rose hue that many of its buildings in the Old City have, the Rajasthani capital of Jaipur in northern India is a delightful place to visit, with fabulous forts, palaces and other incredible sites that can be found nowhere else. Recently (July 2019), the walled city of Jaipur, home to the city's most historic sites such as Amber Fort and Hawa Mahal, was recognized as a UNESCO World Heritage Site, a status this colorful and vibrant city so richly deserved.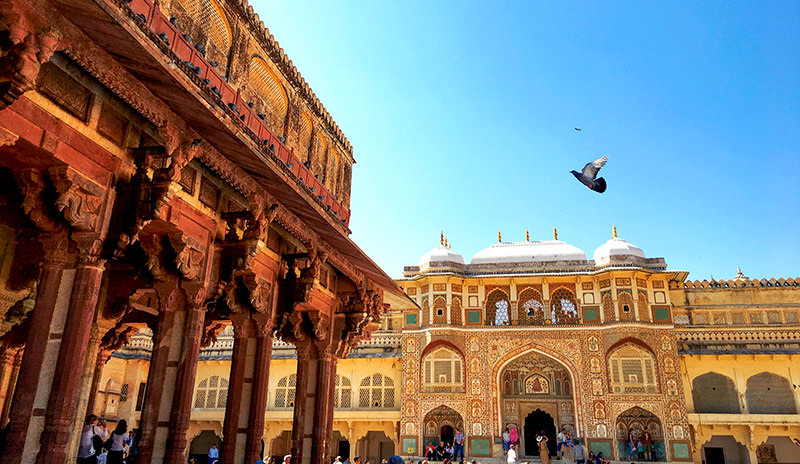 Amber Fort
Jaipur is not only one of the three Golden Triangle cities (the other two being Agra and Delhi), but also the gateway to other popular destinations in Rajasthan such as Jodhpur and Jaisalmer. This means if you are planning a trip to northern India, it's very likely that you will visit Jaipur. So here I hand-pick some of the most amazing things to see and do in this charming city to give you some inspiration.
Best attractions in Jaipur
1. Amber Fort
Perched on the hilltop overlooking Maota Lake, the 16th-century-built Amber Fort is only around a half hour's drive from the city center. It is one of the most famous and most visited forts in India, with over a million visitors every year. This magnificent, opulent fort, made from marble and sandstone, was home to Rajput kings until the construction of Jaipur city.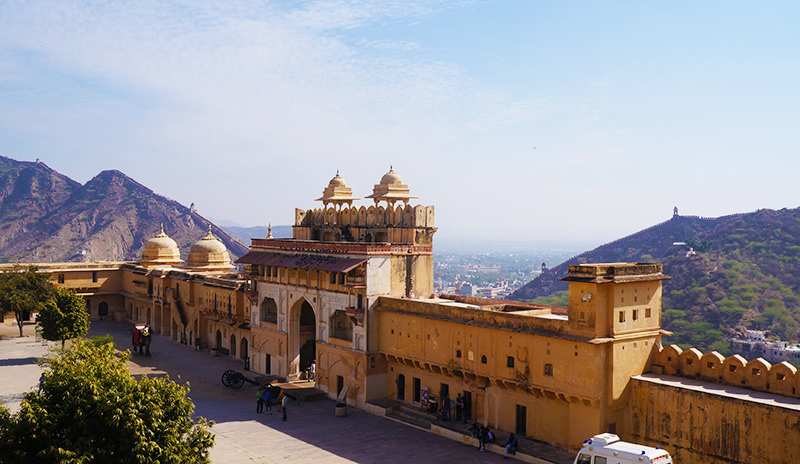 Amber Fort sitting on the top of the hill
The fort, whose architecture is a fusion of Hindu and Mughal styles, consists of a series of palaces (such as the famous Sheesh Mahal or Palace of Mirrors), four courtyards, gates, halls, gardens, and temples. It was listed as a UNESCO World Heritage site in 2013 because of its historical significance. It's worth a night visit here for the spectacular sound and light show (6:30 pm – 9:15 pm).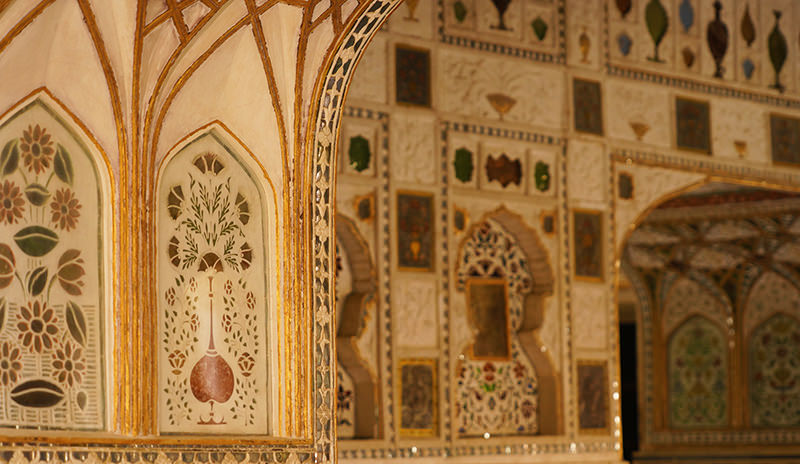 The Palace of Mirrors
Location: Devisinghpura, Amer, Jaipur
Opening hours: 8 am – 5:30 pm in the daytime and 6:30 pm – 10 pm at night
Entry fee: 500 rupees (about 7 US dollars) for foreign tourists. Night visit costs 100 rupees (1.5 US dollars) per person.
2. Hawa Mahal (Palace of the Winds)
Hawa Mahal or the Palace of the Winds is one of Jaipur's most iconic sights. It was constructed with red and pink sandstone in 1799 as an extension to the City Palace nearby. The ruler of Jaipur, Maharaja Sawai Pratap Singh, built this palace so that the royal ladies could watch the festival celebrations and other activities that took place on the streets below without being observed.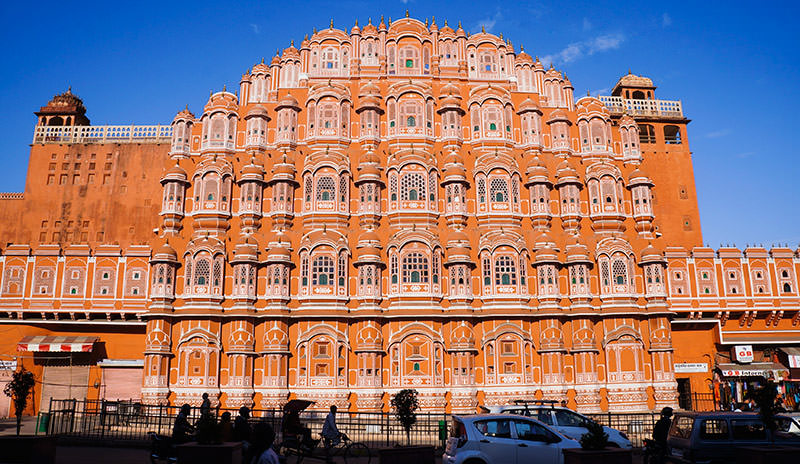 The majestic façade of Hawa Mahal
This intricately beautiful five-story building contains rows of small windows that allow the breeze to flow through and keep the place cool, making it an ideal place to stay for the royal family in summer. Surprisingly, the whole structure was built without foundations and still keeps upright thanks to its curved shape.
You can enjoy splendid views of the City Palace and other stunning structures from the top of Hawa Mahal. The best time to visit this fascinating palace is in the early morning when the structure is illuminated with golden sunlight. You can get a full view of Hawa Mahal from a rooftop café just opposite the monument.
Location: Hawa Mahal Rd, Badi Choupad, J.D.A. Market, Pink City, Jaipur
Entry fee: 200 rupees (about 3 US dollars) for foreign tourists
Opening hours: 9 am – 5 pm daily
3. City Palace
The impressive City Palace, once the residence of some of India's richest royal families, covers one-seventh of Jaipur's Old City and sits in the city center. This complex contains many courtyards, gardens, pavilions, and temples that reflect a perfect blend of Mughal and Rajput architecture.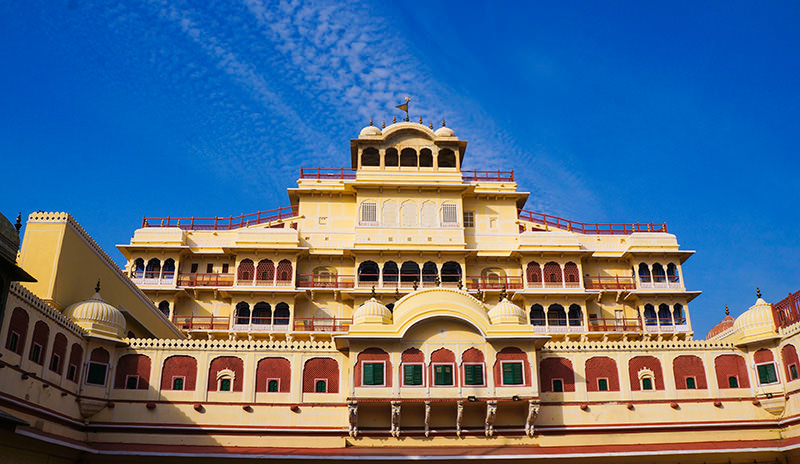 The City Palace
Though first constructed in the early 18th century when Maharaja Sawai Jai Singh II moved the capital from Amber to Jaipur, the complex has buildings from different eras, some built in the early 20th century. The royal family still lives here in the Chandra Mahal and it's possible to arrange a visit to the private rooms with an additional fee.
Also inside the City Palace complex is a museum where you will find an interesting collection of costumes, ornaments, paintings, and weapons of Kachwaha rulers. Here you can see two huge silver jars, each 1.6 meters (5.2 feet) tall, which are believed to be the largest silver objects in the world.
Location: Tulsi Marg, Gangori Bazaar, J.D.A. Market, Pink City, Jaipur
Entry fee: There are different ticket options depending on which parts of the City Palace you want to visit. The composite ticket costs 700 rupees (10 US dollars) for foreign tourists
Opening hours: 9:30 am – 5 pm
4. Jantar Mantar
Sitting next to the City Palace is Jaipur's Jantar Mantar, the biggest and best-preserved observatory of the five observatories constructed by the Rajput king Sawai Jai Singh II.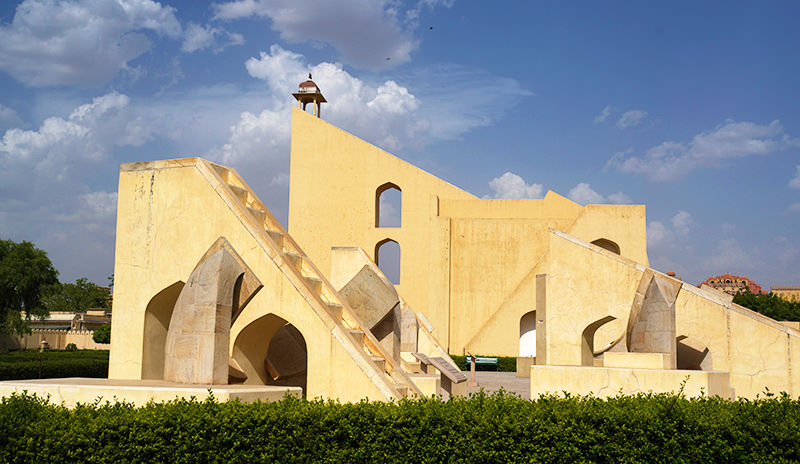 Jantar Mantar
Jantar Mantar literally means "calculating instrument" and it contains an intriguing collection of 19 architectural astronomical instruments including the world's largest stone sundial, each serving a specific purpose from measuring time to predicting eclipses to tracking stars. The observatory was listed as a UNESCO World Heritage site in 2010. If you want to learn how each instrument works, it is highly recommended to hire a knowledgeable local guide.
Location: next to the City Palace, Jaipur
Entry fee: 200 rupees (about 3 US dollars) for foreign tourists
Opening hours: 9 am – 4:30 pm daily
5. Jal Mahal (Water Palace)
Beautifully situated in the middle of the peaceful Man Sagar Lake nestling among the Nahargarh hills, Jaipur's Jal Mahal or Water Palace is one of the most charming and mysterious palaces in India. No one knows why it was built, but it was said to be extensively restored in the 18th century by Maharaja Jai Singh II of Amber.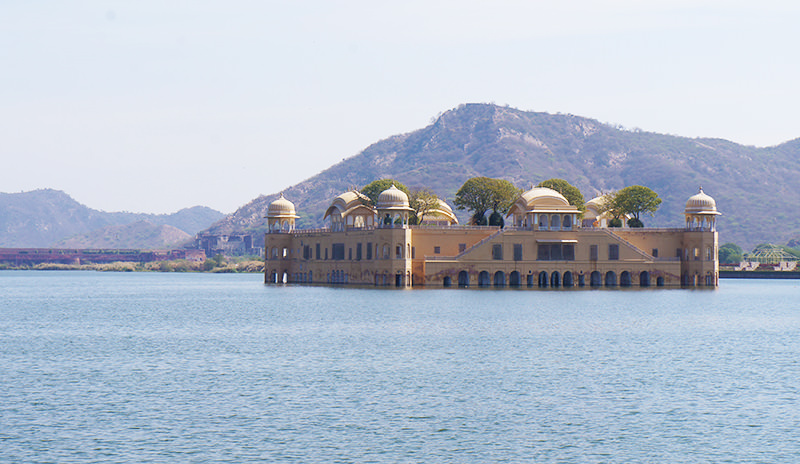 Jal Mahal is like a beautiful mansion floating in the middle of the lake
This dreamlike palace was built with red sandstone and has 5 stories, 4 of which are underwater when the lake is full. Like many other famous palaces in Jaipur, the architecture of Jal Mahal is a fusion of Rajput and Mughal style.
Unfortunately, Jal Mahal is not open for visiting as it's currently under restoration.
Location: Amer Rd, Jal Mahal, Amer, Jaipur
6. Nahargarh Fort
Sitting high on the Aravalli Hills that overlook the city of Jaipur, the majestic Nahargarh Fort or Tiger Fort was built in 1734 to defend Jaipur city. The fort has never been attacked and it provided protection for the British during the Great Uprising of 1857 when the Indians fought against the rule of the British East India Company.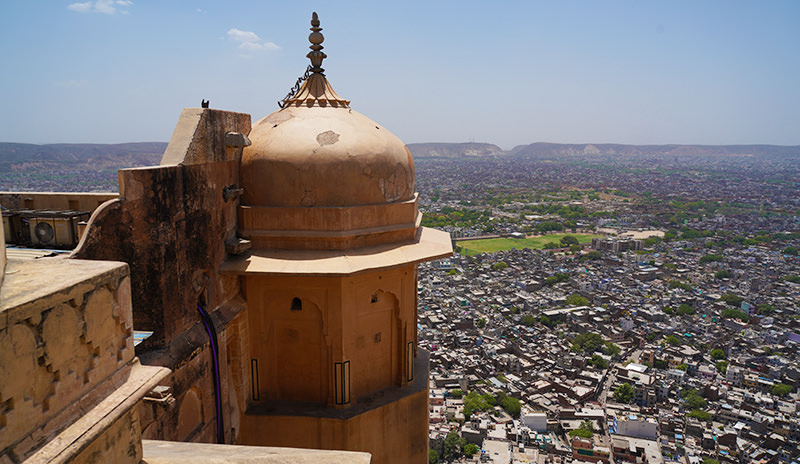 Nahargarh Fort
It was expanded in 1868 and 1880 when the Madhavendra Bhavan, the most famous part of the fortress was built. The Madhavendra Bhavan has 12 identical rooms linked by corridors for each of the 12 queens. It was said that rooms were built in this way so that the king could visit one of the queens without letting the other queens know. You can stroll through its beautifully decorated halls and rooms and imagine what it is like to be a queen living in such a stunning place. Also, you can visit the interesting wax museum that sits next to the fort or dine in a fine local restaurant.
Nahargarh Fort provides a stunning panoramic view of Jaipur city, and it is best visited at sunset or at night when it's lit up.
Location: Krishna Nagar, Brahampuri, Jaipur
Entry fee: 200 rupees (about 3 US dollars) for foreign tourists
Opening hours: 10 am – 6 pm daily
Best things to do in Jaipur
1. Immerse yourself in the Pink City
The walled Old City, where the major attractions of Jaipur are located, can be easily explored on foot. So step inside the wall and wander through the narrow streets and bustling bazaars to take in the unique ambiance of this amazing city.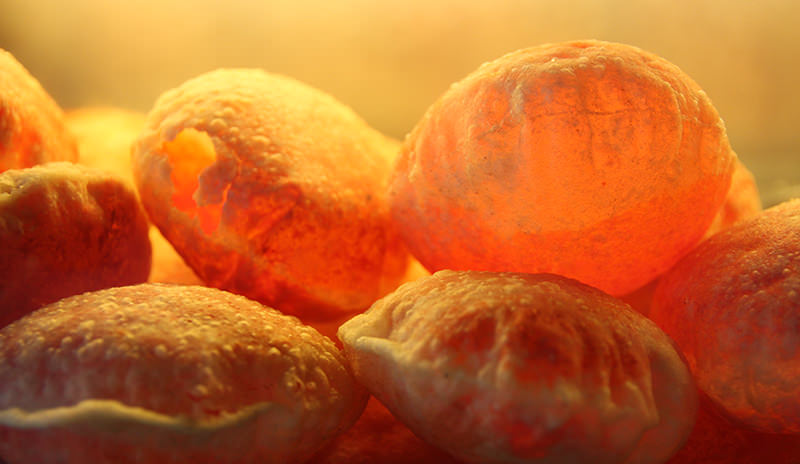 Puri (a deep-fried bread made from wheat flour) is a common street snack in Jaipur
When you walk through the lanes and bazaars, you have the chance to see chai sellers making and selling spiced tea, watch cows, goats or even camels roaming the street, and stop by a food stall and sample some local street food. It's a rewarding trip that offers you an insight into the local way of life. It's best to take the walking tour in the early morning or evening as it can be rather hot at midday.
2. Enjoy Rajasthani cultural experiences at Chokhi Dhani
If you are looking to have a unique and completely Rajasthani cultural experience, Chokhi Dhani, a village themed resort in Jaipur, is where you should go.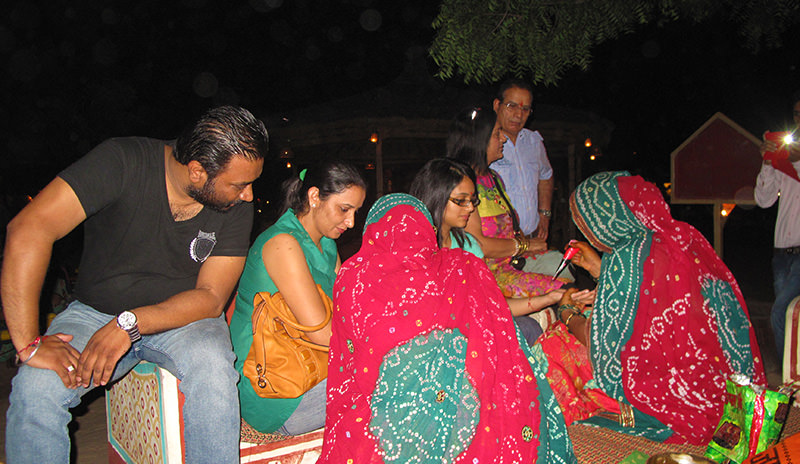 Two Indian ladies having their hands adorned with beautiful henna at Chokhi Dhani
At Chokhi Dhani, you can enjoy an amazing variety of cultural experiences, including traditional Rajasthani folk dances, snake charming, boating, archery, puppet shows, magic shows, acrobatics, etc. If you are feeling hungry, there are several restaurants you can go to for a taste of authentic Rajasthani food.
Location: Chokhi Dhani Village Resort, 12 Miles Tonk Road, Jaipur
3. Visit the Elefantastic Elephant Farm
If you love elephants and want to have an ethical, up-close experience with them, the Elephantastic Elephant Farm is the place to go. The sanctuary, whose owner has worked with elephants for decades, provides a safe home for the rescued elephants.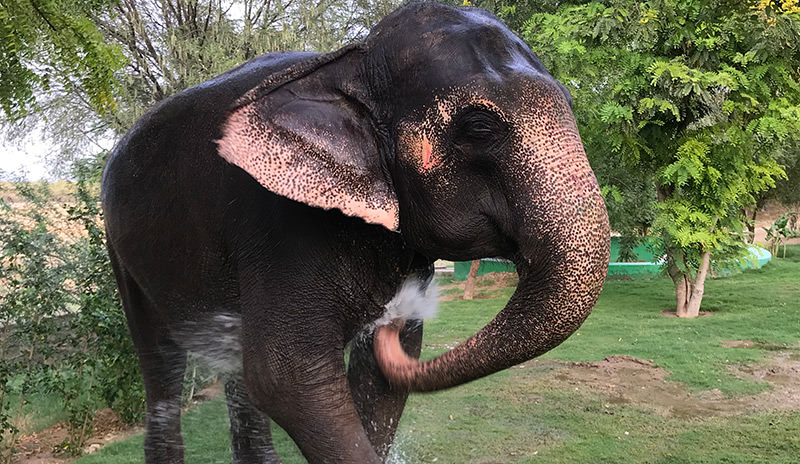 An elephant washing at Elefantastic
At this sanctuary, you can learn how to make a proper meal for elephants and then feed them. You can also wash and walk an elephant assigned to you and learn how to communicate with it. The entire experience, which also includes a home-cooked lunch or dinner at the owner's home, lasts about 3 hours and in the end, you will have built a bond with these amazing mammals and gained a better understanding of them.
Location: 90 Chandra Mahal Colony, Delhi Road, Amer, Jaipur
Opening hours: 9:00 am – 6:00 pm
4. Shop for the finest Rajasthani souvenirs at a local bazaar
Many visitors to Jaipur do not only see the iconic palaces and forts, but also visit the local bazaars for unique shopping experiences or just to take in the ambiance. When it comes to shopping, Jaipur is a real treat as there are some excellent places for you to hunt for very special and high-quality items such as silver jewelry, precious gemstones, bangles, clothes, blue pottery, and textiles.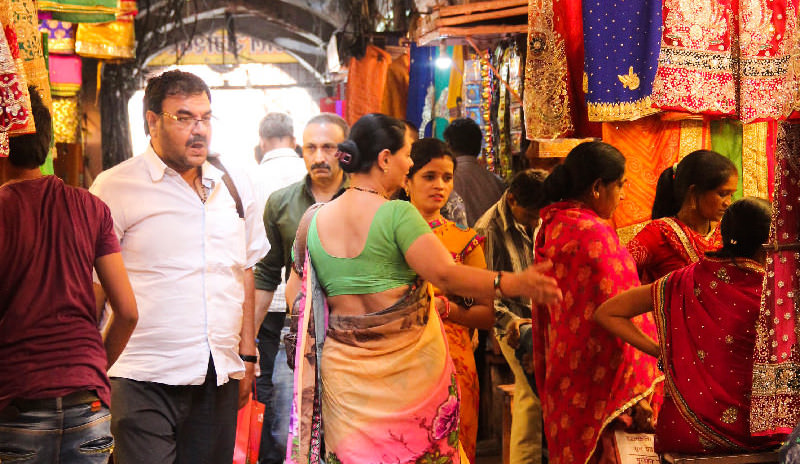 A local bazaar in Jaipur

There are several fabulous bazaars in the Old City of Jaipur to find your souvenirs. You can pick up some gold and silver jewelry, inexpensive costume jewelry and bangles in Johari Bazaar which is located right opposite Sanganeri Gate, outside Hawa Mahal. Nehru Bazaar, located on the road between Ajmeri Gate and New Gate, is a wonderful place for women to buy brightly colored fabric, shoes, trinkets, and perfumes. The bustling Tripolia Bazaar is where to look for antiques, carpets and brassware. It is located between Chhoti Chaupar and Manak Chowk. For traditional lac bangles, head to the small Maniharon ka Rasta lane, just around the corner. To get the best price, you need to bargain hard though.
Hope this post can offer you an idea of what you can expect to see and do in Jaipur. However, these are just some of the most unmissable experiences that this amazing city offers and you can have much more. Let one of our India travel specialists know your interests and tastes and he or she will offer you advice and create a tailor-made India itinerary for you at no cost.
What Our Clients Say
"Great Service and Value", "Exceed All Expectations", "Highly Recommend".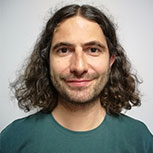 CONTACT A TRAVEL EXPERT
1-to-1 Service | Reply within 24hrs | Expert's Advice
STAY IN TOUCH WITH US
Subscribe to our newsletter so we can provide you with insider travel information, exclusive offers, and discounts.