A few years ago, two of my friends flew from Paris to Shanghai to visit me, but more importantly to visit China for the first time. I offered to show them around and met them in Shanghai. Later that day, we were in the Shanghai Foreign Language Bookstore when one friend called to the other to come quickly. She was standing staring at the cover of a book and said to the other "Look at that! Is that not the most beautiful place you have ever seen? It looks like fairyland!" I then had the great pleasure of telling them that was where we were going the next day. They were left squealing like children in excitement.
What they were looking at was a picture of Zhangjiajie in Hunan Province. Long known to Chinese tourists, but less well-known to overseas visitors until recently, Zhangjiajie is where you can find the UNESCO World Heritage Site of Wulingyuan Scenic Area which contains four national parks: Zhangjiajie National Forest Park, Suoxi Valley Nature Reserve, Tianzi Mountain Nature Reserve and Yangjiajie Scenic Area. Between them, there are almost 600 attractions.
Stunning quartz-sandstone pillars in Zhangjiajie National Forest Park
The most famous and popular part of the scenic area is Zhangjiajie National Forest Park which was China's first national forest park and is utterly beautiful and yes, like some Disney fairyland.
HUNAN
Hunan lies south of the Yangtze River and Dongting Lake (the name Hunan means "South of the Lake") and can be said to be in two distinct parts. In the east it is relatively flat. Here you will find the provincial capital, Changsha, a bustling city which is home to almost 8 million people. Near Changsha is the town of Shaoshan, Chairman Mao's birthplace. Both Changsha and Shaoshan attracts many Chinese tourists eager to see a part of their recent past, but few overseas visitors venture there, unless they are history buffs. Most tourists visiting Changsha though, are using it as a stepping stone to other parts of the province and beyond as it is a major train junction with trains to much more interesting places.
West Hunan is very different. Mountainous and forested, this area, known as Xiangxi, was relatively remote and inaccessible until the coming of railways, starting in the 1950s. The opening of Zhangjiajie airport in 1994 further opened the area to tourism.
This part of Hunan was largely ruled by local warlords for much of its history, until the People's Republic was declared in 1949. It is home to a number of ethnic minority people, especially the Tujia and the Miao minorities.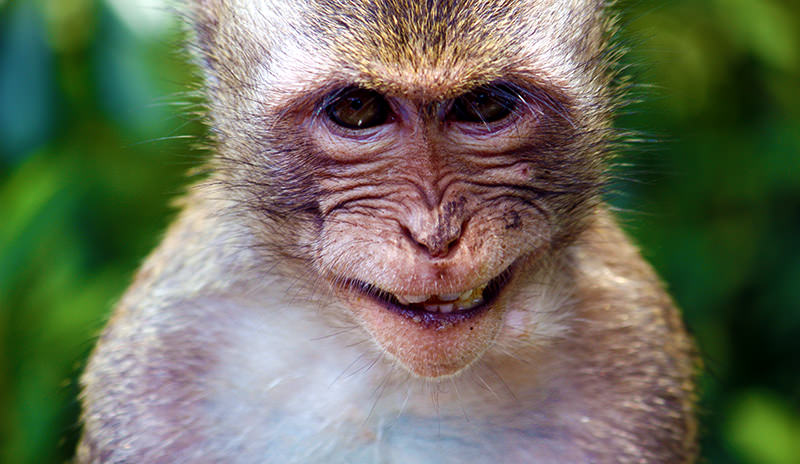 Smile for the camera! Rhesus monkey.
ZHANGJIAJIE
Western Hunan is where we find not only Zhangjiajie, but also many more attractions and places of interest. But the No. 1 attraction is Zhangjiajie, where the year-round moist atmosphere gives rise to lush vegetation and mist which covers towering quartz-sandstone pillars. The forest park is a wonderland of mountains, streams, rare trees and other plant and animal life, including rhesus monkeys, giant salamanders and pangolins. Visitors are warned not to tease monkeys; although they are wild, they are unafraid of humans but can get grumpy!
The less agile needn't worry about the peaks being inaccessible. As well as cable cars, there is even the tallest outdoor elevator in the world, Bailong Elevator to whisk you to the top in just two minutes. Many movie fans will remember Avatar with its Pandora landscape and Hallelujah Mountains floating in the air. These are said to have been inspired by Zhangjiajie's peaks, which in the mist seem to float in the sky. One peak has now been officially renamed "Avatar Hallelujah Mountain" by the local tourism authorities.
The whole area can easily take three or four days to explore, with new wonders around every corner. In fact, the entrance ticket for the park is valid for four days to allow for this. Private vehicles are not permitted inside the park, but there are shuttle buses to take you from place to place.
There are restaurants, hotels and guest houses both inside and just outside the park, but remember this is a popular destination and in Chinese public holidays, these can be booked up long in advance. The main holidays are the Spring Festival marking Chinese New Year and the first weeks of both May and October.
Also in Wulingyuan Scenic Area, but outside the forest park, is Tianzi Mountain situated in a nature reserve. This is named after a local Tujia farmer who led a peasants' revolt and declared himself Son of Heaven (Tianzi in Chinese). This mountain, also featured in Avatar, is almost always shrouded in mist, especially in summer, making it highly photogenic.
Just around 30 minutes' drive from Wulingyuan, you will find the world's longest and highest glass walkway, the Zhangjiajie Grand Canyon Glass Bridge. At 300 meters / 980 feet above the ground and with a length of 430 meters / 1,410 ft, the bridge gives stunning, unforgettable views of the park.
Near Zhangjiajie train station is Tianmen Mountain or Heaven's Gate Mountain. This peak is notable for what is known as Tianmen Cave, but is actually an archway eroded through the mountain, again offering a wonderful photo opportunity. Also famous are the long paths which coil around the mountainside, some with glass floors 1433 meters / 4700 feet above sea level. Not for the faint-hearted. Again, there is a cable car, claimed to be the world's longest at 7,455 m (24,459 ft), to get you to the best spot for to see this natural wonder.
Related Post: Incredible Natural Arches and Bridges in China
I have been asked "When is the best time to visit Zhangjiajie" and my honest answer is "Any time!" I have been in every season and it's always worth the visit. Spring is mild and damp. Summer is hot and humid. Autumn is cool and moist. Winter is cold and wet. Yet, each shows a different face of this spot of heaven on earth. Seeing the peaks covered in winter snow is utterly different, but as good as seeing it in the lush growth of spring. For many people, October is the most comfortable time to visit, but avoid the first week, when China celebrates its national day with a week-long holiday. By later October, the raging heat of summer has gone, but it is still warm and less prone to rain. Remember, however, that the temperatures can drop a good 10oC/50oF as you ascent the peaks. Even on the warmest days carry something extra, in case you need to cover up. Always carry some kind of rain protection, too. A light waterproof coat and an umbrella would be my suggestion.
FENGHUANG ANCIENT TOWN
Not far from Zhangjiajie is Fenghuang Ancient Town, another very popular destination for both local and international tourists. This is one of the best preserved old towns in China and lies on the river, the source of much of its livelihood in the past, both for food and as an important transport route. Today, tourism has taken over.
Fenghuang means 'phoenix' in Chinese, and is the birthplace of the Chinese writer, Shen Congwen (1902-1988) who was widely expected to win the 1988 Nobel Prize in Literature, but died before it could be awarded. (Nobel prizes can only be awarded to living people.) Self-educated, Shen wrote very accessibly about the local people around western Hunan. Many of his books and short stories have been translated and published in the west. His former home is now a museum in the town, and has a small shop where you can buy his works.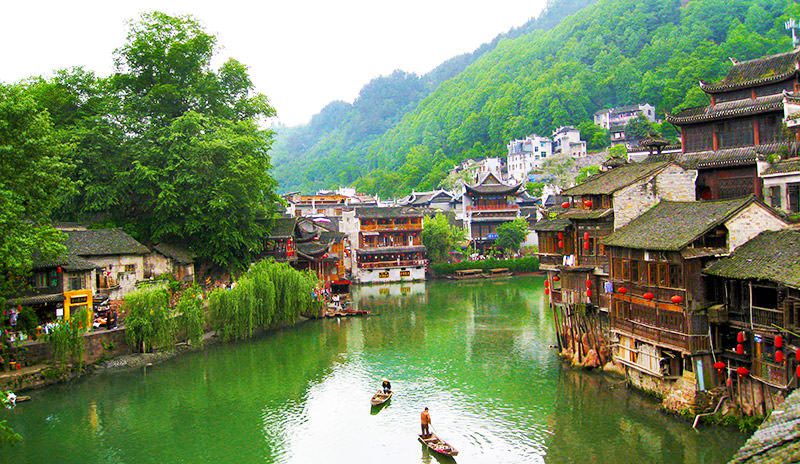 Fenghuang Ancient Town
Main attractions include the town museum, East Gate, Tuojiang Ancient Street and Miaojiang Wall, also known as the Southern Great Wall. But the main thing to do in Fenghuang is just to walk around soaking up the atmosphere and imagining you have somehow gone back 100 years or more.
Again, this popular destination can become insanely crowded on public holidays, so plan your visit carefully.
FURONG ANCIENT TOWN
Less busy, but also nearby is Furong Ancient Town, a Tujia town built on the cliffs above Wangcun Waterfall. Like Fenghuang the river has been very important to people as a source of food, but also as transport. The town is sometimes known in English as Hibiscus Town after a very successful movie of that name, which was largely set in the town.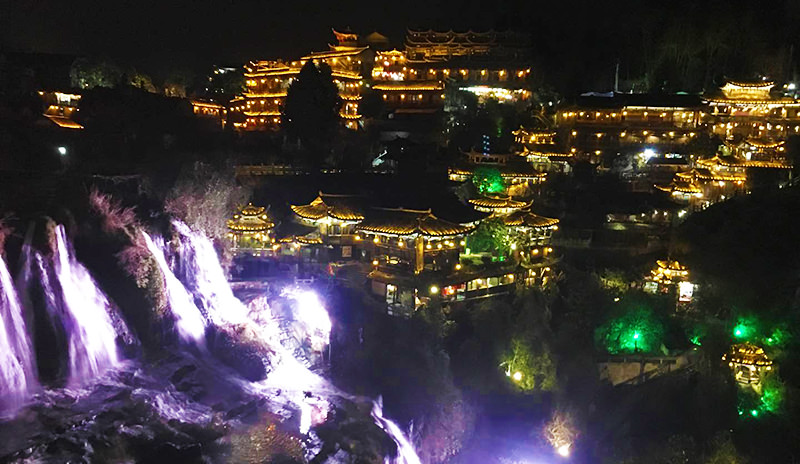 Furong Ancient Town at night
A TRIP ACROSS THE BORDER
While in this area, worth considering is a side trip across the nearby border with Guizhou province to visit some of the amazing Miao villages around Kaili, with their wooden houses, rice paddies, beautiful traditional costumes and unique culture including their special music, and arts and crafts. Jidao Miao Village, Shiqiao Miao Village and Paika Miao Village are three prime examples among many. In Kaili itself, you can visit the Kaili Folk Museum to gain a deeper insight into the people's culture and history. Also, with Kaili hosting over 200 hundred Miao Festivals every year, you have a good chance of running into one!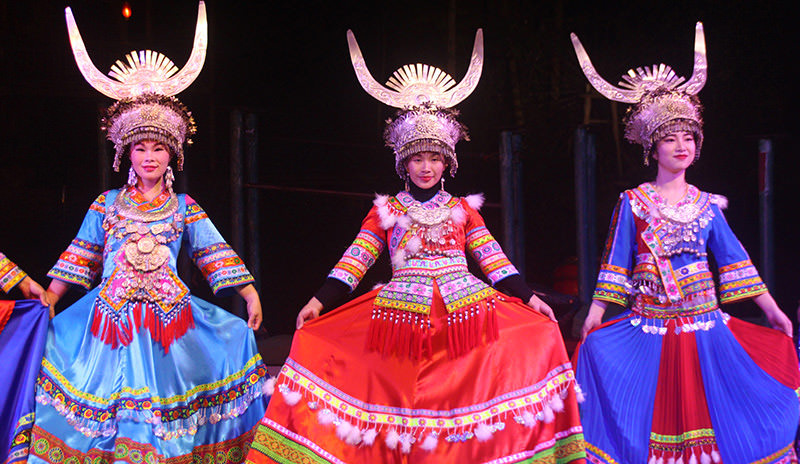 Miao fashion
HUNAN FOOD
Of course, I cannot write about Hunan without mentioning that the province is famous not only for its stunning scenery but, perhaps even more so, for its Hunan cuisine. The Hunanese prefer strong flavors, in particular smokiness but mostly they love chilli peppers. In many people's minds, Sichuan food is the one that means spiciness, but I believe Hunan's is even spicier.
Young (and not so young) women from Hunan are known throughout China as Hunan La Mei, which literally means "Hot Sisters", with "hot" referring to their love for spicy food, but also to their attractiveness. I've heard the expression translated as "Hunan Spice Girls".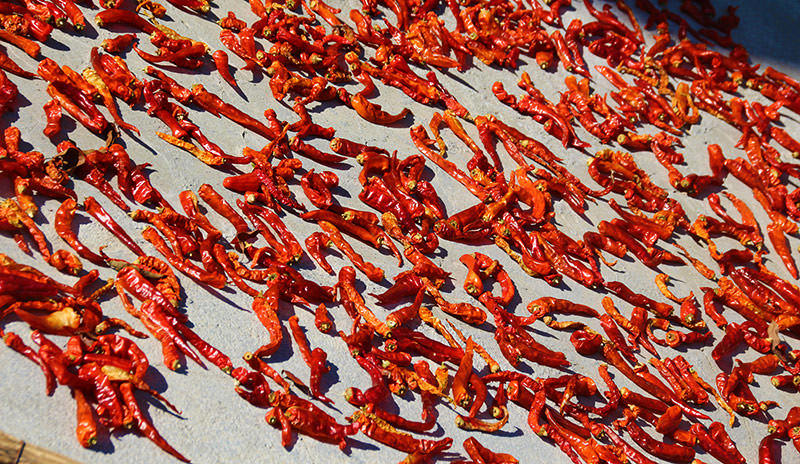 Drying chillies
Everywhere you look in the dry season, playgrounds, station platforms, sidewalks and even the road out of town are festooned with chillies drying in the sun. These are used in Herculean quantities in a myriad of dishes.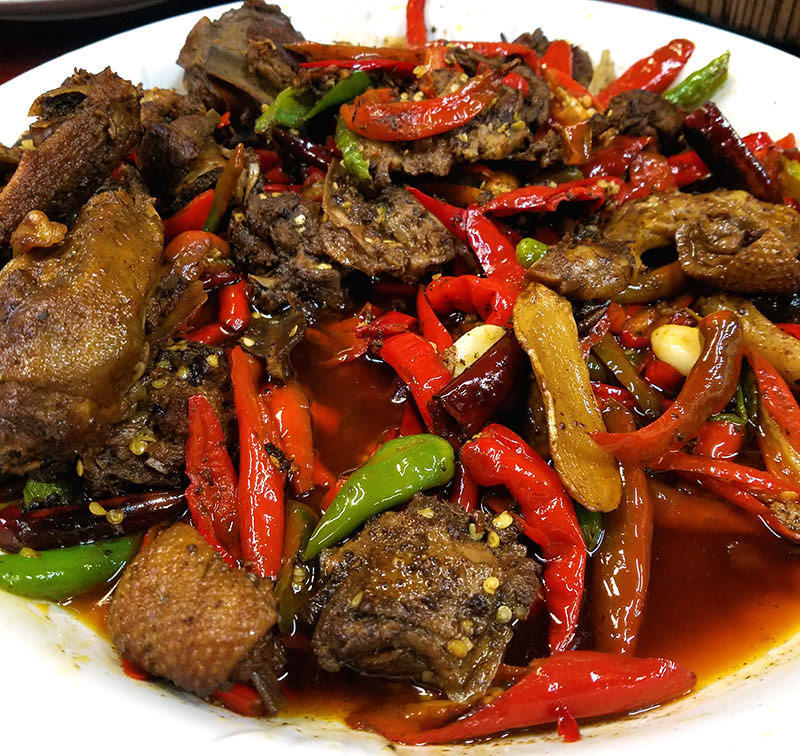 Hunan duck with chillies – the best duck dish I've ever eaten!
In late autumn and early winter, everyone gets busy curing ham to see them through the coldest times, but also to be eaten during the New Year Spring Festival celebrations. Hunan Larou (cured pork) is known and prized throughout China. Again, the strong flavor is augmented by copious use of chillies.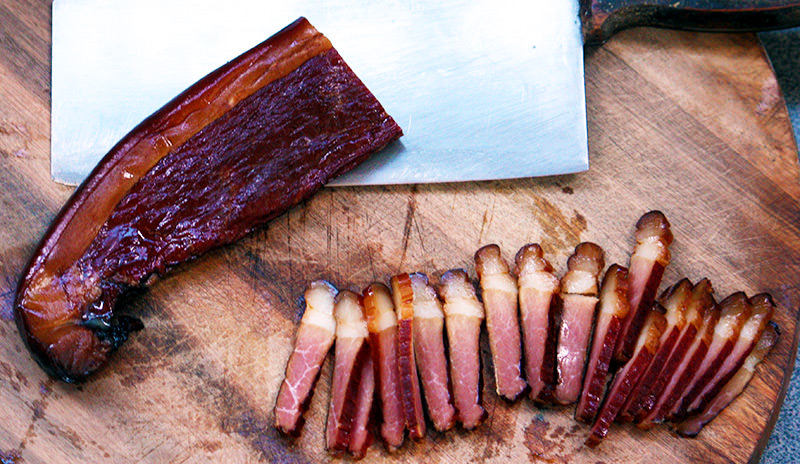 Hunan Larou
If you are not a lover of spicy heat, do not worry, there are many other dishes available to suit. The locals are aware that not everyone, including other Chinese people, is as chilli enthusiastic as they are! The trick to remember is to say "不要辣", pronounced something like 'boo yow lah' It means 'don't want hot'. Of course, what they think is not hot, you might think otherwise.
Whatever your interests, this relatively unknown corner of the world has something to offer. Friendly people, amazing scenery, great food, unique customs. I can honestly say that I never really understood what "breathtaking" meant until the first time I saw Zhangjiajie. Not could I truly understand what "eye-watering" meant until I ate my first bite of Hunan food. Now I know that breathtaking and eye-watering can be good things! Nor did I really know what unforgettable meant until I found Hunan.
Remember, Odynovo's travel specialists can quickly design you a private tour to the fabulous and unforgettable places of your choice. Start by requesting a free itinerary based on your requirements, preferences, interests and budget. This will be carefully prepared for you within 24 hours by a specialist with deep knowledge of the area. This can be to Zhangjiajie or dozens of other destinations in Asia, Africa, South America etc.
What Our Clients Say
"Great Service and Value", "Exceed All Expectations", "Highly Recommend".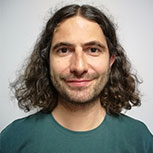 CONTACT A TRAVEL EXPERT
1-to-1 Service | Reply within 24hrs | Expert's Advice
STAY IN TOUCH WITH US
Subscribe to our newsletter so we can provide you with insider travel information, exclusive offers, and discounts.