It is often said that the beginning of European culture lies in Greece, but it's not quite true. Although written in Greek and probably by a Greek, European literature's first classic is set not in Europe, but in Asia – just. Homer's The Iliad tells the story of the Trojan War. Whether Homer ever even existed is subject to debate, but there is no doubt that Troy was real. It lies just outside Europe in western Asia in one of the few countries that straddles two continents.
The vast majority (95%) of Turkey is in Asia, with only the remaining 5% being in Europe, but that tiny part includes part of its most well-known tourist destination, Istanbul. The country's largest city also straddles two continents making it strategically and economically important throughout history, being the bridge between Asia and Europe and lying on the famed Silk Road. Once known as Byzantium, then Constantinople before becoming Istanbul it has been important for millennia.
Today, Istanbul is one of the top five world destinations for tourism and its cultural and historical center is on the European side of the Bosporus Strait, the dividing intercontinental line. So, let's begin to look at Turkey from its most well-known, but still mysterious city.
Istanbul's historic religious monuments
Sultan Ahmed Mosque
The top attraction is, of course, the Sultan Ahmed Mosque. What do you mean you've never heard of it?
Well, that will be because almost everyone refers to it as the Blue Mosque instead of by its official name. Built between 1609 and 1616, and still an active place of worship for the city's Muslims, the mosque was so-named for the blue, hand painted tiles which decorate the inside, although now, at night, blue lights are also shone onto the exterior, enhancing attraction and further promoting the popular name.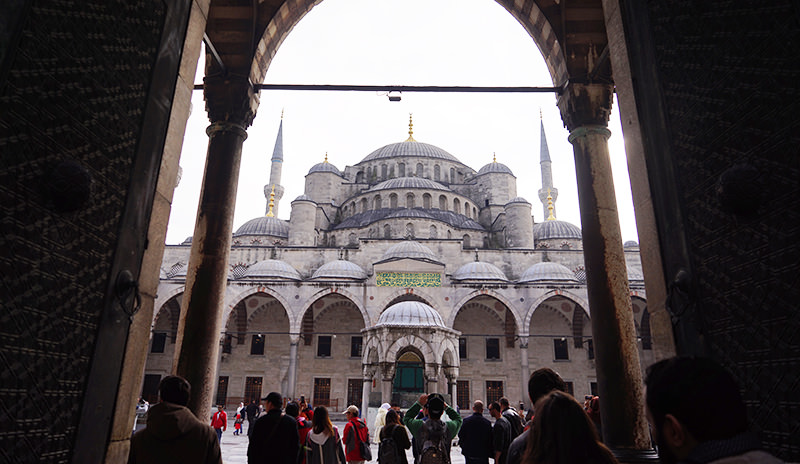 Sultan Ahmed Mosque, also known as the Blue Mosque
The exterior is undoubtedly impressive, with the mosque having five main domes, six minarets and eight secondary domes, but the true majesty of the building is to be found inside. With over 200 stained glass windows filtering the light and over 20,000 painted tiles the place is the very definition of awe-inspiring.
Entry to the mosque is free, but it is important to remember that this is an important, active place of worship and certain behavior and dress codes apply.
1. The mosque closes to visitors during parts of prayer times which take place five times a day. Each closure can last around 30 minutes. I recommend that you avoid visiting on Fridays, the most active day for prayers.
2. Shoes must be removed and placed in the free plastic bags provided at the entrance.
3. Women must wear head coverings hiding the hair. These fabric coverings are also lent for free at the entrance.
4. Short trousers and skirts are prohibited and the shoulders should be covered.
5. No flash photography is allowed. Photographing people praying is strongly discouraged.
6. Quiet and respectful behavior is expected at all times.
7. On leaving dispose of the plastic bags for shoes in the receptacles provided and return head coverings to staff members.
More information on the requirements is available on the mosque's official website.
Hagia Sophia
Next door to the Blue Mosque is Istanbul's second most visited site, the Hagia Sophia. This was originally built in AD 537 as a Greek Orthodox Christian cathedral (with a break of 57 years between 1204 and 1261 when the invading Crusaders turned it into a Roman Catholic cathedral), but in 1453 it became an Imperial mosque, before becoming de-consecrated and turned into a museum in 1935. For almost 1,000 years it was the world's largest cathedral.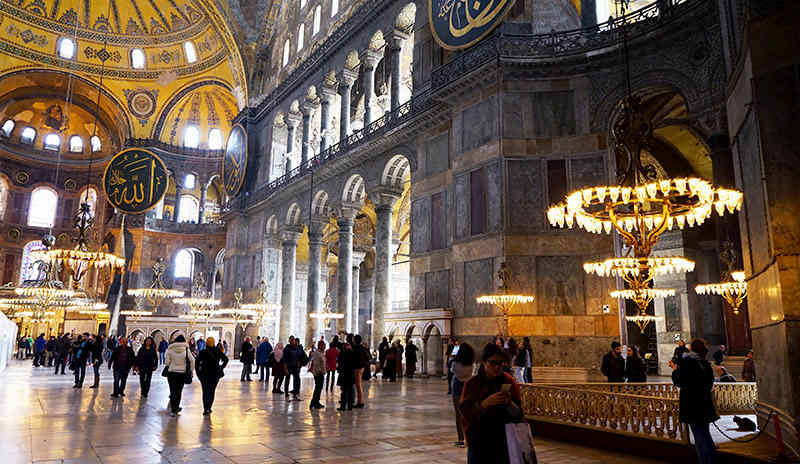 Hagia Sophia in Istanbul
The building is one of the greatest examples of Byzantine architecture and decoration. Its many mosaics were long covered up due to Muslim restrictions on religious imagery, but have since been restored. The dome is an engineering feat hard to imagine, although it has collapsed more than once and been rebuilt. The current dome has been up there for centuries, so don't worry! Note how the windows just below the dome seem to make it look as if it is floating above the main building.
There are current political moves in Turkey to re-consecrate the Hagia Sophia as a mosque, but its status as a UNESCO World Heritage Site means that UN approval has to be forthcoming. What will happen in future is anyone's guess, so it may be an idea to visit soon!
Topkapi Palace and The Imperial Harem
In 1453, Constantinople, now Istanbul was taken over by what became the Ottoman Empire. Mehmed the Conqueror ordered the building of a new palace to house his family, concubines and eunuchs and to serve as the administrative center of the empire.
This became Topkapi Palace, now a museum. You can visit and see how an Ottoman emperor lived. The state apartments, the treasury and even the kitchens are all open to visitors. Richly decorated and well-preserved, the jewel encrusted palace truly shows the power and wealth of the Ottoman Empire at its height.
One of the more popular parts of the palace for visitors is the Imperial Harem. Harems are, I think, a somewhat misunderstood concept. They weren't simply full of sex slaves for the emperor's amusement, but rather where all the women of the household and their eunuch guards lived. This harem has over 400 rooms. Yes, there were slaves there, many no doubt for sexual purposes, but the harem was also where the Sultan's mother, wives, concubines, daughters, servants and other female members of the household lived in utter luxury, if not in freedom.
Istanbul Grand Bazaar and The Spice Market
I can't leave Istanbul without mentioning what is probably my favourite place in the city.
This is perhaps the oldest and largest covered market in the world. It spreads over an area of 30,700 square meters / 37,000 square yards and has over 4,000 shops selling pretty much everything you could want. Always busy, but always fascinating, the market was founded in 1455, but has been through several incarnations since. The current market was restored in 1980.
The market is open from 9 am to 7 pm every day except Sunday and major holidays.
On the shopping topic, you may also like to check out the Spice Market, also known as the Egyptian Market. This is the place to pick up Turkish Delight, dried fruit and nuts and, of course, spices.
While there is much more of interest to see in Istanbul, including the Hippodrome and the Basilica Cistern let's wander out of the city and see what else Turkey has to offer.
Troy
Troy was built and destroyed several times during its history, by war and earthquakes. Today there is little to see, but the place is of interest to students of literature and ancient Greek history and mythology as well as to archaeologists. Most of the site has yet to be excavated, although work slowly continues. It is easily accessible from Istanbul.
Turkish capital of Ankara with great traditional architecture
Many people seem to think that Istanbul is Turkey's capital, but, although Istanbul is its largest city and hugely important culturally and economically, the capital is Ankara. Chosen in 1923 partly to disassociate itself from Istanbul's Ottoman past and partly because of its central location, Ankara is not a huge tourist destination, but an important gateway to more interesting places. That is not to say that there is nothing there to see. There is!
The Ankara area was heavily occupied by the Romans and, as with everywhere they went, they left behind impressive evidence of their military might and construction ability. Earthquakes have shaken up some of the remaining sights, but they are still well worth a look.
Perched on a rocky outcrop, Ankara citadel predates the Romans, but they largely completed it. The citadel itself isn't much to look at, but inside and around the citadel are many old Turkish buildings with their distinct traditional architecture. Many of these old houses have been turned into fashionable restaurants making this the place to eat in Ankara.
The Roman baths, the temple of Augustus and the remains of the Roman theatre in Ankara are interesting places to visit as are many of Ankara's more recently built mosques, especially Kocatepe Mosque, the city's largest.
Cappadocia, a land of fairy chimneys, cave houses and underground cities
Cappadocia may sound like the name of the newest trendy Italian restaurant to hit town or something sold by Starbucks in an attempt to sound Italian, but it's a place in Turkey, and what a place.
Situated in Anatolia in north-eastern Turkey, Cappadocia is an ancient region like no other on the planet. It is mentioned in the Bible (Acts 2:9) and was the largest region in the Roman Empire.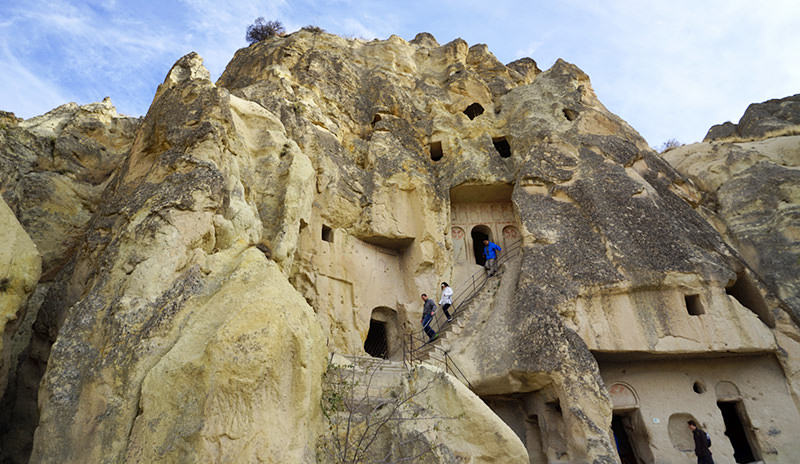 Cave house in Cappadocia, Turkey
Millions of years ago, volcanoes transformed the landscape here, leaving behind soft sedimentary rocks and hills which the local people put to good use. The soft rock is easy to carve, so they set about digging themselves cave homes, but didn't stop there. They also built cave temples, churches, monasteries and, later, even hotels. But don't think these caves are simple, rudely fashioned places. In particular, some of the temples are as ornate as any traditionally built equivalent.
Erosion over millions of years has also produced the surreal so-called fairy chimneys dotting the landscape in the valley surrounding the town of Göreme. This is also the best place to visit some of the many cave churches. Tokalı Kilise (Church of the Buckle) is the largest and possibly the most beautifully decorated. The rare, historic frescoes are not to be missed. Also, popular is the 1,000-year-old Elmalı Kilise (Apple Church)
Also, a must-see in Cappadocia are the "underground cities", such as Derinkuyu and Kaymakli among others. These were built by Christians so that they could hide and be safe from Muslim and Mongolian persecutors. Derinkuyu had room for as many as 20,000 people to live, but also had stables, cellars, canteens and chapels. There is one large space which is believed to have been a school.
Perhaps the best way to see Cappadocia is from a hot-air balloon, floating above the astonishing landscape. Balloon trips of varying lengths and at various prices are available.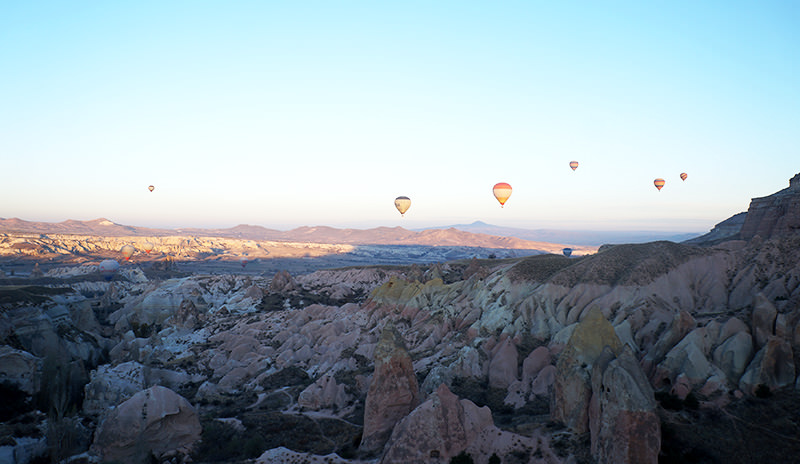 Taking a hot-air balloon ride for the rocky landscape in Cappadocia
And of course, to complete your experience of this magical site, you'll want to stay in a cave hotel!
Blue Flag beaches
If you are the beach-loving type, then Turkey is an ideal destination. It has the third highest number of Blue Flag beaches in the world (after Spain and Greece), most on the Turkish Riviera. Blue Flags are awarded annually by the Foundation for Environmental Education to beaches which display the required standards of quality, safety, environmental education and information, also taking into consideration the provision of services and general environmental management.
With almost 500 Blue Flag beaches in Turkey, it is difficult to choose, so here, I've tried to give some examples of different types of beaches from the well-developed and organized to the virtually deserted.
Ölüdeniz is a small town situated where the Aegean and Mediterranean seas meet and is famous for its Blue Lagoon. This is a nature reserve and the lagoon is noted for its crystal clear turquoise and aquamarine waters. This beach is regarded as one of the world's best places for paragliding and scuba diving and snorkeling are also available. Butterfly lovers should visit the nearby Butterfly Valley, home to over 105 butterfly species which can be seen between July and September.
Patara Beach
With 11 miles / 18 km long sands, quiet and undeveloped Patara Beach is known for its protected loggerhead turtles which use the beach as a nesting site. Because of the turtles, the beach is a designated nature reserve and development is forbidden. Also forbidden are beach parasols as sinking them into the sand can destroy the turtle eggs lurking beneath.
This means that the beach has very little in the way of amenities, but for an unspoiled beach experience it is ideal. You can also visit the ruins of the ancient Patara city which lie just behind the dunes. This once thriving city was important to the spread of Christianity and is also mentioned in the Bible (Acts 21:1) recounting when St. Paul changed ships here. However, the city declined and by 1340 it was all over. Remains of a theater, a temple, the harbor and the city walls are still visible.
Kleopatra Beach
Probably the most well-known beach in Turkey is named for the Egyptian Queen who is said to have visited, and there is even a local legend that she imported the beautiful white sand from Egypt! This is a more active beach, popular with families and young people attracted by the activities on offer as well as the stunning turquoise waters and 1.5 miles / 2.5 km of fine sands.
Activities on offer include various water-sports, party boats, sun loungers, beach bars etc.
Konyaalti Beach
Konyaalti Beach is just beside Antalya city. The 7km / 4.3 miles long beachis popular with locals as well as visitors and being close to the city, there is a good choice of hotels, bars, cafés and restaurants just a step away from the sands. There is a developed nightlife scene too, if that is your thing.
So here I've given just a few of Turkey's many delights. There are many more to discover in this fascinating land at the junction of the east and west.
Please remember that Odynovo's travel experts can tailor-make a private tour for you, your friends, or family. This can be to Turkey or any of the 70+ world-wide destinations we cover. Just send us your ideas and preferences and we will design you a free, no-obligation itinerary and quote within 24 hours.
What Our Clients Say
"Great Service and Value", "Exceed All Expectations", "Highly Recommend".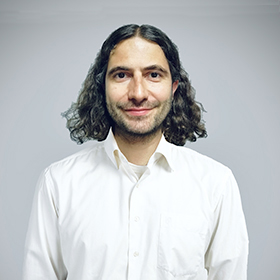 CONTACT A TRAVEL EXPERT
1-to-1 Service | Reply within 24hrs | Expert's Advice
STAY IN TOUCH WITH US
Subscribe to our newsletter so we can provide you with insider travel information, exclusive offers, and discounts.