10 of the Best Festivals to See in Thailand 2024
Last updated: Dec 01st, 2023
Thailand never fails to impress travelers with its blissful beaches, fabulous food, beautiful temples, amazing elephants, and charming floating markets. What you may not know is that the land of smiles also boasts some of the most colorful festivals in Southeast Asia and even in the whole world. Here are 10 of the best festivals in Thailand that you won't want to miss. They offer insights into the country's aged old tradition, culture, and belief.
1. Songkran (The Water Festival)
Also called the Water Festival, Songkran is Thailand's largest and wettest festival, celebrated to mark the beginning of the Buddhist New Year. It's about purification and having a fresh start.
The Thai people celebrate Songkran with parades, dancing, folk performances, and above all, water fights. People sprinkle water on each other to wash away bad thoughts and actions and wish good luck for the coming year. Over time, the festival has turned into a "water war": people store water in whatever vessels they have like buckets, water balloons, and squirt guns to splash other people - with good intentions, of course. As April is the hottest month in Thailand, this is also a great way to cool off and have fun.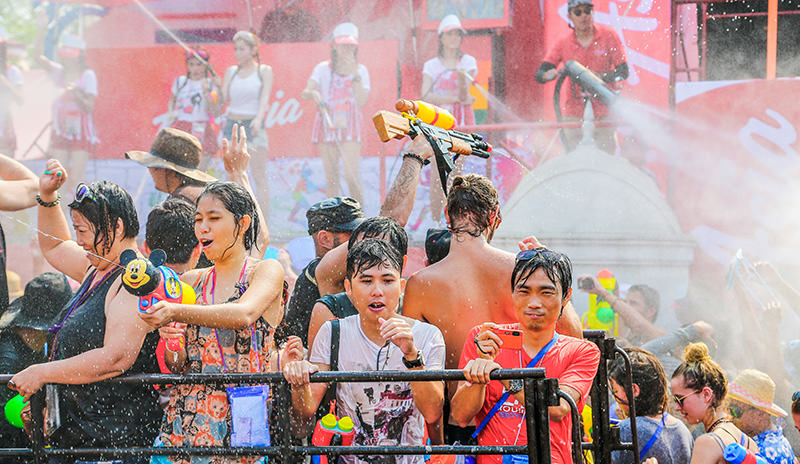 Water fight during Songkran
When: Songkran is celebrated annually for three days from April 13 to 15. Officially, the festival is three days long, but many people celebrate it for a much longer time, like six days, especially in popular destinations such as Chiang Mai and Phuket.
Where: Celebrations are held nationwide. For the wildest Songkran celebration, head to Chiang Mai where crowds of people gather at Thapae Gate and fill their buckets with water from the moat. In Bangkok, water fights mainly take place in popular backpacker haunt Khao San Road and tourist hotspot Silom Road. In Phuket, the best place to be is Patong Beach. For a relatively quieter and more traditional experience, go to smaller towns and provinces such as Isaan which has fewer tourists and focuses on temple activities rather than water fights.
Tips
1). Note that you will get wet. It's difficult not to during the Water Festival. If you don't want to get splashed, you may have to stay in your hotel room for three days. Only the King, pregnant women, and monks are exempt from being splashed.
2). Dress respectfully. Remember that it is still a religious festival. Don't take off shirts and avoid wearing a bikini unless you are at the beach.
3). Keep everything waterproof and leave all valuables at your hotel.
4). If you want to take part, get a bucket or buy a water cannon.
2. Loy Krathong (Festival of Lights)
Loy Krathong is the second biggest festival in Thailand only after Songkran. With hundreds of banana leaf boats loaded with flowers, incense and candles going down the rivers, lakes, and canals, it is certainly one of the most spectacular.
Loy means "to float" and Krathong is a special Thai floating raft adorn with flowers, banana leaves, candles, and incense sticks. The Thais send their decorated boats down the river for a number of reasons: 1) to mark the end of the rainy season; 2) to pay homage to the Water Goddess and ask for forgiveness for using too much water or contaminating it. 3) to say goodbye to past misfortune and make wishes for the year ahead.
When: Loy Krathong falls on the evening of the full moon in the 12th month of the Thai lunar calendar, which is usually at the end of the rainy season, a good time to travel to Thailand as the cool and dry season starts. In the western calendar, it is usually in November and the exact date varies from year to year. In 2023, the festival is held from November 28 to November 30. In 2020, November 15 to 17.
Where: Like Songkran, Loy Krathong is celebrated throughout the country. You can go anywhere near water like canals, rivers, lakes, ponds, etc. which are surrounded by Thais who want to pay their respects to the goddess of water. Bangkok, Chiang Mai, Sukhothai, and Phuket are some of the best places to enjoy this colorful festival.
Tips
1). Some of the best ways to experience Loy Krathong in Bangkok include roaming a public park, booking a riverside hotel, taking a river cruise, and visiting a riverside mall.
2). If you want to enjoy the festival like the locals do, consider buying a krathong that can be found at the street vendors or your hotel may offer you one.
3. Yi Peng Festival
Yi Peng is a festival of light somewhat similar to Loy Krathong and it is celebrated on the same day. During the festival, thousands of paper lanterns called "khom loi" are released into the sky. The spectacle is truly an incredible sight to behold and it's a photographer's dream to capture such moments. Apart from lantern release, the festival also includes lantern displays, religious events, parades, fireworks, music performances, and food.
Yi Peng differs from Loy Krathong in that lanterns are launched into the air instead of being released in the water and that Yi Peng is mainly celebrated in northern Thailand whereas Loy Krathong is celebrated all over the country. The biggest celebration of Yi Peng is held in Chiang Mai, the ancient capital of the former Lanna Kingdom.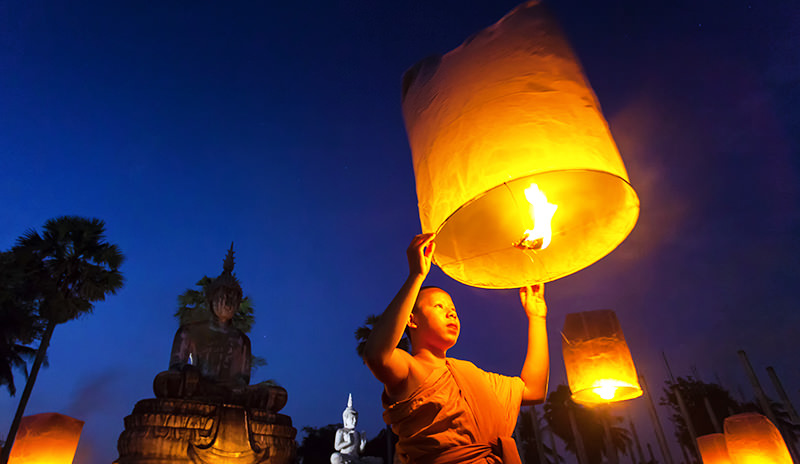 A monk launching a lantern during Yi Peng
When: Yi Peng is celebrated in tandem with Loy Krathong and celebrations last three days.
Where: Many towns and cities in northern Thailand have Yi Peng celebrations and Chiang Mai is the best city to see this fantastic festival. In Chiang Mai, you will see thousands of lanterns flying into the sky, candles lining the small lanes, and there are special parades. Major celebrations take place in the Three Kings Monument, Thapae Gate, the Old Town moat area, and the Ping River.
Tips
1). Reserve your hotel well ahead as the price rises very quickly when the festival comes close.
2). If you visit temples, keep your shoulders, knees and chests covered.
3). Don't forget to make a wish before you launch a lantern.
4. Magha Puja
Observed by Buddhists in Thailand, Cambodia, Laos, Myanmar, and Sri Lanka, Magha Puja is one of the most important Buddhist festivals. The festival celebrates the gathering of Buddha and 1,250 of the first disciples whom he enlightened. "Magha" refers to the third lunar month in Thailand, and "Puja" means "to honor". Thus "Magha Puja" stands for honoring the third lunar month.
On Magha Puja Day, the Thai Buddhists prepare and offer food to monks in the morning, listen to Buddhist teachings in the afternoon, and bring flowers and candles to the temple at night. They also strictly observe the five Buddhist precepts including abstaining from killing living things, stealing, sexual misconduct, lying, and alcoholic drinks. This is why most bars in Thailand are closed on this day.
When: Thailand's Magha Bucha is celebrated on the full moon day of the third lunar month. In the Gregorian calendar, this usually falls in February. In 2024, it will be celebrated on Sat, Feb 24..
Where: If you want to observe the local celebrations, visit temples such as Wat Pho in Bangkok.
5. Visakha Bucha (Buddha's Birthday)
The most important Buddhist festival in Thailand commemorates the three most important events in Buddha's life: his birth, his enlightenment, and his death (attainment of nirvana) all on the same day, known as Vesak Full Moon day.
On Visakha Bucha, Buddhists visit local temples, make offerings, and participate in rituals such as listening to Buddha's teachings and meditating. In major temples, there are candlelight processions performed, making it a truly peaceful and serene place.
When: There are no fixed dates for Visakha Bucha on the Gregorian calendar as the festival is set based on the lunar calendar. It mostly falls in May or June. In 2024, Visakha Bucha will be observed on Thu, May 23.
Where: Major temples in Bangkok, Chiang Mai, and elsewhere are the epicenter of the event.
6. Royal Plowing Ceremony
An ancient royal tradition dating back over seven hundred years, the Royal Plowing Ceremony marks the beginning of the rice-growing season. With half of the Thai population relying on farming for a living, it's no wonder that the ceremony is an important event for the people and the government. The ceremony is also a time to honor outstanding farmers for their agricultural innovations. Thus it is also called Farmer's Day.
During the plowing ceremony, two sacred oxen covered in red and gold are used to plow the field in front of the Grand Palace. They circle the field nine times (because nine is an auspicious number in Thailand). The oxen are then offered seven foodstuffs, including rice, corn, green beans, sesame, grass, water, and rice wine. What they choose will predict what will be bountiful for the coming season.
When: The exact date of the Royal Ploughing Ceremony varies from year to year since it is the lunar calendar that determines when it is celebrated. It typically falls in April or May. In 2024, it falls on May 6.
Where: The ceremony is held at Sanam Luang, a large open field and public square near Wat Pha Kaew and the Grand Palace in Bangkok.
7. Bun Bang Fai Rocket Festival
Bun Bang Fai Rocket Festival is observed by the local farming communities in northeastern Thailand, especially in the province of Yasothorn. Giant, homemade rockets that have taken months to build are launched into the sky to wish for plentiful rains as the planting season draws near. Before being launched, rockets are paraded around the city. The winner is the one whose rocket takes off most dramatically and soars the highest. Those who fail to launch their rockets are thrown into pools of mud as punishment.
When: The Rocket Festival is held on the full moon in May, which is usually on the weekends in the middle of May before the crop plantation period, and it lasts three days. In 2024, it falls on May 10.
Where: Phaya Thaen Public Park, Yasothon
8. Phuket Vegetarian Festival
Not the kind of vegetarian festival you may think of, the Phuket Vegetarian Festival is perhaps Thailand's strangest and most extreme festival. It is also called the Nine Emperor Gods Festival or the Kin Jay Festival. Some devotees demonstrate their devotion by practicing self-mutilation, such as walking on burning coals, piercing cheeks with swords, and climbing blade ladders. Miraculously, most of them heal up without medical care.
During the festival, devotees cannot consume meat, so you will find many vegetarian food stalls marked with yellow flags. The food is mostly soybean-based and made to look like meat products such as pork and chicken and has the same texture.
When: The Phuket Vegetarian Festival begins on the first day of the ninth month of the Chinese lunar calendar and runs for nine days. It is typically celebrated near the end of September and the beginning of October. In 2024, it falls on Oct 1 to 10.
Where: Some of Phuket's major shrines include Jui Tui, Bang Niew, Phut Jaw, Cherng Talay, and Kathu. Festivities move between different shrines.
Tip: 1) The mutilation can be rather shocking for some people, so if you plan to see it, be mentally prepared.
9. Lopburi Monkey Banquet
The Lopburi Monkey Banquet is held in the provincial capital of Lopburi, just 150 kilometers north of Bangkok, to honor macaque monkeys that are believed to bring the locals good luck.
The festival takes place among the ruins of the Pra Prang Sam Yot Temple. Monkeys who gather around the temple are the guests of honor and are invited to indulge in a big feast with towers of watermelon, durian, lettuce, pineapple, and other fruits and vegetables.
When: Lopburi Monkey Banquet Festival is usually held on the last Sunday of November. In 2023, it falls on November 25.
Where: Lopburi's Pra Prang Sam Yot Temple, about three hours' drive from Bangkok.
Tip: Mind your belongings as monkeys can get unruly and steal your purse or your food.
10. Chinese New Year
You don't have to go to China to celebrate the Chinese New Year or Spring Festival. There is a large Chinese population in Thailand, up to 14% of the total population. Though the Chinese New Year is not a public holiday in Thailand, Thai Chinese normally have at least a day off. It is a time to enjoy time with family and friends and pay respect to their ancestors. Parents give red envelopes containing money to their unmarried children; they visit extended families and relatives and wish them a happy Chinese New Year; houses of Chinese shop owners are decorated with red paper lanterns, Chinese calligraphy banners, and posters. In Chinatowns across Thailand, the Chinese hold dragon parades, firecrackers, and acrobatic dances.
When: The date of the Chinese New Year varies each year since it is based on the Chinese lunar calendar, but it generally falls in January or February. In 2024, it will be celebrated on February 10.
Where: The Chinese New Year is celebrated among Chinese communities across Thailand. To see the biggest celebrations, go to Yaowaraj, the Chinatown of Bangkok. In Phuket, visit Thalang Road, Dibuk Road, and Phang Nga Road to enjoy the festivities. If you are in Chiang Mai then, head to Warorot Market for a more sober celebration.
Did any of these Thai festivals spark your wanderlust? Feel free to tell us and let us create a tailor-made trip around your interests.
What Our Clients Say
"Great Service and Value", "Exceed All Expectations", "Highly Recommend".
CONTACT A TRAVEL EXPERT
1-to-1 Service | Reply within 24hrs | Expert's Advice
SUBSCRIBE TO WIN A FREE TOUR
Subscribe to our newsletter for a chance to win a free 12-day China tour! And more insider travel news, exclusive offers, and inspiration will be sent straight to your inbox.