First time visitors to Turkey usually take in Istanbul for its Blue Mosque and other architectural wonders, head to Cappadocia for its magical landscape of fairy chimneys then hit some of Turkey's great Blue Flag beaches. I wrote about all of these before, in my previous article: Best Places to Visit in Diverse Turkey. Today I want to take you to another stunning area of the country which is equally worth visiting.
In the south-west of Anatolia, the Asian part of Turkey, bordering the Aegean Sea are three adjacent provinces which between them hold some of the most wonderful sights and history, alongside great coastal areas.
İZMIR
We will start in the northern and westernmost of the three, in the province of İzmir and its provincial capital, also called İzmir. The city is one of the oldest anywhere and the area has been settled by humans since neolithic times over 8,000 years ago. Recorded history of İzmir goes back 3,000 years. Originally built by Greeks who called it Smyrna, as it was known in English until 1928, when Turkey renamed it in its own language. It is believed by some that the great Greek poet and father of European literature, Homer was born here in the 7th or 8th century BC.
Over the centuries, the city has been controlled by various rulers including the Greeks, Romans, Byzantines and Ottomans. In ancient times, it reached its peak of power and wealth as part of the Roman Empire and most, but not all, of the ancient attractions still remaining are from this period.
The Agora Open Air Museum, in the city center, is the heart of ancient Smyrna. Originally built by the Greeks but then rebuilt by the Romans under emperor Marcus Aurelius after an earthquake destroyed the original in 178 AD, the well-preserved "agora" was a marketplace, but also the site for political public meetings and courts of justice. The three storied structure with arches and pillars around a large marbled tiled quadrangle is prized among other things for its interesting ancient graffiti. Its walls contain around 1,500 examples of 2,000 year old graffiti by unknown Greeks and Romans who recorded their thoughts, wrote about the loves of their lives or drew pictures of their boats. Agora Open Air Museum
Nearby is Kemeraltı Market (Kemeraltı Çarşısı) district which runs from the agora down to the shore and is still an important commercial center in İzmir after 400 years. The busy maze of narrow streets contains many small shops selling everything from daily necessities to pets. The food stalls and shops are an endless delight to both visiting foodies and hungry locals, as are the many cafés and inexpensive restaurants selling real İzmir food specialties. Near the shore end of the district is the 18th century Kizlarağasi Hani, an Ottoman style caravanserai or travelers' inn which is now a bazaar within a bazaar. Restored in 1993, the beautiful building is home to a souvenir emporium and sells handicrafts, leather goods, carpets etc. Upstairs are some quieter spots including coffee shops.
EPHESUS
55 km / 34 miles (by road 74 km / 46 miles) south-west from İzmir, is the town of Selçuk. The town is overlooked by Selçuk Castle (also known as Ayasuluk Castle), a partially restored Byzantine and Ottoman fortress where you can see the remains of an Ottoman hamam or Turkish bath, the Castle Mosque and Castle Palace. The castle also offers good views over the town. Nearby stand the ruins of the Basilica of St. John, built between 548 and 565 AD over what is believed to be the grave of the biblical John the Apostle. He features a lot in this area. The castle and basilica are open to the public daily. Opening times: 8 am to 7 pm April to October, 8.30 am to 5.30 pm November to March. Entrance: Combined tickets for the castle and basilica cost ₺15 Turkish Lira, the equivalent of USD $2.60 at November 2019 exchange rates. Also nearby is the impressive, twin-domed İsa Bey Mosque (İsa Bey Camii), built in 1374/75. This is open to the public every day from 8:30 am to 10:30 pm, except at prayer times.
However, the main reason visitors come to Selçuk lies 3km /2 miles southwest of the town center in the ruins of the historical city of Ephesus (Turkish: Efes). Built in the 10th century BC by the Greeks, it changed into Roman hands in 129 BC, after which it flourished. In ancient times, the city was famous for its astonishing Temple of Artemis, one of the Seven Wonders of the Ancient World, built around 550 BC. Sadly, all that remains of the temple is one insignificant column and a few stones.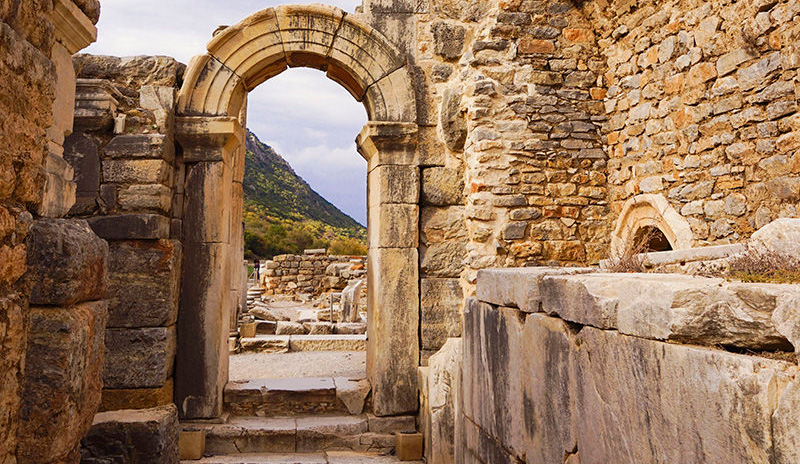 Ephesus ruins
What can be seen in Ephesus are the ruins of Library of Celsus. Built by the Romans in the early 2nd century AD, the library was the third largest in the Empire and contained over 12,000 scrolls. The interior of the library and its contents were destroyed by a fire in 262 AD, leaving only the imposing facade standing. It too, was destroyed by an earthquake in the 10th century, leaving just a pile of rubble. In the 1970s, archaeologists and restoration experts reassembled the facade from the remains. Restoration work is continuing.
Also, here is a well-preserved 25,000 seat Roman theatre, which is believed to have been the largest in the ancient world. It was used mainly for drama productions, but recent archaeological research has discovered evidence of gladiatorial fighting in later times. Among other buildings are city gates, the Temple of Hadrian, and even the remains of a Roman brothel.
Many of the relics found here are now housed in the small, but interesting, Ephesus Museum in Selçuk. Address: Uğur Mumcu Sevgi Yolu Caddesi. Open: 8 am to 9 pm mid-April to October; 8:30 am to 6:30 pm November to mid-April. Entrance: ₺15
Between Ephesus and Selçuk is the House of the Virgin Mary, believed by some to be the last home of Mary, mother of Jesus Christ who was said to be brought here by John the Apostle after Christ's crucifixion. It seems there is some evidence that John lived here and may have written the New Testament's "Gospel of John" here, but little if any evidence for Mary being here, other than the reported visions of a Catholic nun, later sanctified. The Vatican has never ruled on the matter, but a number of popes, including John Paul II and Benedict XVI, have visited the small house on the slopes of Bülbül Dağı (Mt Coressos). The wall outside has become a "wishing wall" where pilgrims tie notes written on paper or cloth to indicate their wishes. Open 8 am to 6 pm. Mass is held at 10:30 am on Sundays and 6 pm Sunday to Friday during April to November, 5 pm the rest of the year. Admission is ₺25 (approx USD $4.40) per person.
KUŞADASI
Just over the provincial border into Aydin province, 20.5 km / 13 miles away, is Kuşadası, the busiest port city in all of Turkey. The city's population of around 100,000 soars in summer to over a million as the tourists arrive along with the many seasonal workers required to service their needs. Kuşadası is awash with hotels, restaurants and bars, making for a lively scene. There are a number of beaches the most famous of which is probably what is referred to in English as Ladies Beach, although the Turkish name, Kadınlar Denizi actually translates as "Women's Sea". Either name is referring to the fact that in Ottoman times, only women were allowed to bathe here, but today it is open to all. The popular beach gets very busy at times, especially on Sundays when the local residents also like to visit. All the facilities you would expect from a popular beach are here — deck chair hire, cafés, restaurants, hotels, souvenir shops, shower and toilet facilities, etc.
Just off the city's south side, lies Güvercinada, better known in English as Pigeon Island. In fact it is no longer an island as it is connected to the mainland by a man-made causeway. Most of the island is occupied by a castle, built by an Ottoman admiral around the year 1500. The surrounding wall was built in 1826. To the side of the castle is a small beach with a café/restaurant. The size and lower level of facilities makes this a quieter spot.
Öküz Mehmed Pasha Caravanserai, built between 1615 and 1618 is a beautiful, Ottoman two-story building surrounding an inner courtyard which has an open-air café. After long being used as a customs house, the restored caravanserai is once again fulfilling its builders' intentions and has been a hotel since 1968. US President Jimmy Carter is but one of the eminent guests to have stayed here.
With scuba diving, boat trips, Turkish baths, lively bars, great restaurants (try the seafood) and historical interest, Kuşadası is never dull.
BODRUM
Heading south again and across another provincial border we find ourselves in Muğla Province and the port city of Bodrum. In ancient times called Halicarnassus, it was noted for being the location of another of the Seven Wonders of the Ancient World, the Mausoleum of Mausolus. Mausolus was a satrap or king here in the 4th century BC. The word "mausoleum" comes from his name. All that really remains of the mausoleum on site are the foundations. Some excavated remains are now on display in museums, including statues of Mausolus and his wife (who was also his sister), Artemesia II, which are in the British Museum in London.
But we are not here to see what we can't see. Instead we can go see the 15th century Bodrum Castle which overlooks the city harbour and marina. Built by the Christian military religious order, the Knights of St. John, using stone from the mausoleum, the castle has four towers: the English, French, German, and Italian towers, indicating which country built them. The castle was taken over by the Islamic Ottomans in 1523 and they converted the castle chapel to a mosque. After being abandoned after World War One, in 1962 the castle became home to the fascinating Bodrum Museum of Underwater Archaeology, dedicated to displaying the many finds and treasures from underwater excavations of sunken ships in the Aegean. Jewellery, coins, amphorae and vases are to be seen alongside reconstructions of ancient shipwrecks. The castle and museum are open from 9 am to 4:30 pm daily. Entrance ₺20, although some halls attract an extra fee of between ₺5 and ₺8.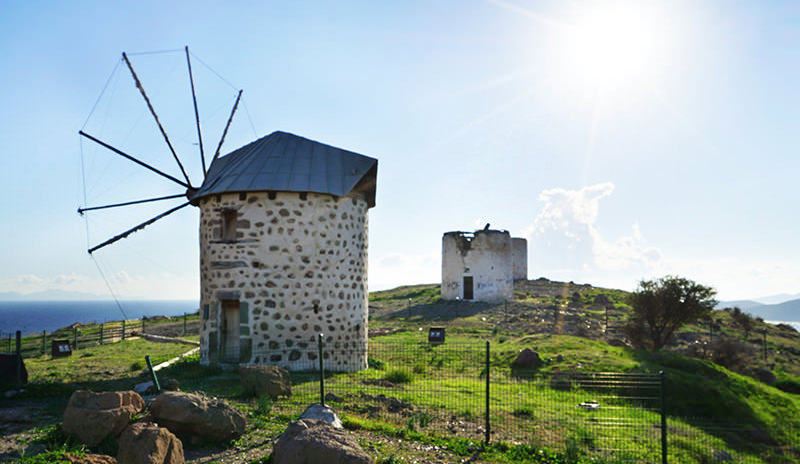 Bodrum
Today, the pretty city with its low-rise, white painted buildings with blue trim (no other color is permitted) is a tourist hot-spot for its beaches, restaurants and clubs.
Bodrum, like or even more so than Kuşadası, is a great place to sample Turkish seafood, available everywhere to suit all budgets in places from small, affordable shacks to fine dining restaurants which don't even put the price on their menus — if you need to know, you can't afford it! Crab, lobster, fresh sardines, octopus, calamari, mussels, oysters! Tie me down! But if you don't like seafood or have an allergy, don't worry. There is much more available, including international restaurants. I remember an excellent lunch in a Spanish restaurant here, but it's the Turkish food I return for every time. Lemons, olives and their oil, kebaps, dolmas, baklava. I'm hungry!
The best times to visit the western Anatolia is spring or autumn/fall. Summer (June, July, and August) is peak season and sites, especially Ephesus, get very busy. Winter can be cool, but never below 0ºC and some sites may even close.
I do recommend this bewitching part of that wonderful country of Turkey. If you haven't already been, you can combine this area with Istanbul and Cappadocia or just spend your entire vacation here. With Odynovo, you design your trip. Just tell us where you want to go and what you want to see and within 24-hours our travel experts will provide you with a free, custom-made itinerary built to your requirements.
What Our Clients Say
"Great Service and Value", "Exceed All Expectations", "Highly Recommend".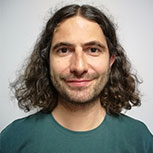 CONTACT A TRAVEL EXPERT
1-to-1 Service | Reply within 24hrs | Expert's Advice
STAY IN TOUCH WITH US
Subscribe to our newsletter so we can provide you with insider travel information, exclusive offers, and discounts.