Country overview
Well-known for its rich heritage and warm hospitality, the Land of Smiles is a paradise that has maintained its cultural integrity despite having become Asia's primary travel destination. From the mountain villages in the north to some of the world's most beautiful beaches in the south, from the bustling city life in Bangkok -full of shopping malls and office buildings but also historic temples and street markets- to the relaxed vibe of Phuket or Koh Samui. The country's attractions are diverse and cater for all tastes: ancient palaces and temples, world-famous cuisine, floating markets, water festivals or majestic elephants: it is easy to understand why it remains ever so popular. Thailand disappoints no one, and one visit is never enough...
Country at a glance
Capital: Bangkok
Population: 70 million
Language: Thai
Currency: Baht (THB)
Time zone: UTC +7
Electricity: 220 V / 50 Hz. Sockets: Types A, B, C
Dialing code: +66
Best time to visit Thailand
The high season runs from November to early March, when the whole country is cool and dry. This is the perfect time to visit Thailand for those who need the weather to be perfect. The following months (shoulder season, until June) are very hot and dry, although the rain starts to set, making travel fares cheaper and having more accommodation available.
During the low season, from July to October, monsoons bring high rainfall (some islands shut down) and humidity. Rains usually come in short, intense showers during the afternoons, making rice paddies and forests look lusher.
Top cities to visit
From historical sites to stunning beaches, Thailand has everything you could ever dream of, A big country full of incredible temples, night markets, beachfront resorts, food stalls... The south is full of seaside destinations while Northern Thailand offers smaller towns, temples and culture. Here are some cities that you should definitely include in your itinerary.
Bangkok
Tradition and modernity clash intensely in Thailand's capital, where temples and markets share space with shopping malls and skyscrapers. With amazing food and intense nightlife, this chaotic and charming city is usually the first stop on almost every itinerary: do not miss the magnificent Grand Palace and the Wat Phra Kaew temple.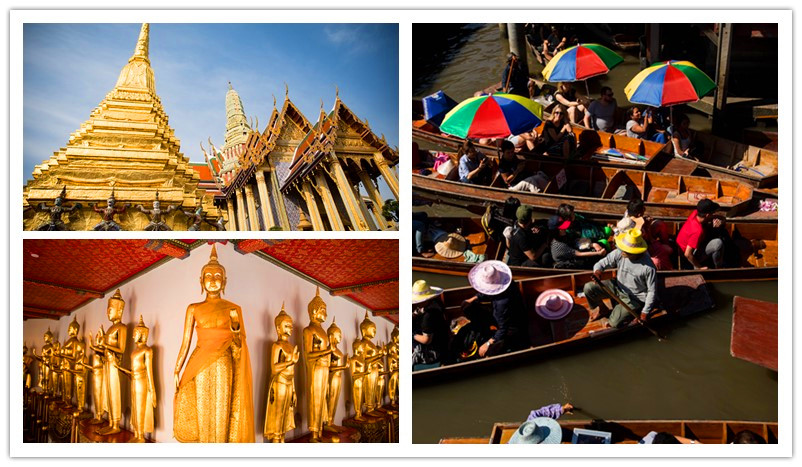 Chiang Mai
Thailand's second city, which was once the capital of the Lanna Kingdom, has a strong tradition of arts and crafts, and it is one of the most popular places in the country to see the Songkran Festival (Thai New Year) and to celebrate Long Krathong. Home to a large expat community, is a calm and laid-back destination where you can relax and visit its temples and elephant sanctuaries.
Phuket
Thailand's largest island is among the world's finest beach destinations. From Phuket, home to some of the country's most beautiful white-sand beaches and luxury resorts, you can take a speedboat trip to the many nearby tropical islands, including the famous Koh Phi Phi. With countless options for dining, shopping and partying, Phuket is also a paradise on earth for watersports lovers.
Ayutthaya
Located in the valley of the Chao Phraya River, only 40 miles north of Bangkok, Ayutthaya is an impressive ruined city. Once the capital of the country, it is renowned for its large number of historical and archaeological sites. In Ayutthaya Historical Park -a UNESCO World Heritage Site- stands the famous Wat Mahathat, where a stone head of Buddha can be seen embedded in the roots of a tree.
Kanchanaburi
Located in the central-western part of Thailand, near the border with Myanmar, Kanchanaburi owns much of its fame to the book The Bridge Over the River Kwai, and the film that followed. Learn about the story at the Hellfire Pass Museum, walk across the bridge and visit the Don Rak War Cemetery to remember those who passed away during the construction of the infamous Death Railway.
Sukhothai
Sukhothai (meaning 'the Dawn of Happiness'), located halfway between Chiang Mai and Bangkok, is one of the most visited cities of the country and marks the beginning of the Thai civilization, dating back to the 13th century. Tour the Sukhothai Historical Park, home to almost 200 temple ruins that were excavated and partly reconstructed, and admire the beauty of Thailand's golden age.
Chiang Rai
Near the Golden Triangle, where the borders of Thailand, Myanmar and Laos meet, and much quieter than its neighbor Chiang Mai, Chiang Rai is the perfect base for trekking excursions to see hill tribes that have settled around. The majestic White Temple is not to be missed.
Top things to do
It is easy to understand why Thailand is the most visited tourist destination in South East Asia. This country offers amazing experiences and attractions to its visitors from the moment they step off the plane.
Thai cooking class
A very popular activity in Thailand: a local chef will take you to the market and the farm where you will pick the ingredients that you will cook (and then eat!). From famous pad thai to all kinds of curry dishes, you will learn Thai cooking techniques and secrets. Impress your friends back home!
Thai massage
Over the centuries, Thai massages have become famous worldwide. The country's most exotic art is incredibly relaxing, it is done in accordance with the body's energy lines and relieves tension in joints and muscles: an experience you cannot miss out.
Loi Krathong
The Lantern Festival is one of the most spectacular celebrations that take place in the country. Locals make wishes as they launch thousands of beautifully decorated krathongs -small floating containers made from banana tree trunks and banana leaves- on rivers, canals and lakes. The exact date changes every year; it usually falls in November.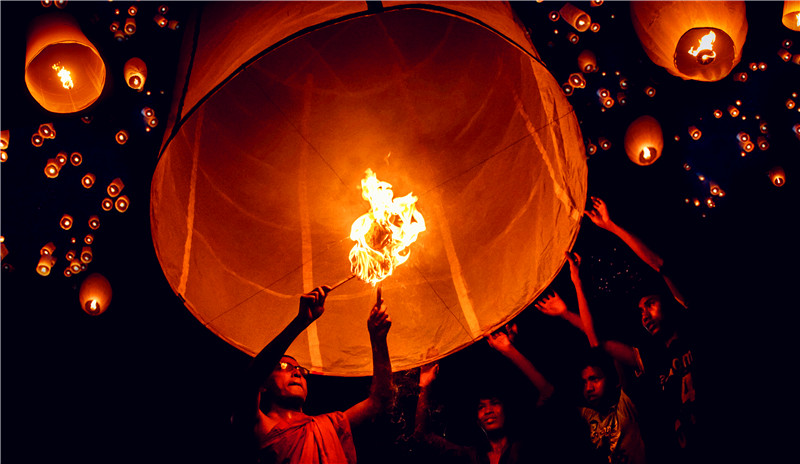 Damnoen Saduak Floating Market
60 miles southwest of Bangkok, it is the most popular floating market in the country. Colorful boat vendors offer fruits, flowers, vegetables and many other goods to both Thai and foreign tourists. The perfect trip for those who want to see traditional Thailand and a great opportunity for photography enthusiasts.
The Grand Palace
An essential visit in any trip to Thailand, this stunning complex of more than 100 buildings was the official residence of Thai Kings during 150 years. Within the palace, there is the famous Wat Phra Kaew -Temple of the Emerald Buddha-, which contains the most sacred Buddhist image in the country.
Elephant Sanctuary
There are several elephant sanctuaries across the country where you will have the chance to interact with these incredible creatures. Walk them, wash them and feed them in these rescue and rehabilitation centers; an authentic wildlife volunteer experience that you will never forget.
Island hopping
Islands in Thailand are famous for their iconic beaches and water activities such as scuba diving. Many of them are only reachable by boat, so take a tour and visit famous spots like Koh Phi Phi islands, where the film The Beach was filmed. White sand and turquoise waters are waiting for you!
Things to buy
In major cities, you will find many large air-conditioned malls for upscale shopping, but it is no secret that the best deals are usually found through bargaining in charming street markets and bazaars, which usually have items that you will not find elsewhere. Some of the most popular products among visitors are:
Spa products
One of the most sold souvenirs in Thailand, you will find a wide range of essential oils, scented candles, carved soaps, herbal massage packs... The perfect idea for soothing mind and body once you are back home and missing Thailand.
Coconut oil
Widely available throughout the country, its numerous benefits have recently caused coconut oil to dramatically increase its popularity. Whether for your beauty regime or for your cooking, you will definitely want to take a few bottles back with you.
Thai Silk
Considered the best silk in the world, it is an exotic souvenir for your family and friends. Brightly colored cushion and pillow covers, scarves, ties, robes... Hand-woven solid or in patterns, each silk fabric is unique and cannot be duplicated.
Spices
As soon as you board your return flight, you will be missing the delicious aroma and flavor of Thai food, so make sure you take home some spices. Crushed chili, coriander seeds, cinnamon, turmeric, galangal, lemongrass and many others are available in most markets.
Fruit Snacks
Fill your luggage with many packets of tropical dried fruits, a very popular type of snack in Thailand. They can be found anywhere and there is a wide range to choose from: mangoes, durians, lychees, coconuts and many more.
What to eat
Together with the beaches, Thai food is one of the main reasons for the country's popularity as a tourism destination. Big cities offer luxury restaurants, but the charm of Thai cuisine lies more in its delicious street food -which is by and large hygienic and safe- than in upscale dining. Visit a local night market and you will be coming back every other evening.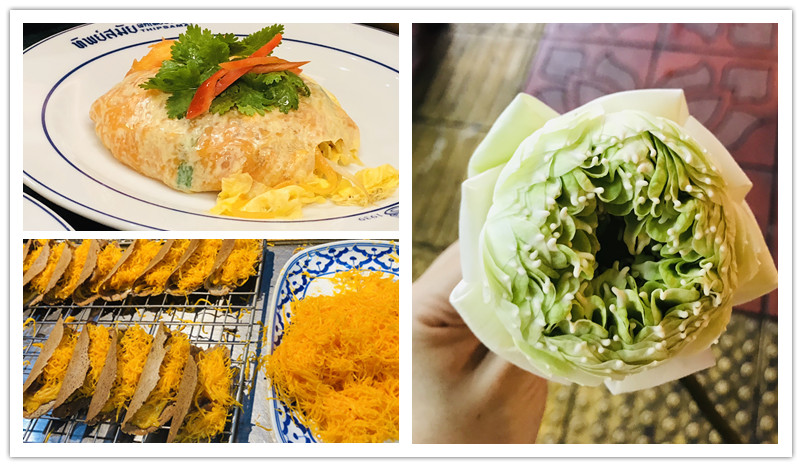 Outside the country, curries and rice might be the most famous and its fame is well-deserved, but Thailand features a cuisine full of fresh ingredients and intense flavors with a spicy edge, with strong influences from India and China.
Some of the most popular dishes that you will enjoy in Thailand are:
- Pad Thai: Stir-fried rice noodles with bean sprouts, tofu, peanuts, scrambled eggs and either shrimps or chicken.
- Tom Yum Goong: Shrimps mixed in a hot and sour soup with lemongrass, galangal, lime leaves, chili, lime juice and fish sauce.
- Gaeng Daeng: A choice of meat (usually chicken, beef or pork, or even duck, shrimps or tofu) cooked in red curry paste and coconut milk, and seasoned with Thai spices.
- Som Tum: Spicy green papaya salad with ground chili, cherry tomatoes, garlic and green beans, dressed in fish sauce, lime, sugar and peanuts.
- Tom Kha Kai: Creamy soup with chicken strips, galangal, shallots and lemongrass, cooked in coconut milk.
- Khao Pad Sapparot: Pineapple fried rice with prawns, raisins and cashew nuts.
- Khao Niao Mamuang: Mango sticky rice cooked in sweetened thick coconut milk.
Rice is the staple food in Thailand. There are many varieties and it is usually served alongside main dishes, whether they are stir-fries, curries, soups, etc. If you are a fan of tropical fruits, you will not be disappointed. Almost everywhere, you will find fruit carts selling mangoes, durians, papayas, jackfruits, pineapples and many others that you probably haven't even heard of before. Thai food was traditionally eaten with the fingers. It was not until the early 20th century, after the king returned from a tour of Europe, that forks and spoons became commonly used. Knives are not used at the table. Remember that drinking tap water is not recommended in Thailand. In certain days of the year, like royal birthdays and Buddhist holidays, alcohol sales are restricted.
Getting around
There are seven main international airports in the country, although Suvarnabhumi Airport in Bangkok is the main gateway to the country, with other airports such as Chiang Mai and Phuket serving a smaller number of international arrivals and departures. Flying to Bangkok and then buying a domestic ticket is usually the cheapest way of getting to most regional airports. Airfares are usually higher during the cool (high) season, from November to early March.
The country's rail network has four main lines, that cover most of the territory. There are three classes of trains. Avoid using third class, since it has no AC. Buses and minivans are cheap and reach where trains don´t (usually faster). Always book your tickets in advance and make sure vehicles are air-conditioned. Tuk-tuks are one of Thailand's trademarks: these three-wheeled vehicles are a cheap and funny way to get around, so try them at least once but negotiate the price beforehand. Similarly, avoid taking taxis that don't run by the meter. There are plenty of ferry and speedboat services connecting all major islands, making them very convenient for day trips, but make sure you don't board if they are overloaded. Long-tail boats, although beautiful and picturesque, are not suitable for long journeys.
Dressing
Pack light, loose cotton/linen clothing. Forget about anything formal unless you plan to go to exclusive dining venues or official events, but keep the beach attire for the beach. Cover your shoulders and wear long trousers/skirts when you visit the Grand Palace and other temples, and certain museums: avoid short shorts, tank tops and anything skimpy. Bring at least one sweater, since shopping malls, supermarkets and even the Skytrain in Bangkok are cold due to the air-conditioning. Throw in your baggage the usual equipment for a tropical beach destination: sunscreen, mosquito repellent, hat, light raincoat...
Accommodation
Whether you are visiting the main cities, the southern beaches or the northern mountains, you will always have a great range of accommodation on offer. Options are as diverse as the country itself; from 5-star luxury resorts in Bangkok, Chiang Mai and the islands, to affordable guesthouses and budget hostels in destinations off the beaten track.
Accommodation gets cheaper the more remote you go, but you should book in advance if you are visiting popular tourist areas during the peak season; prior planning is essential if you want to get a good deal.
As one of the most sought-after destinations for backpackers in Southeast Asia, Thailand has no shortage of cheap accommodation to choose from, ranging from a bed and a fan to air-conditioned rooms with private bathroom.
Bungalow resorts and upscale hotels from international chains can be found in main beach destinations and major cities. You can expect swimming pools, spas, restaurants and bars, and buffet-style breakfast in most of them, usually located along the beachfront. Exceptional facilities and services for the most exclusive hotels in the country.
Another popular form of accommodation is homestay: sleeping and eating in a local's home. A good experience if traveling alone.
Most Popular Thailand Tours
What Our Clients Say
"Great Service and Value", "Exceed All Expectations", "Highly Recommend".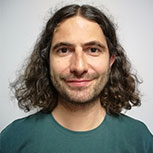 CONTACT A TRAVEL EXPERT
1-to-1 Service | Reply within 24hrs | Expert's Advice
STAY IN TOUCH WITH US
Subscribe to our newsletter so we can provide you with insider travel information, exclusive offers, and discounts.