Odynovo repeat guest Mary Monro has recently published her first book, Stranger in My Heart, in which she retraced her father's escape route across China during the Second World War.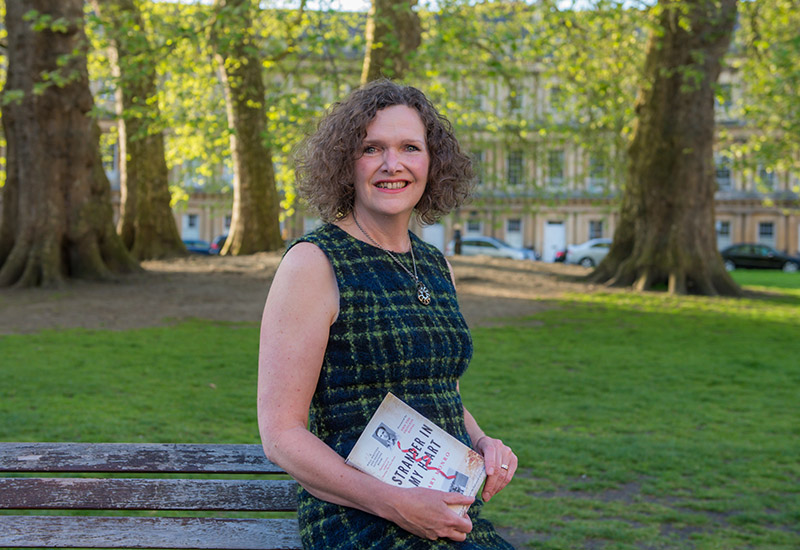 Mary in Bath, England (Photo credit: Mary Monro)
Her father, Lieutenant Colonel John Monro, fought in Hong Kong in 1941 and was imprisoned by the Japanese. He escaped successfully and began his adventure north, all the way from Hong Kong to the wartime capital of Chongqing in the southwest of China.
John Monro's escape route in 1942 (Photo credit: Mary Monro)
Little did her father tell her about his adventures during the war. His wartime experiences remained a mystery to Mary even after he passed away in 1981. One day, Mary heard a remark from an old family friend, who described her father as "a 20th Century Great". No further explanation was provided about the remark, which bewildered Mary. She realized that the man she called dad had been a stranger in her heart for so many years.
She decided to embark on a journey to understand her father. She read his war diaries and letters that he'd left behind, did lots of research online, visited museums, and even learned some Mandarin for a better understanding of Chinese history and culture. Finally, she decided to go on a journey that her father once did in 1942.
So Mary began to plan her trip to China. She looked for tour operators that offered custom trips to the places she wanted to visit. She was very disappointed at first as they only had standard itineraries to the highlights of China. She almost quit, but then she found Odynovo, a China-based tour operator that specializes in custom tours to worldwide destinations.
"When I contacted Odynovo I was on the point of giving up, but Tom Zhou emailed me back to say 'Yes! It's all possible'."
She was excited that she finally found a company that provided bespoke China trips. But she was also worried as she knew nothing about Odynovo. She wondered if the company was reliable as it was in far-flung China.
"I was afraid that booking a tour online with a Chinese company might not be secure. Through the next few weeks, my fears faded as I cross-checked all the hotels on Trip Advisor and Tom helped me with my visa application. I always received prompt answers to my emails and it all felt very efficient and reassuring."
Tom's professionalism enabled Mary to book her trip with confidence. Everything set, she couldn't wait for the trip. She was excited when the travel date came. In March 2013, Mary began her 12-day adventure across China.
In Hong Kong, she met an old family friend and visited the war cemetery and by chance even saw the black kite, a bird of prey that spends much time soaring and gliding to hunt for food, through which she connected with her deceased dad.
In Shaoguan, the wartime capital of Guangdong province which served as the headquarters of the British Army Aid Group, she explored some fascinating local attractions, such as one of China's largest Buddhist monasteries and Danxia Shan, an extensive area of breathtaking sandstone outcrops, which is little known outside China despite the fact that it is a UNESCO protected site.
In Guilin, she took a cruise down the famed Li River to see the impressive limestone peaks. She also cycled around the countryside of Yangshuo, a picturesque town famous for its stunning karst landscape, where she got a better understanding of the local traditions and culture.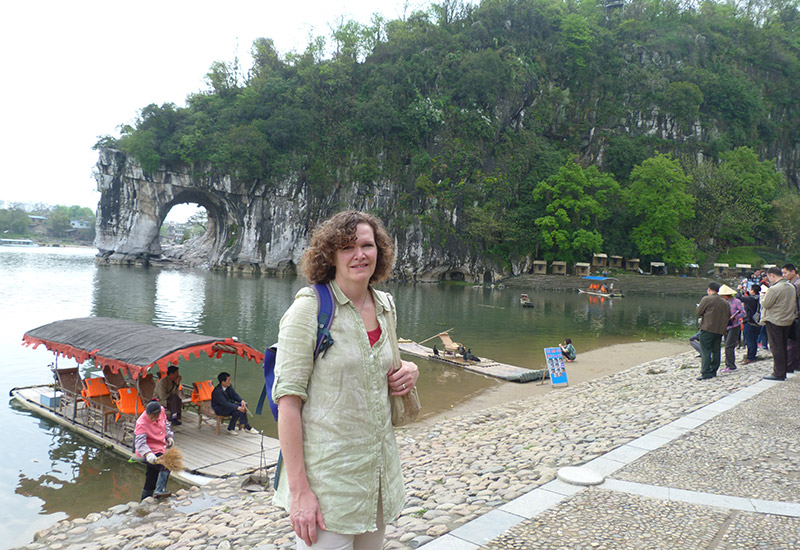 Mary in front of the Elephant Trunk Hill, an iconic sight of Guilin (Photo credit: Mary Monro)
Mary also visited Guizhou and Chongqing, and ended her trip in Shanghai. When asked what her most memorable experiences during her journey were, Mary replied:
"I am SO pleased that his escape route took me off the beaten track because I saw some incredible places that most people have never heard of. Danxia Shan is a stunningly beautiful and dramatic World Heritage Site that seems to be virtually unknown. The Longji rice terraces near Guilin are amazing and I enjoyed meeting some Yao ladies there, who only have their hair cut once in their lives. I really enjoyed my time in Guizhou province, meeting a variety of ethnic minority peoples, watching the Dixi opera and visiting Huangguoshu waterfall."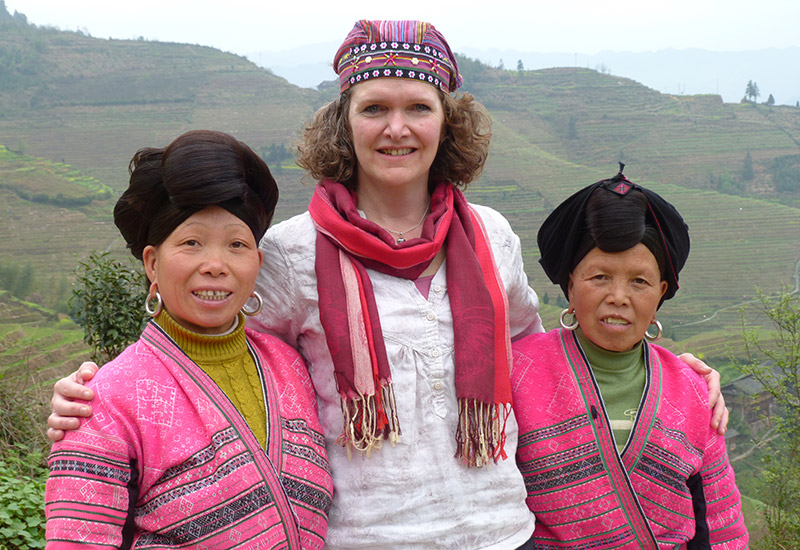 Mary and the Yao ladies in the Longji Rice Terraces (Photo credit: Mary Monro)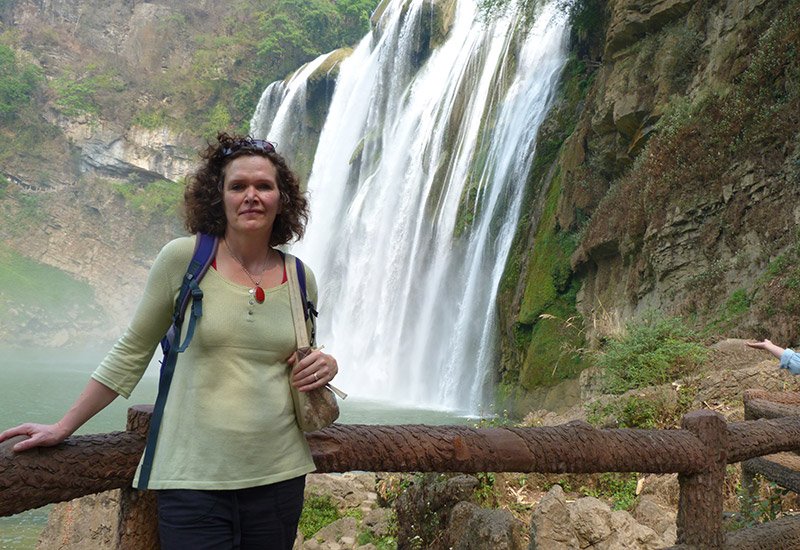 Mary in front of the lovely Huangguoshu Waterfall in Guizhou (Photo credit: Mary Monro)
In 2015, two years after her journey to retrace her father's route, she took another trip to China with Odynovo, to Yunnan where saw the Yuanyang rice terraces and explored the historic towns of Jianshui, Dali and Lijiang. This echoed her father's journey out of China in 1944, when he travelled up the Burma Road from Kunming to Dali.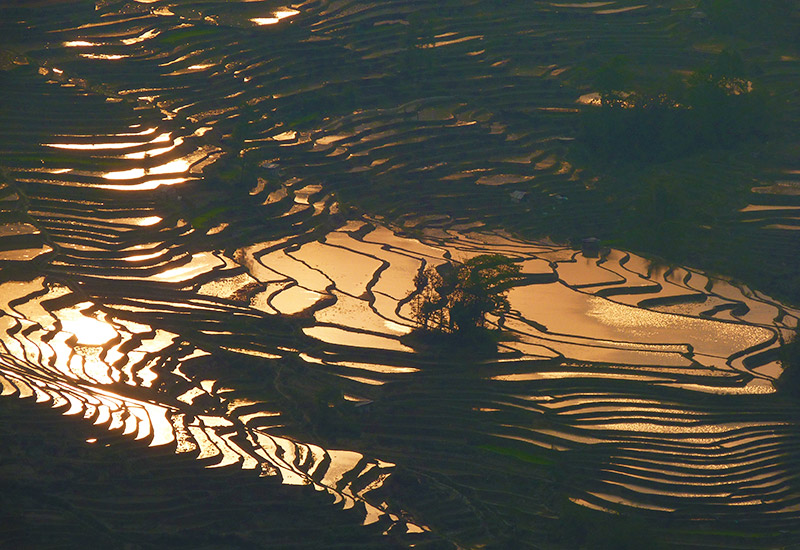 The spectacular Yuanyang Rice Terraces in Yunnan (Photo credit: Mary Monro)
Mary felt completely safe traveling in China and said that China was an easy country to travel solo when it comes to safety, but having a local guide is very helpful.
"I was anxious when I first arrived but as soon as I met my guide (Nancy) I relaxed. All the guides were wonderful – knowledgeable, friendly, resourceful, kind and determined to give me the best possible experience of China. I was especially grateful to William, my guide in Guangxi, because we came to a landslide blocking the road to the Longji rice terraces, but he knew a different route so we were able to reach them. It was a highlight of the trip that I would have missed without his expert local knowledge."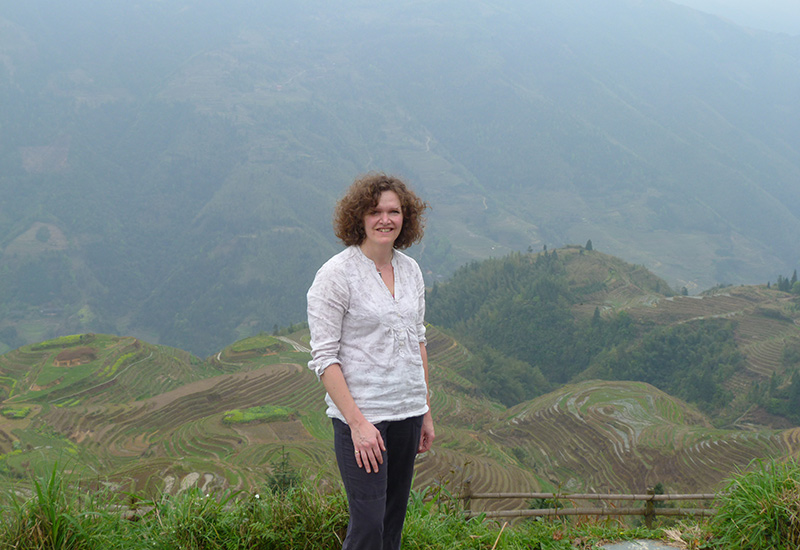 Mary in the Longji Rice Terraces (Photo credit: Mary Monro)
For travelers who want to visit China, Mary recommends they make some friends when they travel to get someone to explore the Chinese food with. She also thinks it useful to learn some Mandarin, "even if it's just 'nǐ hǎo' (hello) 'xièxiè' (thankyou) and 'Wǒ bù huì shuō zhōngwén' (I can't speak Chinese)".
Mary learned a lot from her China trip. She knew that her father was a man of wisdom, compassion, and courage and that she also shares these moral values. Besides, she learned that her father was fond of the Chinese, which can be seen from his lifelong friendship with his Chinese interpreter. After her first trip, she read her father's diaries and letters again and knew that he enjoyed his days in China despite the war and the lack of trust between the Chinese and the British.
Even after two trips in China, Mary is still fascinated by the country and said she will keep exploring China in the future:
"I'd love to see more of Guizhou and Yunnan, but I haven't yet seen the top sights such as the Great Wall, Xi'an, Chengdu or Beijing! I'd also be interested to visit Huang Shan and Tibet."
Did you feel inspired by Mary's adventure? Would like to embark on a tailor-made China journey? We'll be more than pleased to help. Just send us an inquiry and leave the rest to us.
What Our Clients Say
"Great Service and Value", "Exceed All Expectations", "Highly Recommend".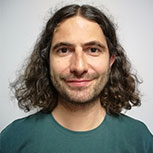 CONTACT A TRAVEL EXPERT
1-to-1 Service | Reply within 24hrs | Expert's Advice
STAY IN TOUCH WITH US
Subscribe to our newsletter so we can provide you with insider travel information, exclusive offers, and discounts.