Sandwiched between China and India, two of the world's oldest and most remarkable civilizations, Bhutan is a tiny landlocked country in the Himalayas, shrouded in mystery and magic. This fascinating kingdom holds a great many surprises that you probably won't know until you go. Here are 10 of the most amazing facts about Bhutan that will spark your wanderlust.
1. Bhutan adopts the policy of "High Value, Low Impact Tourism"
Bhutanese people know that unrestricted tourism can affect their unique landscape and culture, so they take a sustainable approach to tourism development. It's called "High Value, Low Impact Tourism". To visit Bhutan, international tourists (except citizens of India) are required to pay a minimum fee. This is US$200 per person per night during the low season (the months of January, February, June, July, August and December) and US$250 per person per night during the high season (the months of March, April, May, September, October and November). This makes Bhutan one of the most exclusive destinations; you are not likely to travel cheaply and you won't find budget backpacker-style travel in this kingdom. This is the reason why tourists aren't high in number. The minimum daily fee covers almost everything; accommodation, food, transportation, entry fees, and a guide are all included, so it's still money well spent.
2. It's known as the Last Shangri-La
This Himalayan kingdom has only been open to the outside world since the 1970s; visitors are amazed by its unspoiled culture and nature. It's like a paradise lost. There's a sense of purity and mystery here. The moment you disembark from your flight, you can breathe in the fresh air and see friendly locals wearing smiling faces. You'll marvel at majestic snow-capped peaks and lush forested valleys. This post-perfect landscape makes a splendid backdrop to fortress-like dzongs and monasteries where the colorful tsechus (dance festival) goes on display every year. The festivalgoers are still in medieval dress, men in a gho (a knee-length robe tied at the waist) and women in a kira (an ankle-length sari-like garment). Besides, you'll find beautiful textiles and handicrafts and wondrous animals such as the takin, the national animal. Thus it comes as no surprise that Bhutan is called "the Last Shangri-La".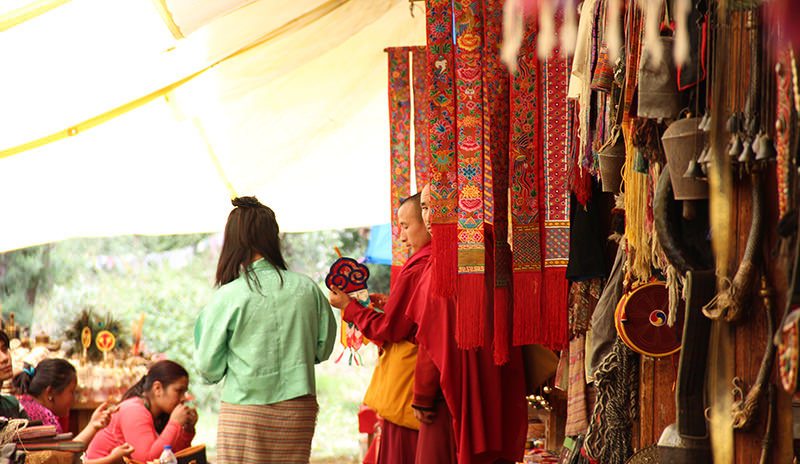 Handicrafts and textiles in a market in Bhutan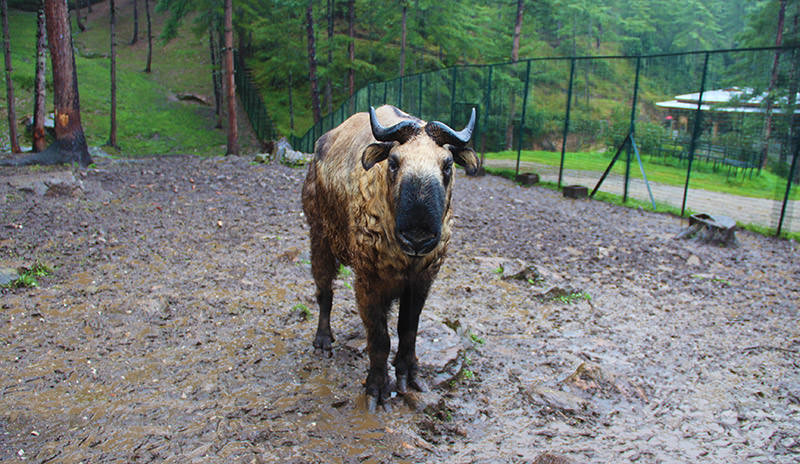 A takin in Motithang Takin Preserve in Thimphu
3. National happiness is officially measured.
The Bhutanese take happiness very seriously. Despite the fact that Bhutan is one of the least developed countries in Asia, the government still prioritizes Gross National Happiness (GNH) rather than Gross Domestic Product (GDP) as it clearly understands that being richer does not mean being happier. GNH was coined by Jigme Singye Wangchuck, the fourth king of Bhutan in 1972 as he wanted to develop the nation's economy in a sustainable way. Unlike GDP, GNH stresses the importance of living harmony with nature and traditional values. It has four pillars: sustainable and equitable socio-economic development, environmental conservation, preservation and promotion of culture, and good governance. The United Nations introduced this idea in 2011, encouraging its member nations to follow the example of Bhutan, and called happiness a "fundamental human goal".
4. Education and healthcare are free for all
Despite being an impoverished country, Bhutan provides free basic education and healthcare to all its citizens. Education is considered a basic right for its people and vital to achieving the nation's social, cultural and economic goals. The government charges no tuition fees and even provides free stationery and textbooks to rural children. The literacy rate has significantly increased over the past several decades. English is taught in most schools. Besides, the Bhutanese enjoy basic healthcare service at hospitals or health clinics. As a result, infant mortality has dropped and life expectancy has increased in recent years. In 2016, Bhutan had a life expectancy of 70.20 years, higher than its neighbor India (68.56 years).
5. The country absorbs more carbon than it gives out
Bhutan is not only one of the happiest countries in the world, but also one of the greenest. Over 70% of the country is covered by forest. The constitution requires that at least 60% of the land remain forested for future generations. While lots of other countries are working hard to cut down carbon emissions, Bhutan is already carbon neutral and even carbon negative. In fact, this kingdom is the first and the only carbon negative nation in the world. This means you can enjoy the pristine nature when traveling across this beautiful country.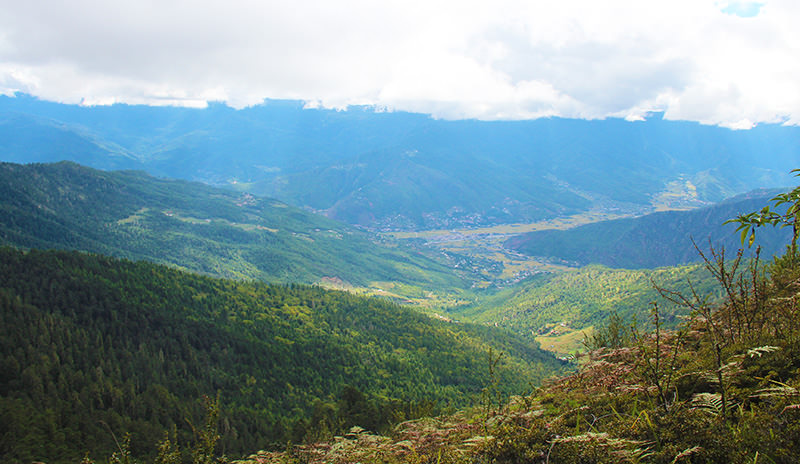 You'll find it easy to revel in nature's pristine beauty in mountainous Bhutan
6. It is one of the few countries without traffic lights
This is perhaps the most interesting fact about Bhutan. Throughout the country, you won't find any traffic lights, not even in its capital city of Thimphu which has the heaviest traffic. Yet it is amazing that traffic is still orderly and efficient. This is because it has policemen who stand in booth-like structures in major intersections to direct and control traffic. A set of traffic lights were once used for one day in Thimphu, but they were removed because the locals complained that the traffic lights were ugly and they still preferred the policemen.
A bird's eye view of Thimphu
7. It has the highest unclimbed mountain in the world
Bhutan is home to the world's highest mountain that has never been climbed. Lying on the border with China, Gangkhar Puensum has an elevation of 24,836 feet / 7,570 meters and is the 40th tallest peak in the world.
Mountaineers attempted to climb the mountain in the 1980s but failed due to frostbite and high winds; in 1985, a British mountaineering team tried but had to give up because of illness; an Austrian team climbed the next year and met treacherous monsoon weather. Bad for the mountaineers but good for the mountains, the Bhutanese government banned the climbing of any mountain higher than 19,685 feet / 6,000 meters in 1994 out of respect for the local spiritual beliefs. The Bhutanese believe that towering mountains are the dwelling places of spirits (Gangkhar Puensum actually means "White Peak of the Three Spiritual Brothers.") and they don't want them to be disturbed. In 1999, a Japanese team got a permit from China to climb Gangkhar Puensum from the Chinese side, but China withdrew the permit with the persuasion of the Bhutanese government. Since mountaineering is no longer allowed, it is likely that Gangkhar Puensum will stay unclimbed forever.
8. Paro Airport is one of the most challenging airports in the world
Situated in a deep valley surrounded by mountains as high as 5,500 meters / 18,000 feet, Paro Airport is one of the world's most difficult airports to land in. Only in the day time from sunrise to sunset and under visual meteorological conditions are flights to and from Paro allowed. Pilots have to face the challenge of flying through the towering peaks and meet vicious winds sweeping through the valley before landing. No wonder only eight pilots are certified to fly into this Himalayan valley.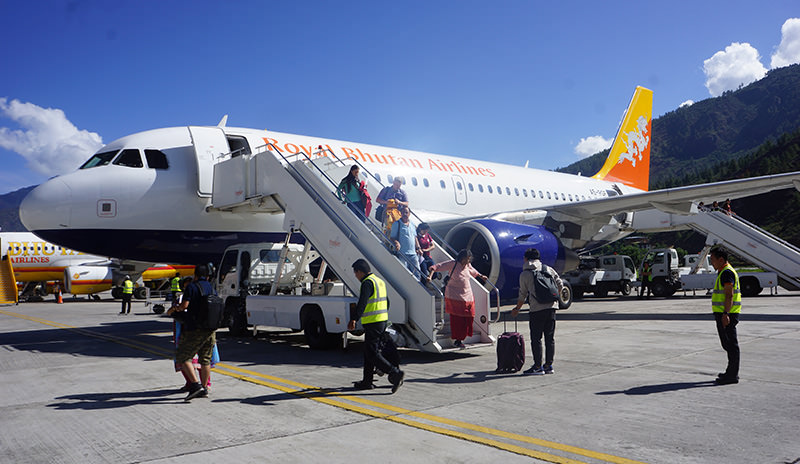 Paro Airport
3.7 miles / 6 kilometers from Paro, Paro Airport is the only international airport in Bhutan. The eight certified pilots bring over 30,000 people to this Himalayan kingdom each year. Though challenging for the pilots, landing at Paro airport is believed by many visitors to be breathtaking.
9. Phallic images are almost everywhere
Bhutan is always full of surprises. The most surprising thing of all is perhaps the phallic images. You can find them almost everywhere when traveling across the country, from homes to schools to restaurants. Why are the Bhutanese so obsessive about the phallus? Because it is significant in Bhutanese culture as penises are said to drive away evil spirits and bring people good luck. Some even believe that hitting a woman with a fake phallus will increase her chance of bearing a child.
A phallic image on the wall of a house
10. Bhutan has a unique national dress
The Himalayan kingdom has a national dress code: men wear a gho which is a traditional knee-length garment, and women, a kira that is an ankle-length sari-like garment. The dress code was strict in the 1990s; violators risked heavy fines. Today it is more relaxed. The national dress is only mandatory in government offices, schools, monasteries and on special occasions. With the Western fashion influences, people are beginning to wear jeans and T-shirts.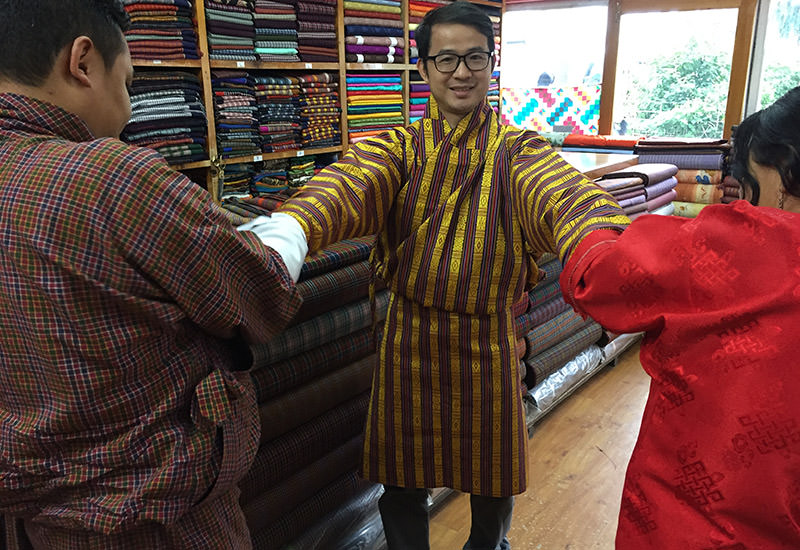 You can also try to wear a gho when traveling in Bhutan
Did you know? Prince William and Kate Middleton, the Duke and Duchess of Cambridge, visited Bhutan in the spring of 2016. Kate wore an outfit that was modeled on the traditional kira during a traditional Bhutanese ceremony held to welcome the royal couple. The skirt was made by a seamstress using traditional Bhutanese material.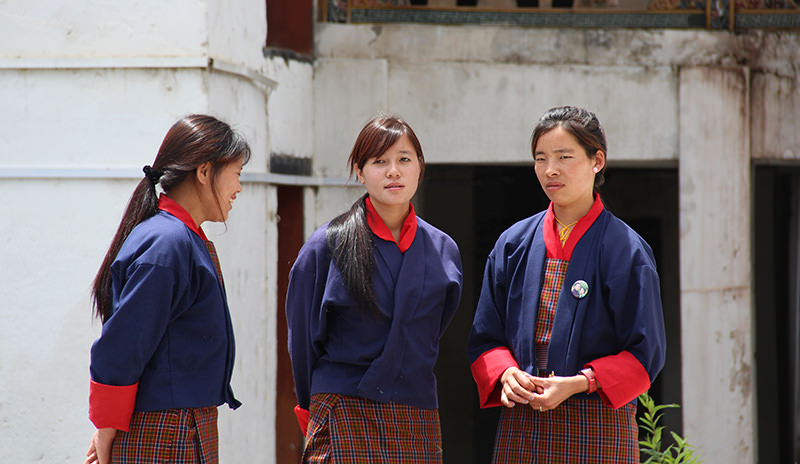 Bhutanese girls dressed in kira
Bhutan definitely has a lot of other amazing facts. The best way to find out is to embark on a journey to this mysterious land. If you are thinking about visiting Bhutan, our travel specialist can help. Send your inquiry to get a free tailor-made itinerary created just for you!
What Our Clients Say
"Great Service and Value", "Exceed All Expectations", "Highly Recommend".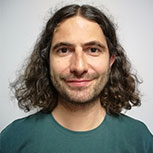 CONTACT A TRAVEL EXPERT
1-to-1 Service | Reply within 24hrs | Expert's Advice
STAY IN TOUCH WITH US
Subscribe to our newsletter so we can provide you with insider travel information, exclusive offers, and discounts.