Who lives in Vietnam? You might answer "the Vietnamese" and that would be part of the story, but the full answer is a lot more complicated than that. Vietnam officially recognizes 55 different ethnic groups in the country and there are a few more which have not yet been added to the list. The majority of the Vietnamese are Kinh people (người Kinh), also known as the Viet people (người Việt). They make up 85.7% of the population and the remaining 14.3% are from the other 54 groups (Unless otherwise noted, population figures are from the last official census which took place in 2009). Most of the minority peoples are peasant farmers who occupy Vietnam's more hilly or even mountainous areas, particularly in the north.
Lào Cai province lies by the border with China's Yunnan province and the provincial capital, Lào Cai city is an important trade center and border crossing, but it is the smaller district of Sa Pa which is better known and our area of interest today. Sa Pa lies 380 km / 236 miles northwest of Hanoi (approximately 5 hours by car) at the foot of the Hoàng Liên Son range of mountains which are in turn the easternmost section of the Himalayas. 9 km / 5½ miles southwest of Sa Pa is Vietnam's highest mountain, Phan Xi Păng, known in English as Fansipan, at a height of 3,147 m / 10, 326 feet above sea level.
The area is home to several ethnic minorities. In fact, here the majority Kinh people are in the minority, making up only 15% of the total. In Sa Pa, the majority group is the H'Mông at 52%, followed by the Dao with 25%, the Tày at 5% and the Giáy at 2%. There are also a few Xá Phó people. Most of these people live in the villages surrounding Sa Pa town, where they tend their ancient rice terraces and also grow corn and cassava, much of which is fed to their livestock, mainly pigs, chickens and water buffalo. Some also grow hemp and cotton which is used to make fabric for their clothing.
In recent years, tourism has become a large part of their life as more and more visitors, both domestic and foreign, come to trek through the terraces to enjoy the spectacular views and visit the villages to see a way of life very different from their own. It is even possible to stay with a local family in one of their simple homes and share their meals.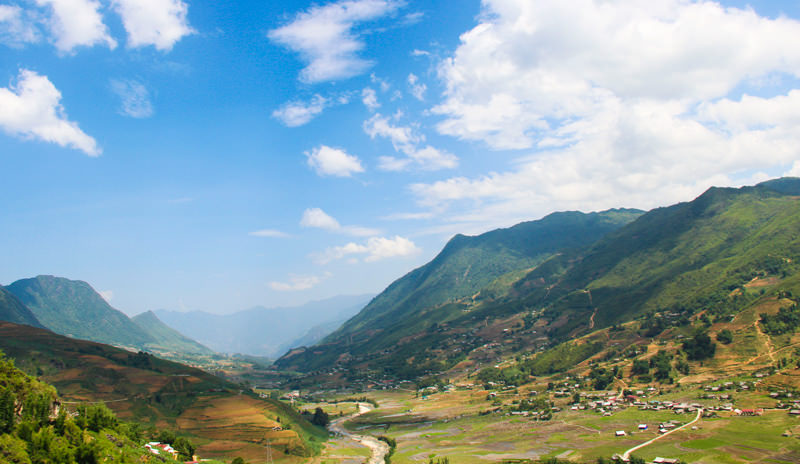 Minority villages scattered in Sa Pa
MINORITY COSTUMES
Perhaps the most notable thing about these ethnic minorities is their dress, especially that of the women. Each group and clan has a different traditional costume, so those in the know can identify, with just a glance, which group any one person belongs to. This is not some fancy dress parade put on for the tourists' benefit; most proudly wear this every day and did so long before the tourists arrived, although a few, especially men, are moving to wearing western-style clothing, except during festivals.
Like many ethnic groups, there are internal sub-groups. For example, the H'Mông, who are part of the same ethnic group as those known in China as the Miao, self identify as either Black H'Mông, White H'Mông, Striped H'Mông, Flower H'Mông, etc. These clan names are based on a dominant feature of their traditional costumes. The Black H'Mông, for example wear costumes consisting of a jacket largely made from hemp which is dyed a near-black indigo color, but decorated with colorful embroidery. They also wear an embroidery decorated apron and indigo leg wraps. The Flower H'Mông, on the other hand, wear bright, multicolored embroidered costumes with beaded fringes across their shoulders and chests and often tartan head coverings.
The Dao people, who are known in China as the Yao, also have a clan system with several sub-groups. The majority in Sa Pa region are Red Dao, so-named for the predominant red of their clothing and hats. They are also known for their wood and bamboo houses, built on stilts.
The Tày ethnic minority are part of the group known as the Zhuang in China and wear predominantly blue to purple costumes.
The Giáy people prefer to use cotton for their traditional clothing, which consists of brightly colored blouses which button under the right arm and are decorated with collars and cuffs of complimentary colors. Both sexes wear indigo trousers. Women wear plaid headscarves, whereas the men wear turbans.
The Xá Phó people are related to the Yi ethnic minority in China. In Sa Pa, they are mainly concentrated in Nậm Sài commune in a remote, relatively inaccessible area 28 km / 17 miles south-east of Sa Pa Town. Therefore, they are the least visited of the ethnic minorities. Xá Phó women wear a shirt with a long skirt made from indigo-dyed hemp fabric, embroidered with their signature bright red thread.
It is possible to purchase these ethnic costumes in Sa Pa town centre at Sa Pa Love Market or on Cầu Mây Street (see below).
All the ethnic minorities put great store in silver, with many wearing silver bangles, necklaces and clothing decorated with silver in the form of coins, rings, bells and other ornamentation.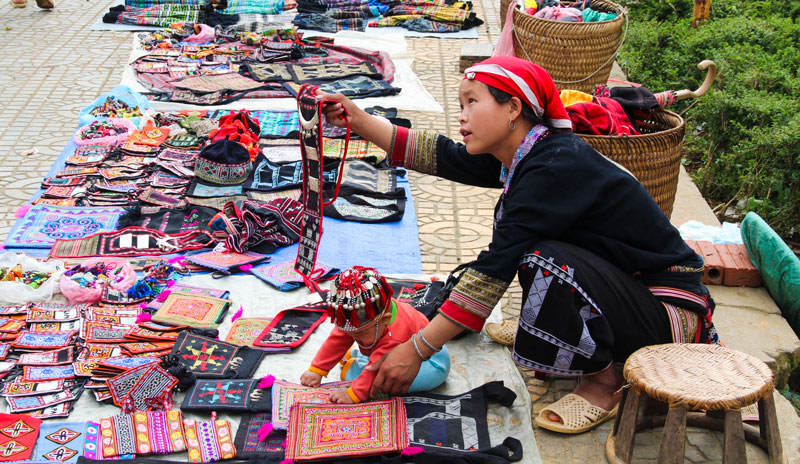 A minority woman selling colorful brocades
MINORITY MARRIAGE CEREMONIES
Traditionally, the H'Mông people carry out perhaps one of the oddest marriage rituals which is the practice of ritual kidnapping called "zij". When a couple feel attraction to each other they will arrange a date to meet. When the girl arrives the boy and his friends and family pounce and kidnap her, hauling her "reluctantly" off to his home where she is kept "prisoner" for three days, staying with the boy's sisters or other female relatives. Even if the girl welcomes the symbolic kidnapping, she will feel obliged to pretend to resist. The more she resists and the longer the struggle takes, the better it is said to be for their future happiness. The boy's family will send an envoy to the girl's family informing them that she has been 'stolen' but is safe.
After the three days are up, the girl returns to her home with the boy where the couple are welcomed as man and wife and a marriage feast arranged. The groom is expected to give the bride's family silver, pigs, chicken and rice wine for the wedding ceremony. However, if the girl cries and tells her parents that she can't accept the boy's family, everything is canceled and life continues as before.
The Dao people follow a more conventional route to marriage, although both families will expect to have the couple's compatibility confirmed by a diviner, who uses chicken legs to reach his or her conclusion. If all is well, the marriage goes ahead and the happy couple enter the groom's home after an exchange of songs between the two families, the groom carrying his bride on his back.
Tày people also check out the couple's destiny by having their children's fortunes read. If they are considered compatible, the wedding ceremony goes ahead although afterwards the girl continues to live with her parents until she becomes pregnant. She is then ceremonially carried to her husband's home just before giving birth.
Fertility is very important to the Xá Phó ethnic minority, due to their low numbers, so sexual relations between unmarried couples is permitted or even encouraged. Only when the woman becomes pregnant, is the marriage confirmed to be on. The bride-to-be will only then prepare her wedding dress.
MINORITY CUISINE
Given that many of Sa Pa's ethnic minorities originated in China, it will be no surprise to learn that their food is heavily influenced by southern Chinese cuisine. There are influences from Guangdong and Hakka cuisines such as in khâu nhục, a dish of sliced roasted pork belly flavoured with spices and herbs which is similar to the kou rou of the Hakka people. This is a favourite at weddings and other ceremonies.
Like the Chinese minorities many are related to, the Vietnamese minorities prefer sticky rice and have a simple diet of mainly vegetables with a little pork or chicken. Most make rice or corn wine. Buffalo meat is often eaten by the H'Mông.
You can try ethnic minority dishes in Sa Pa Town's many restaurants, but for a truly memorable lunch or dinner, sharing a meal with a village family in a home stay can't be beaten.
SA PA TREKS
Trekking in Sa Pa is really the best way to see its wonder. The lush rice paddies and stunning background compete with the fascinating villages and colorful people. Treks can be as strenuous or as light as you prefer.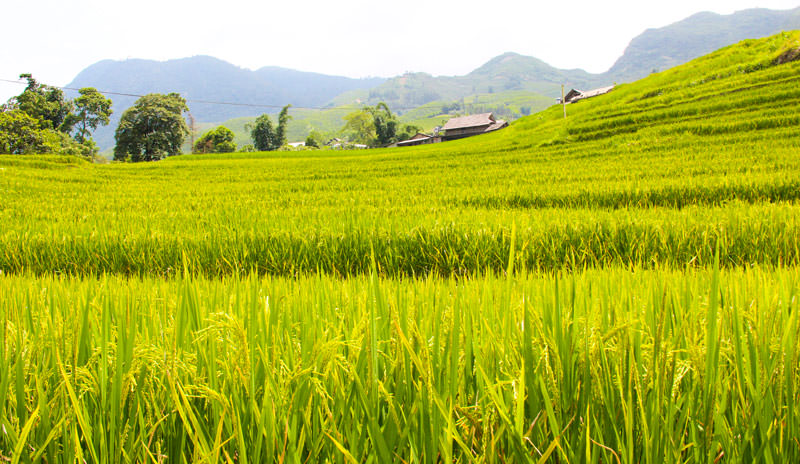 Rice terraces in Sa Pa
Nearest to Sa Pa town are the H'Mông villages of Lao Chải, Sín Chải, Chầu Thàt, Cát Cát and Hầu Thào and slightly further is Tả Phìn, home to both H'Mông and Dao peoples. Tả Van, a Dao village is a favorite and not far from Sa Pa town.
A little further to the south is Ban Ho, an important village for the Tày population, while even more south is Nậm Sài and the Xá Phó people.
Another trekking spot is in Hoàng Liên National Park. This is for the more energetic and fit, but they can explore the mountain range which is an important reserve for its diverse flora and fauna, including many uniquely Vietnamese species, especially amphibians - it is believed to have over 80 species of different toads and frogs.
Phan Xi Păng peak can be climbed only by the extremely fit as it takes a strenuous three day hike to reach the summit. Alternatively, you can use the cable car which leaves from a station 1.7km / 1 mile from Sa Pa town center. The journey takes about 15–20 minutes and offers views of the entire mountain range. The cable car does not go quite to the summit. From the upper station there are still around 600 steps to climb to reach the top. Even the cable car is not recommended unless you are very fit. The elevation means the oxygen level in the air is low, which causes some people problems. Also remember that the temperature at the top is much lower than that at the bottom, so warm clothing is essential. Even in summer the top only reaches around 8ºC / 46ºF.
SA PA TOWN
Sa Pa Town is a destination worth seeing in its own right as well as a base for touring the minority villages. The small hill station town was a popular retreat for the French colonizers, but faded into obscurity after they left. It wasn't until 1993, when the Vietnamese government decided to open the area to full tourism, that it began to recover.
Of interest in the town is the famous Sa Pa Love Market (Bắc Hà), which isn't the seedy venue it sounds. As we know money can't buy you love - even here. In fact it is just a regular market, but in the past was where the local H'Mông and Dao young people would congregate on a Saturday evening in the hope of meeting suitable partners. The real market would take place on the Sunday morning, but because of the distances involved and the weaknesses of the local transport system they felt they had to arrive the night before. Or that was their excuse! Today, the market area is still full of the young minority people on a Saturday evening, but now it is just a convenient meeting place. The market is in the town center just below Sa Pa's landmark Stone Church.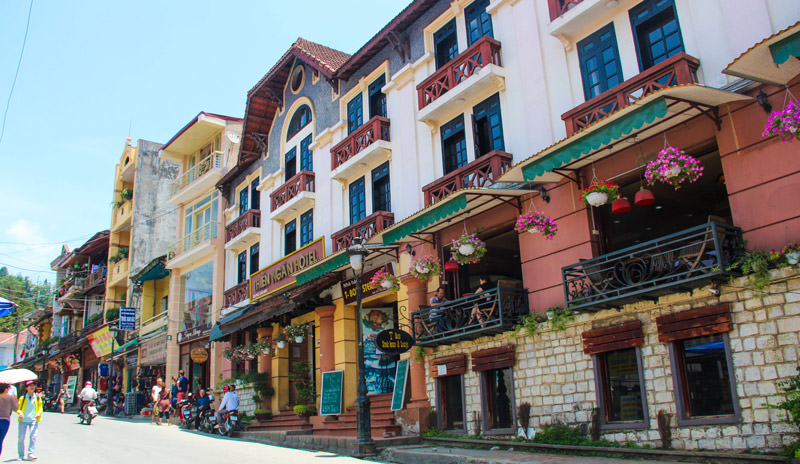 French style architecture at Sa Pa Town
Officially the Holy Rosary Church, the Stone Church was built by the French in Gothic style in 1895. It is considered to mark the center of the town. The 20 meter / 66m foot bell tower contains a 1.5 m / 5 ft tall bell cast in 1932, which weighs 500 kg / 1,102 pounds. Don't miss the church gardens with their 500 year old trees.
Also in the city center is Cầu Mây Street. This popular, but busy place is pedestrianized on Fridays and Saturdays and is ideal for souvenir shopping and also for its restaurants, cafés, bars, and hotels.
Tourist numbers in Sa Pa are growing, but remain relatively low. That is likely to change when the new Sa Pa airport currently under construction opens. This is scheduled for the end of 2020 and is expected to bring in one million visitors a year, rising to 1.5 million by 2030. What impact this will have on the area is hard to say, but I strongly suggest that now is the best time to see this magical other world.
Odynovo can offer you a custom-made trip of a life time to Sa Pa, either on its own or as part of a wider Vietnam vacation. Alternatively you can choose from over 30 more world-wide destinations. All you have to do is tell us where you want to go, what you want to do and see and how long you want to spend and our travel experts will get back to you within 24 hours with a free custom itinerary based entirely on your preferences.
What Our Clients Say
"Great Service and Value", "Exceed All Expectations", "Highly Recommend".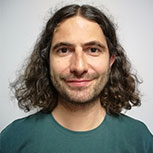 CONTACT A TRAVEL EXPERT
1-to-1 Service | Reply within 24hrs | Expert's Advice
STAY IN TOUCH WITH US
Subscribe to our newsletter so we can provide you with insider travel information, exclusive offers, and discounts.