Travel with Confidence
When you're ready to travel, we're here to support you.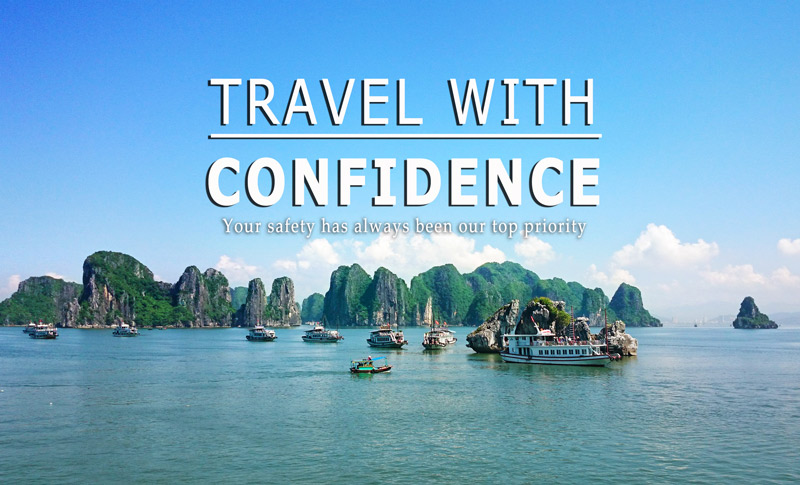 Since our very first days as a tour operator, Odynovo is dedicated to creating safe, stress-free, and lifetime travel experiences for worldwide clients. In response to the changing world, we've established a set of enhanced pre- and on-trip protocols and procedures to ensure our clients are safe and happy when they travel with us.
BEFORE YOU GO
Our 1-on-1 travel consultants are always available 24/7 to help you with any questions or needs and take every step to ensure you and your traveling companions are ready for the journey. They will be up to date on local regulations and restrictions and provide you with a set of health and safety advice and instructions before travel, so as to guide you through your travel process as smoothly as possible.
And if you don't feel well before traveling, there's our Book with Confidence policy that can help you to reschedule your trip or change a tour destination based on your needs. For any changes about the flights you have booked with us, rest assured that the team will support you to deal with any issues that may arise too.
WHEN YOU ARRIVE
On arrival, you'll receive a warm welcome from your tour guide and driver, who are ready, willing, and able to ensure that you have a healthy and happy journey with us. Here is how:
(1) They have been trained on our new hygiene and safety protocols and will receive all up-to-date information on local health and safety policies.
(2) They're supported 24/7 by the local and head offices, who are well-equipped to handle on-trip emergencies.
(3) They can help to get you access to medical care and support if you're feeling sick.
(4) They have extensive local knowledge to help navigate your destination safely, including helping you avoid long lines and crowds, where and whenever possible.
(5) They will recommend high-quality but less-crowded restaurants with the strictest hygiene practices or those where you can reserve your own table or room in advance.
(6) They'll measure their body temperatures on daily basis, wash the hands frequently, wear face masks, and maintain appropriate physical distancing during the journey.
WHILE ON TOUR
Your safety has always been our top priority. When you choose us, you can be confident that we are doing everything possible to keep you safe as you explore the fascinating destination.
Getting Around
(1) You will enjoy private transfers with a spacious vehicle and sit only with your families or friends, NO strangers.
(2) Every surface in our well-conditioned private vehicle will get a deep cleaning in the morning. Besides, all relevant touchpoints (seats, door handles, etc.) in vehicles will be disinfected regularly throughout the day.
(3) The drivers will make face masks, paper tissues, and hand sanitizers available in the vehicle and encourage clients to clean hands when they get into the vehicle.
(4) The use of local transportation will be limited wherever possible. If you travel to a far city or several countries on one trip, local transportation will be used and we will follow the local health and safety regulations to keep you safe and healthy.
Go Sightseeing
(1) The tour guides have extensive local knowledge and will prearrange all the sightseeing entries with the best time to visit.
(2) Throughout your tour, the tour guides will wear masks and have an eye out for you, ensuring there's appropriate social distancing.
(3) If appropriate social distancing can't be achieved (for example to avoid large crowds), the tour guides have the flexibility to modify the itinerary to ensure a safe experience.
(4) During the whole trip, rest assured that you will travel with the comfort of your own personal space.
Sleep Soundly at Night
(1) All the hotels are well-selected for their outstanding locations, evocative ambiance, impeccable service - and cleanliness.
(2) Odynovo's partners include the most respected luxury brands - like Belmond, Four Seasons, Park Hyatt, Sofitel, JW Marriott and well-managed boutique hotels and resorts. They are now leading the industry with their sophisticated hygiene standards and protocols to ensure the well-being of all their guests.
(3) Hotels will be continuously and rigorously vetted to ensure that they are following established WHO guidelines including social distancing and sanitizing procedures of guestrooms and public spaces.
(4) Hotel breakfasts will usually feature à la carte service and group seating will be replaced by smaller, appropriately distanced tables.
Good and Safe Eats
(1) Odynovo carefully selects high-quality but less-crowded restaurants that offer delicious local cuisine and strictly follow the guidance of local health authorities and WHO protocols.
(2) We will pre-reserve separate tables or private rooms at the restaurants you will visit, ensuring you can enjoy more space for meals and have a safe and nice dining experience.
(3) No large travel groups dining around.
A Full Team of Support 24/7
It's not just your tour guide and driver who will be taking care of you during the trip. Behind the scenes, the operations and customer care support teams are in contact with them and on call 24/7 to handle all on-trip issues, so you can rest assured that you're in good hands.
HEADING FOR HOME
Odynovo hopes every client could leave as healthy and happy as when he/she left. If you're not feeling well at the end of your tour for any reason, just let your tour guide and travel consultant know and we can help to get you access to medical care and support. And if everything goes well, your tour guide and driver will send you to the airport by a private vehicle and wish you a safe journey home there.